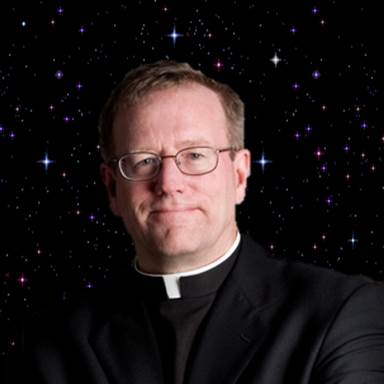 Over the past few years, Fr. Robert Barron has emerged as the quintessential icon of the so-called "conservative" Catholic movement, especially here in the United States.
Sure, little inter-family squabbles occasionally arise over such trivial matters as universal salvation and the existence of Hell, but for the most part, Fr. Barron is widely recognized as a leader among those who are bound by their common denial, albeit in varying degrees, of the plain reality that the newchurch that emerged after Vatican Council II bears precious little resemblance, in both behavior and teaching, to the Holy Catholic Church of the Roman Pontiffs, Saints and Doctors of the preceding centuries.
For some in the movement, like Michael Voris, this selective vision is really best understood as a self-imposed silence relative to the shenanigans of the popes; a flawed approach that does more harm than good, but one that is really more a matter of strategy than a case of pure denial.
Given the content of certain private conversations, I can attest that the same is true of others as well; in particular members of the sacred hierarchy who fear repercussion should they speak candidly of the crisis at hand.
Fr. Barron, on the other hand, gives every indication of suffering from that diabolical disorientation of which Our Blessed Lady forewarned, either that or he's on a trip, the itinerary of which would make Abbie Hoffman jealous.
In a recent interview with Zenit, Fr. Barron shared some observations that are both laughable and stunning for their utter disconnect from reality.
Speaking of John XXIII and John Paul II, Fr. Barron said:
I think it is significant, their being canonized togeth­­­­er. I think it has a lot to do with Vatican II. John XXIII calls Vatican II. It's the great event of the last century for the Catholic Church. John Paul is there as a young bishop, and then archbishop. He helps to write some of the documents. Then as Pope, gives clearly the definitive interpretation of Vatican II.
I suppose it only makes sense given his status as a leader among deniers that Fr. Barron holds to the opinion that Vatican II was "great" for the Church, but this notion that Pope John Paul II provided a "definitive interpretation" of its contents is nothing short of pure fantasy.
One of the primary causes of the post-conciliar crisis is the absence of just such "definitive" papal judgment.
From John Paul II on forward, every pope who has reigned since Pope Paul VI pathetically bemoaned the "smoke of Satan" has been far too busy glorifying the Council to exercise their Spirit protected authority and solemn duty to give definitive interpretation to its texts.
If the day ever comes (God willing, in my lifetime) when a Roman Pontiff does so, he will necessarily be required to address head-on the Council's every confusion, ambiguity and error; quite an undertaking to be sure.
That means clearly condemning the preposterous notion that Christ uses the protestant communities, as communities, as a means of salvation (UR 3). It will also necessarily entail rejecting the utterly false suggestion that the children of the Church have been made one with the Jews, apart from their conversion to the one true Faith, in the same Christ Jesus whom they continue to reject (NA 4). It would also mean proclaiming that he who says that "man, by his very own nature, enjoys the right to religious freedom even if he fails live up to his obligations relative to the true religion," let him be anathema. (DH 2)
I could go on, but presumably you get the point: Fr. Barron is kidding himself when he speaks of definitive conciliar interpretations, and far worse, he is misleading millions.
Further expounding on the Council, Fr. Barron said:
It took a long time [to arrive at a consolidated understanding of Vatican II], but that's typical after a council. Especially a council as big as Vatican II – I mean, big in terms of the bishops who were there, but also the size of the documents. Compare Vatican II, for example, to Trent or Vatican I or Chalcedon or Nicea. The documentation is far more extensive.
This is a popular claim, one that I also used to make until such time as the scales fell from my eyes, but never again.
While Vatican II and the preceding twenty general councils are each known as "ecumenical," when it comes to substance, comparing them is a study in apples and oranges.
Unlike the others, Vatican II was not charged with issuing solemn definitions in the face of a doctrinal crisis and all of the upheaval that naturally accompanies it. This council was charged with simply re-presenting the immutable truths of the faith as defined by councils and Pontiffs past, while taking into consideration the circumstances of "modern" life such as it was when the council met.
Setting aside the relative wisdom, or lack thereof, of using a solemn instrument such as this for strictly "pastoral" purposes, the primary reason the Church is still wrestling to come to terms with the content of Vatican II lies in the fact that it failed to teach the immutable faith with precision and clarity.
Moving on to the recent canonizations, Fr. Barron offered:
To canonize someone is not to say that every particular judgment they made was the correct judgment. I think you can remark that there was a dark side of John Paul's papacy, a certain inaction, let's say, with regard to the sex abuse crisis – certainly in regard to Fr. Maciel and the slowness in responding to it. I wouldn't hesitate to say that's a negative feature of his papacy. But to say someone is a saint doesn't mean that every move they made was correct, that they were flawless, or that every prudential judgment they made was [the right one]. It's to look at an overall pattern of heroic virtue. That's what we're noticing.
Oh how selectively the deniers choose to identify patterns!
To his credit, at least Fr. Barron is willing to acknowledge, unlike the Prefect of the Congregation for Saints Causes, Cardinal Angelo Amato, that the process of canonization does in fact (as everyone understood prior to the conciliar revolution) take into account the performance of one's duties given their state in life.
In the present case, as it relates to the way in which John Paul II carried out the mission of the Church in his exercise of the Petrine Office, if any "overall pattern" emerged therein it is a track record of abject failure.
For more than a quarter century, Karol Wojtyla failed to even attempt to call the nations to baptism, teaching them everything whatsoever that Our Blessed Lord commanded. On the contrary, he repeatedly confirmed those outside of the Church in their error, even going so far as to engage in numerous scandalous inter-religious activities with heathens, heretics and Jews.
This is not simply the case of an occasional mistake or simple omission, but rather the type of repeated and deliberate behavior that in a moderately healthier age would have rendered an assessment of "heroic virtue" entirely impossible.
As if to save his most ridiculous statement for last, Fr. Barron left us with this howler:
If you look at the grand sweep of the Church for the first 2,000 years, we're going through a "Golden Age" of the papacy … Saint John XXIII, Paul VI with all of his spiritual power, and Saint John Paul II…
And we all know what this means to imply:
Surely a man of such great "spiritual power" as Pope Paul VI – the same who relinquished the papal tiara, presided over the unprecedented destruction of the sacred liturgy, and sat helpless as clergy the world over openly declared mutiny – can be denied canonization no longer.
The only good news in all of this is that as Fr. Barron waxes on about golden ages, heroic virtues and the greatness of the Council, the more likely he is to jolt his neo-con confreres from the cozy confines of their denial.