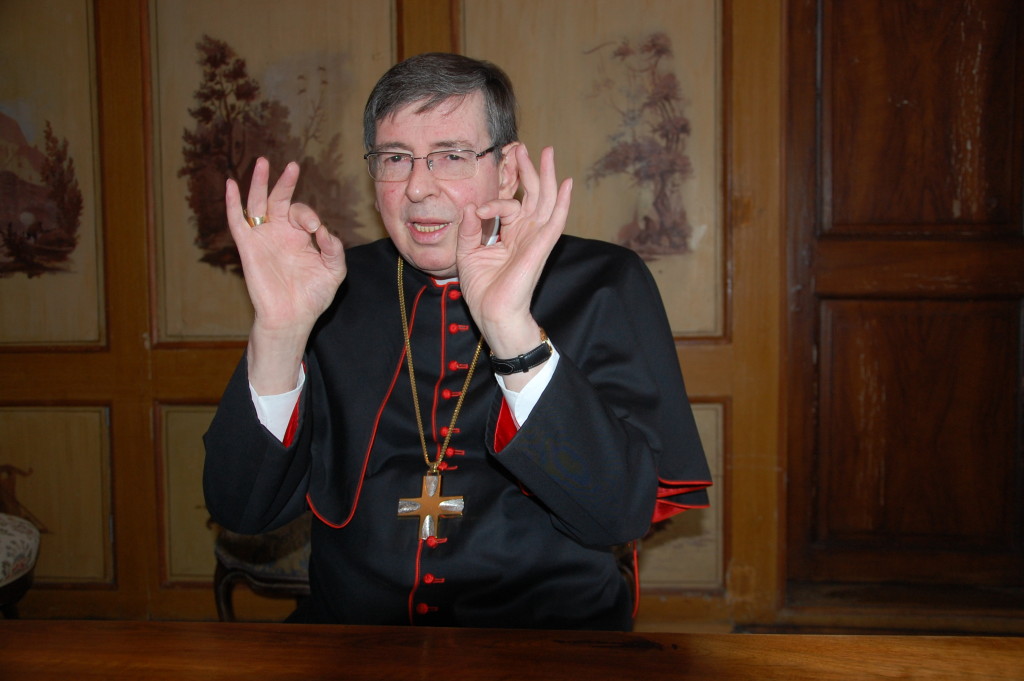 At a conference hosted this week at Catholic University in Washington, D.C. marking the 50th anniversary of the utterly devastating, error-ridden Vatican II document, Nostra Aetate, Cardinal Jean-Louis Tauran, President of the Pontifical Council for Interreligious Dialogue told Catholic News Service:
Despite 50 years of 'Nostra Aetate,' we [Catholics, Muslims and Jews] still don't know each other well enough … Most of the problems we face are problems of ignorance.
I would have to agree; at least insofar as the suggestion that ignorance is a major problem.
It would seem that many our Churchmen today, not coincidentally the very ones leading the interreligious dialogue charge for the Holy See, appear entirely ignorant of Our Blessed Lord's very clear and unambiguous words telling us pretty everything we need to know about these other religions, "He who rejects me rejects Him who sent me."
Also among the lineup of prelates who addressed the conference was Cardinal Kurt Koch, who heads up the Church's dialogue with the Jews.
According to a report by Vatican Radio, Cardinal Koch noted:
While the Church has ongoing bilateral talks with Jewish and Muslim religious leaders, it may be too early to engage in a 'trialogue' among the three monotheistic faiths.
A trialogue! These people can't be serious!
It is tantamount to blasphemy to lump together Christianity, Judaism, and Islam under any title, the most insidious of which is "the three monotheistic faiths," as if we worship one and the same God.
In the case of the Jews, the God of their Scriptures is indeed the God of revelation, but let us not forget that, objectively speaking, they rejected Him by rejecting Christ.
As for the Muslims, the "Allah" of their unholy writ is nothing more than the figment (planted by Satan) of Muhammad's twisted imagination. It matters not one whit how much of the content in their book of fables, the Qur'an, was stolen from Divine Revelation.
Cardinal Koch continued:
We don't have trialogue and for us it is too early to make this because sometimes we speak about an Abrahamitic ecumenism – this is very clear – it is a good issue. But on the other hand, we have a very, very different interpretation of Abraham and we cannot deny this issue. And in the interreligious discussion, it is very important to treat also this difference that we have in the interpretation of Abraham.
I suppose it never occurred to His Eminent Dialoguer-Would-Be Trialoguer that we "have a very different interpretation of God" as it concerns both Judaism and Islam, the latter obviously being much more severe.
Asked if Muslim and Jewish religious leaders would be open to trialogue and if this could perhaps pave the way to improved relations among all three, Cardinal Koch responded:
We hope that we can go in this [direction] in future but we have in every religion, we have opposition. We have open leaders, we have open Muslim leaders, we have open Christian leaders, but we have opposition in all the three religions. We have also opposition in the Catholic Church against Nostra Aetate. The same groups, they are against ecumenism, against interreligious dialogue, against the religious freedom declaration. And I think that they are minorities. We must go on the basis of the Second Vatican Council with the high authority of the Catholic Church and we cannot deny this very important influence.
Cardinal Koch spoke a number of important truths here:
1) There is indeed opposition to Nostra Aetate, Unitatis Redintegratio, and Dignitatis Humanae among Catholics
That would include people like me, most of the readers of this space, and the entire SSPX.
2) This opposition is "in the Catholic Church;" i.e., one need not accept these horrendous documents, one of which even goes so far as to misappropriate Sacred Scripture, in order to remain in the Church.
3) We are a minority as, apparently, the diabolical disorientation of which Our Lady spoke has infected the majority.
Cardinal Koch, did, however, contradict himself when he said, "We must go on the basis of the Second Vatican Council with the high authority of the Catholic Church…"
Nonsense. Vatican Council II does not represent the "high authority of the Catholic Church." It taught precisely nothing binding that was not already binding prior to the regrettable event, and errors, such as those contained in the conciliar text (including Nostra Aetate) are never binding.
Yes… Cardinal Tauran was most certainly right: when it comes to interreligious dialogue, ignorance is a major problem.