In light of Pope Francis' well publicized "Top 10 Secrets to Happiness," I offer the following.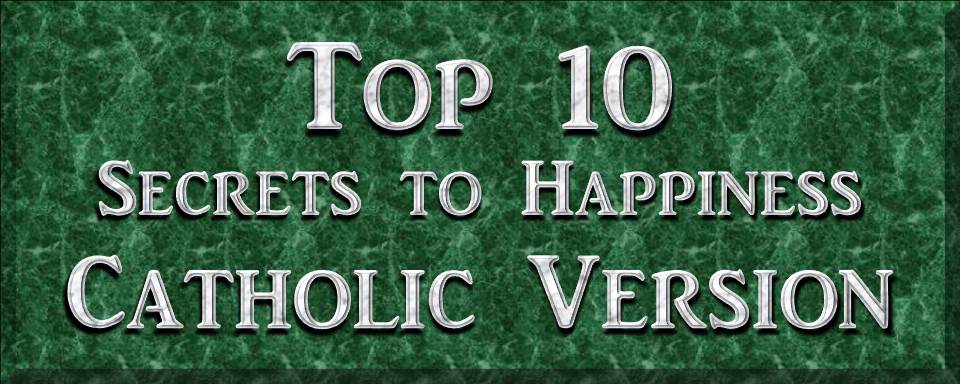 1. "Seek ye first the Kingdom of God." (Mt 6:33)
These words of Our Blessed Lord are the key to a life well-lived, for revealed within them is perhaps the greatest "secret" of all: He who makes the pursuit of worldly happiness his top priority will most certainly taste, and taste often, the bitterness of disappointment.
True joy is only possible for those who make seeking, loving, and serving God in all things their top priority.
2. "Love thy neighbor as thyself." (Mt 22:38)
When asked which is the greatest of all the commandments, Jesus answered: "Thou shalt love the Lord thy God with thy whole heart and with thy whole soul and with thy whole mind." This is yet another way of saying we must place our love of God before all things.
Our Blessed Lord continued: "And the second is like it: Thou shalt love thy neighbor as thyself."
Far too many in our day believe that it is possible to skip directly to "love thy neighbor" without first seeking God. In so doing they end up relying upon themselves as the sole authority in determining what is good and what is evil. The end result is a false understanding of what "love" truly is.
God is both Truth and Love; apart from knowing Him, one is unable to know how to truly love.
3. Find, embrace and persist in the one true faith; the Catholic faith.
As everyone knows all too well, human beings often err; even when their intentions are good. As such, one can truly desire to love and serve the Lord, but still fail to do so in truth. The Good News is that God has revealed in Christ Jesus, for our good, how we should love, serve and worship Him in truth.
Pope Leo XIII said of the Holy Catholic faith:
"Now, it cannot be difficult to find out which is the true religion, if only it be sought with an earnest and unbiased mind; for proofs are abundant and striking. We have, for example, the fulfilment of prophecies, miracles in great numbers, the rapid spread of the faith in the midst of enemies and in face of overwhelming obstacles, the witness of the martyrs, and the like. From all these it is evident that the only true religion is the one established by Jesus Christ Himself, and which He committed to His Church to protect and to propagate." (Immortale Dei – 7)
Having found, embraced, and persisted in the one true faith, an infinite storehouse of treasures are made available, among them are those that are set forth in the following:
4. Draw near to the Blessed Virgin Mary, Our Mother.
It only makes sense: In order to truly honor Our Blessed Lord, we must honor His Blessed Mother as well. As such, we must make every effort to delve deeply into the Church's doctrine on the Blessed Virgin Mary; to grow in understanding of her unique place in God's plan of salvation and her relationship to all who call her Son, Lord.
As in all things, our acts of devotion, while upholding the duty that each one of us has to love and serve the Lord in truth, are ultimately for our benefit unto eternal life. It is for this reason that Christ, from the Cross, gave the gift of His very own mother, not simply to the Apostle John, but to all of His beloved disciples:
"Son, behold your mother." (John 19:27)
What is a mother but one from whom life issues forth? The Blessed Virgin Mary is our Mother in the truest sense of the word, for from her womb issued forth the Life for all men, Jesus Christ, Our Lord and Savior. As a child finds peace in the arms of its mother, so too is peace made available to those who entrust themselves to Mary.
5. Make frequent use of the Sacrament of Confession.
"As the Father sent me, so I send you." (cf John 20:21)
Thus did the Risen Lord send forth the Apostles, the first ministers of the Church, to continue his saving work; the forgiveness of sin unto mankind's reconciliation with the Father.
To carry sin in one's life is a heavy burden; one that unnecessarily weighs us down and can even prevent us from entering eternal life with God; the destiny for which we were created. There is great joy, and great freedom, for those who avail themselves of the laver of confession.
6. Freely forgive those who have in any way sinned against you.
In Christ, forgiveness is freely given, and yet this same Christ taught us to pray to Our Father, "Forgive us our debts, as we forgive our debtors."
In order to truly live in the freedom of one who is forgiven, one must also freely forgive. At times, this requires more of us than we are capable of giving, but those who prayerfully seek the Divine help necessary to forgive others will be afforded the grace to do so, and with it will come the most magnificent liberation from bitterness.
7. Enter deeply into the Holy Sacrifice of the Mass.
"It would be easier for the world to survive without the sun than to do without Holy Mass." – St. Pio of Pietrelcina
What makes the Mass so indispensable to life itself?
St. Leonard of Port Maurice, the Patron Saint of Parish Missions, provides a useful answer:
"The most Holy Sacrifice of the Mass was instituted in order to apply in detail that universal ransom which Jesus paid for us on Calvary. While the bloody sacrifice of the Cross was the instrument of redemption; the unbloody sacrifice of the Mass is that which put us in possession of this work: the one threw open the treasury of the merits of Christ Our Lord; the other affords the practical use of that treasury."
Holy Mass is nothing less than the work of redemption carried out in our midst. That is why the world so desperately needs it!
It is Jesus Christ Himself who is active and present in the Mass. To enter therein, is to have a profound encounter with Him and to enter into His Saving work, apart from which we are destined to eternal death, rendering all forms of earthly happiness but an illusion rather than a foretaste of Heavenly bliss.
8. Receive the Most Holy Eucharist worthily.
Jesus said: "I am the living bread which came down from heaven. If any man eat of this bread, he shall live forever: and the bread that I will give is my flesh, for the life of the world … Amen, amen, I say unto you: except you eat the flesh of the Son of man and drink his blood, you shall not have life in you." (cf John 6)
That frequent confession precedes Communion in this list is crucial, for apart from being in a state of grace, one cannot receive the Most Holy Eucharist worthily unto its benefits; rather will it lead to "weakness, illness and even death." (cf 1 Cor. 11:30)
9. Live a "sacrificial" life.  
Ite missa est. This Latin phrase, the same from which "Mass" takes its name (from missa) is properly translated, "Go, it is the dismissal."
Through their participation in the Holy Sacrifice of the Mass, the faithful most profoundly join the sacrifice of their lives to the Divine Victim on the altar (cf Mediator Dei – 98, Pope Pius XII), and yet the very word "Mass" implies that we do not do so exclusively in the Mass; rather, we are to go forth, nurtured in the Blessed Sacrament, to live a life of ongoing sacrifice.
The first thing that may come to mind in this regard is perhaps serving others for the love of God and neighbor. This, however, is more closely associated with "secret" #2.
To live a sacrificial life is to embrace one's sufferings as did St. Paul who said, "Now I rejoice in my sufferings for your sake, and in my flesh I complete what is lacking in Christ's afflictions for the sake of his body, that is, the Church" (Col. 1:24).
All of us, without exception, suffer in some way, at times more intensely than others.
What shall we do with our sufferings? Will they become an excuse for anger and depression, or will they become a gateway that leads to greater blessing?
In His sacred humanity, Christ suffered in all that we suffer, but His sufferings are unique in that Christ alone offered His sufferings in perfect love for the Father, and for each and every one of us, in perfect union with the will of the Father, unto Redemption.
And yet, the faithful are so profoundly united with the Redeemer in Baptism as to be afforded an opportunity to join their individual sufferings to the Cross in such way that they may participate in the work of Redemption; for the benefit of His body, the Church, for ourselves and for her other members.
In this way, the sufferings that are part of every life are transformed by grace from occasions of bitterness to vehicles of grace.
10. Live a profoundly prayerful life.
To live a prayerful life is to remain in the presence of the Lord, not in endless words, but in authentic communication wherein one makes ample time also to listen.
Prayer well done includes adoration, repentance, thanksgiving, intercession, and contemplation.
The Pater Noster, the Our Father, given that it was taught to us by Christ Himself, is worthy of especially high esteem. It uniquely instructs us in how best to pray. With this in mind, I offer the following explanation of the Lord's Prayer taken from The Ecclesiastical Year by Fr. Leonard Goffine (FR Pustet & Co., 1880).
Of what does the Lord's Prayer consist?
It consists of an address, as an introduction to the prayer, and of seven petitions which contain all that we should ask for the honor of God, and for our own salvation. The address is thus: Our Father who art in heaven:
What does the word "Our" signify?
In the communion of saints we should pray for and with all the children of God; we should be humble and preserve brotherly love towards all men.
Who is it that is here called our "Father"?
Our Father is God who has made us His children and heirs of His kingdom through His Son.
Why do we say "Who art in heaven", since God is everywhere?
To remind us that our true home is heaven, for which we, should ardently long, because our Father is there, and there He has prepared our inheritance.
For what do we ask to the first petition: "Hallowed be Thy name"?
That we and all men may truly know, love, and serve God.
For what do we pray to the second petition: "Thy kingdom come"?
That the Church of God; the kingdom of Christ, may extend over the whole earth, and the kingdom of sin and the devil be destroyed; that Christ may reign in our hearts and in the hearts of all; and that God will deign to receive us into the kingdom of heaven when our earthly pilgrimage is ended.
For what do we ask to the third petition: "Thy will be done on earth as it is to heaven"?
We beg that God would enable us, by His grace, to do His will in all things, as the blessed do it in heaven. In these three petitions we seek, as taught by Christ, first the kingdom of God, that all the rest may be added unto us. (Luke 12:31)
For what do we ask in the fourth petition: "Give us this day our dally bread"?
We beg for all necessaries for body and soul
Why does it say, "this day"?
The words "this day" signify that we should not be over anxious for the future, but place all our confidence in God who will provide the necessaries of life.
What do we ask for in the fifth petition: "Forgive us our trespasses, as we forgive those who trespass against us"?
We beg that God will forgive us our sins, as we forgive others their offenses against us. Those who make this petition, and still bear enmity towards their neighbor, lie in the face of God, and will not receive forgiveness. (Mark 11:25, 26)
What is risked for in the sixth petition: "Lead us not into temptation"?
We ask God to avert all temptations or at least not to abandon us when we are tempted. We cannot, indeed be entirely free from them in this world, they are even necessary and useful for our salvation: for without temptation there is no combat, without combat no victory and without victory no crown.
What do we ask for in the seventh petition: "Deliver us from evil"?
We beg that God would free us from all evil of soul and body.
Conclusion
As may be clear to all by now, there really are no "secrets" to happiness; rather has God revealed in Christ Jesus, and entrusted in its fullness to the Holy Catholic Church alone, all that is necessary in order to lead mankind to his ultimate end and fulfillment.
Far from being a "secret," it is the Church's duty – from the least of her members to the Holy Roman Pontiff – to share this Good News with all the world, both in season and out.
It is folly to imagine that one might produce the ideal "Top 10 List" of those gifts entrusted to Holy Church; in truth, they are infinite. Let this list therefore be understood for what it is; a step in the right direction on a lifelong journey of faith.
"You have made us for yourself, O Lord, and our hearts are restless until they rest in you."  – St. Augustine