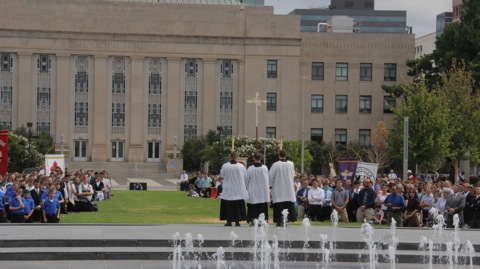 At this moment in human history when the Church is under attack from within at the hands of hierarchs who lack the wherewithal to proclaim the Social Kingship of Our Lord Jesus Christ, every single, solitary individual who calls himself Catholic, whether he knows it or not, is deeply indebted to +Archbishop Marcel-François Lefebvre.
How so?
In short, for standing against the tide of unbridled novelty that crashed against the Barque of Peter after the Council in order to preserve the treasure that was handed to him; that he might faithfully pass it on in all integrity to others, for the benefit of generations to come.
Among those who have benefited most, and rather directly so, is every priest of the Roman Rite today who celebrates the traditional Mass; including certain woefully ignorant self-promoting clerics who reap the blessed fruits of +Archbishop Lefebvre's labor with one hand whilst pointing a calumnous finger at the Society of St. Pius X with the other.
In any event, on the 21st of September 2014, as a direct attack against Christ the King was taking place in the form of a Satanic "Black Mass" in Oklahoma City, the SSPX provided a stellar example of what the Church Militant looks like in action as you can see for yourself in the video below.
Writing for Catholic Family News, Dr. Brian McCall described the grace-filled events that led to the magnificent public act of reparation shown in the video. Please, take a moment to read his beautifully written testimony.
When you have finished, offer an Ave Maria for any insecure little priest who, motivated perhaps more by a hatred of others than a love for the Church, may feel compelled to throw stones at the SSPX, thereby misleading the groupies (both small in mind and small in number) who, God help them, put faith in his putrid opinions.