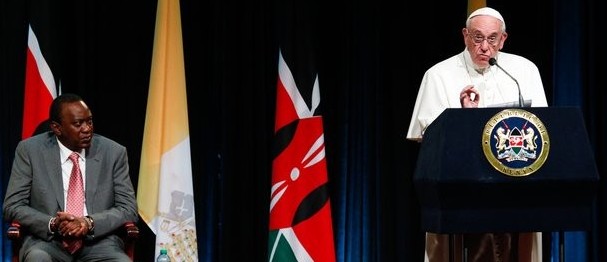 Heard any good jokes lately?
I saw one online this morning. It's an oldie but goodie; a real side splitter.
The Holy See is reporting Pope Francis' diplomatic voyage to Kenya as… get this… an Apostolic Journey!
It's dark humor to be sure, but downright hilarious just the same. The sad thing is, however, the people reporting it seem to be serious.
Worse still, it appears that a great many others actually believe that the label fits, and this in spite of the fact that nearly no evidence exists to suggest that the man has even one "Apostolic" bone in his entire body.
Seriously, is there any chance whatsoever that a faithful Successor to the Apostles who lived at any time prior to the conciliar revolution (much less a Successor of St. Peter) would recognize Francis, his words, and his deeds, as Catholic?
At best, if such a person from days gone by was somehow afforded a glimpse at the Bishop of Rome and his entourage moving about Africa today – waving to the crowds, shaking hands and giving earthbound speeches – they'd be hard pressed not to conclude that Rome had been invaded by a bunch of heretic politicians in Halloween costumes.
For instance, I just finished reading the text of Francis' address given at the United Nations Office in Nairobi.
As an envoy of Mother Earth, I must admit that he hit a home run; as a representative of Holy Mother Church, not so much.
Don't take my word for it; you can torture yourself by reading the speech firsthand if you wish, but be forewarned:
If you're expecting anything resembling the voice of Christ speaking through His Vicar, forget about it. If, on the other hand, you' re interested in hearing what sounds more like the voice of Miss America speaking through an elderly protestant man, you won't be disappointed.
"Climate change… Biodiversity… Fossil fuels… Urban poverty… Care for the environment…  Destruction of the environment. Environmental  degradation… Yada, yada, yada…"
Here's a brief overview of selected low lights:
– Our Lord Jesus Christ didn't make the cut, again; i.e., He through whom the planet and everything else was made didn't merit even one mention, and this in a speech about "care for creation."
– Francis signed off, not with anything resembling a papal blessing, but with a generic and oh so humble: "May the blessing of the Most High be with each of you and your peoples.  Thank you."
– Every good speaker (or so I am told) makes reference to the opinions of notable experts. Well, apparently, the really humble ones refer to their own body of work an awful lot too.
I know this because Francis quoted himself countless times (mostly from the Green Recyclical Laudato Si'). He also gave a solitary hat tip to Paul VI. (No, like Jesus, the pre-conciliar popes didn't earn a mention either, just in case you were wondering.)
As for the content of the speech itself, I think the following quote sums up the mindset of the speaker and his message pretty well:
This conviction leads us to hope that, whereas the post-industrial period may well be remembered as one of the most irresponsible in history, humanity at the dawn of the twenty-first century will be remembered for having generously shouldered its grave responsibilities. If this is to happen, the economy and politics need to be placed at the service of peoples. Far from an idealistic utopia, this is a realistic prospect which makes the human person and human dignity the point of departure and the goal of everything.
So much for calling man's attention back to God and the service that every human being owes to Him! No, no, no… we must keep our gaze ever focused on the "service of peoples."
You see, for Francis, it's simple and he makes no bones about it – everything is centered upon the human person and his bloated sense of his own dignity!
And here you thought "When once men recognize, both in private and in public life, that Christ is King, society will at last receive the great blessings of real liberty, well-ordered discipline, peace and harmony" (cf Quas Primas). You silly "traditionalist" (aka Catholic) you!
In conclusion, check out the following "word cloud" highlighting the frequency with which words were used throughout the speech. Ask yourself, does this look anything like the stuff of evangelization – the stock and trade of a true Apostle?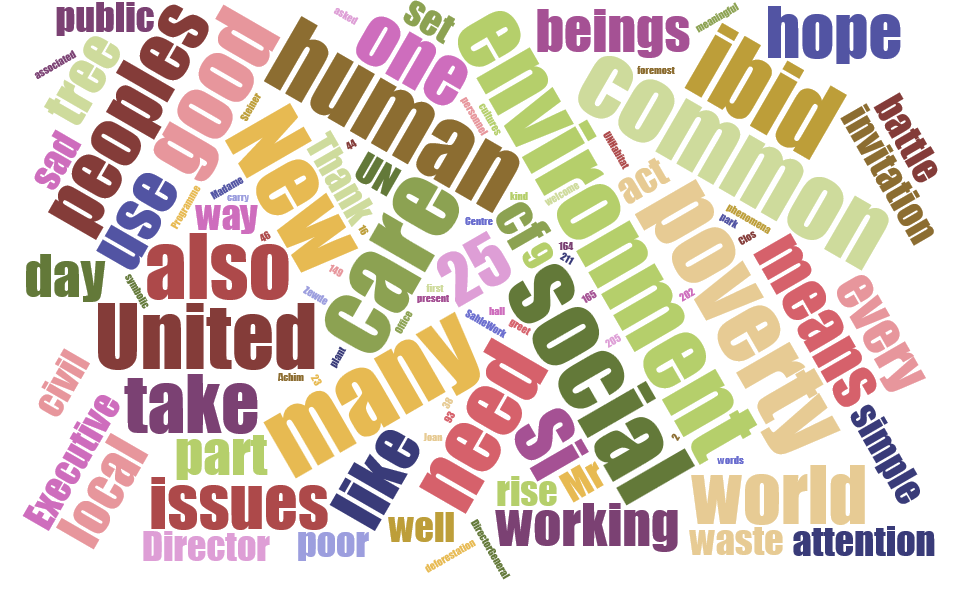 By contrast, take a look at the word cloud generated by St. Peter's discourse on Pentecost; keeping in mind that he was addressing a large, hostile crowd comprised of the Jews from whom he and the other Apostles had just been hiding for fear: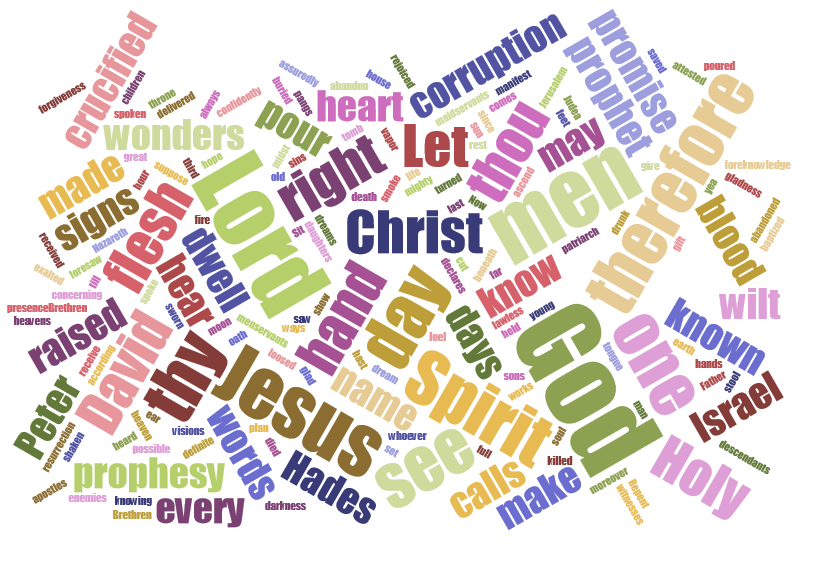 By the way, the word "apostle" means "one who is sent." We know Who sent St. Peter, our fist pope, to deliver his message. It's obvious simply by looking at the words that were spoken.
So… who exactly sent Francis?