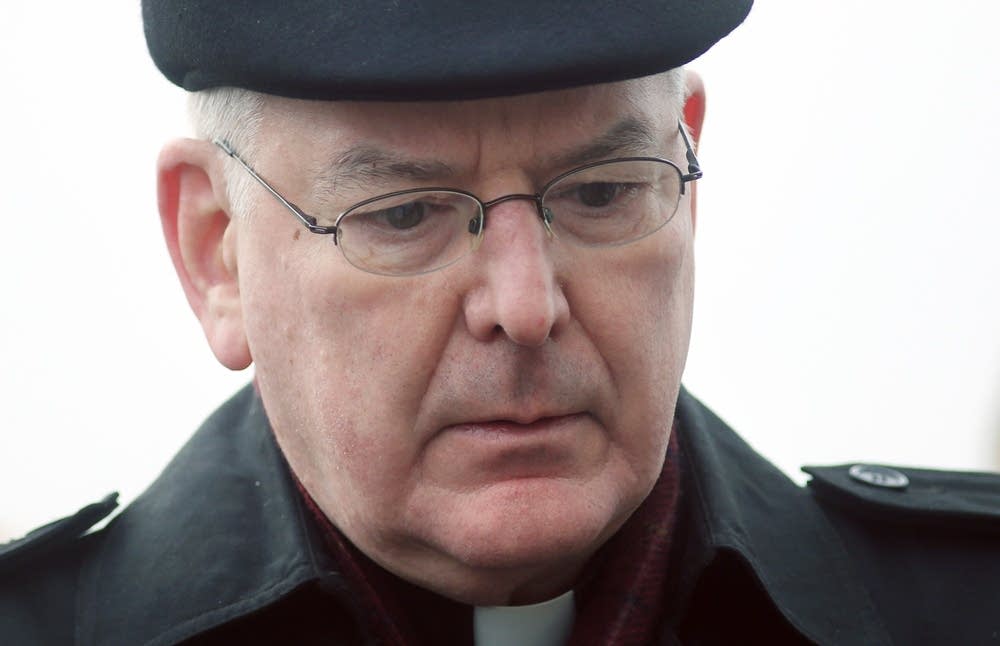 By: Randy Engel
[The following first appeared in the August 2018 edition of The Catholic Inquisitor.
PLEASE NOTE: This article was written in late June 2018 – well before Archbishop Viganò's testimony. I would caution readers to refrain from impugning Mrs. Engel's stellar reputation for accuracy and fairness until she has an opportunity to respond in detail to Archbishop Viganò's claim that he had no hand whatsoever in halting the Archdiocese of Saint Paul and Minneapolis' investigation into the Nienstedt affair. Mrs. Engel is preparing a response. I will publish her remarks on this specific matter next week. – Louie]
The Investigations of Abp. Nienstedt and
His Aftermath at the Napa Institute
The First Secret Investigation of Nienstedt – Cast of Main Characters 
The following individuals and corporate entities played an important role in the investigations (plural) of Archbishop John Nienstedt which began in the fall of 2013 and continued through the winter of 2015. 
Archbishop John Nienstedt of Saint Paul and Minneapolis (May 2008–June 2015).

 

Archbishop Harry J. Flynn – Nienstedt's predecessor (1995–2008).

 

Archbishop Bernard Anthony Hebda – Nienstedt's successor (2016– ). 

 

David Wallace-Jackson and Matthew Forsgren – Lead lawyers for Greene Espel Law Firm.

 

Father Daniel Griffith – Archdiocesan Delegate for Safe Environment (DSE) from August 2013 to July 2014. He holds a J.D. from William Mitchell College of Law; a M.A. in Theology and a M. Div., from the University of St. Thomas. He served as the liaison between the Law Firm of Greene Espel and Archdiocese of Saint Paul and Minneapolis. 

 

Bishop Lee Piché – Auxiliary of Saint Paul and Minneapolis. Ordained bishop on June 29, 2009, by Nienstedt. He was a former pastor of St. Joseph Parish in West St. Paul, where he oversaw sex abuser Fr. Curtis Wehmeyer from 2001-2005, while the latter was an assistant priest of the parish. Piché resigned June 15, 2015.

 

Bishop Andrew Cozzens – Auxiliary of Saint Paul and Minneapolis. Ordained priest on May 31, 1997. Ordained bishop by Nienstedt on December 9, 2013

 

Archbishop Carlo Maria Viganò – Apostolic Nuncio to the U.S. from October 19, 2011 to April 12, 2016. 

 

Cardinal Giovanni Battista Re – Prefect for the Congregation for Bishops.

 

Jennifer M.  Haselberger, JCL, Ph.D. – Former Canonical Chancellor of Archdiocese of Saint Paul and Minneapolis. She received her Licentiate from Catholic University of Louvain, Belgium in 2004; a Doctorate in Philosophy from the University of London, England; and is a member of the Canon Law Society of America.

 

Joseph F. Kueppers –  St. Paul Attorney and Archdiocese's Chancellor for Civil Affairs.

 

Andrew J. Eisenzimmer – Former Chancellor for Civil Affairs; with Nienstedt since 2005. Resigned after court evidence showed he protected pederast Fr. Jonathan Shelley.

 

Peter Wold – Attorney for Nienstedt for the follow-up investigation 

 

Fr. Patrick Ryan– A backer of Archbishop Nienstedt, he advocated letting the Papal Nuncio investigate the morals charges against Nienstedt.

 

Monsignor Peter Laird –  Former Chancellor from 2009-2013. Vicar General Moderator of the Curia; Ordained May 31, 1997. Resigned and was laicized on January 2014 after evidence demonstrated he shielded and protected Fr. Jonathan Shelley.  

 

Brian Wenger – Outside attorney for Archdiocese of Saint Paul and Minneapolis.

 

Very Rev. Charles Lachowitzer – Replaced Msgr. Laird as Vicar General on October 3, 2013. 

 

Thomas Ring – Assistant Ramsey County Attorney.

 

Stephania Wiersma – Assistant County Attorney.

 

Tom Smith –  Saint Paul Police Department Chief.

 

Eugene Leatherman – Lead Ramsey County Attorney's Office (RCAO) investigator. 

 

John J. Choi – Ramsey County Attorney and Chief Prosecutor for St. Paul and Minneapolis.

 

Jeffrey R. Anderson – Attorney for sex abuse victims. He alleged a massive 30-year cover-up in the Archdiocese of Saint Paul and Minneapolis. 

 
"Inappropriate Sexual Behavior" Charges Emerge in 2013 
When we last left Archbishop John C. Nienstedt at his new Archdiocese of Saint Paul and Minneapolis, except for some minor irritations from whistle blowers like Jennifer Haselberger, everything seemed to be going well for the Archbishop until the fall of 2013. 
From mid-October to late November 2013, "inappropriate behavior" charges against Archbishop Nienstedt began to surface at the Chancery of the Archdiocese of Saint Paul and Minneapolis. These charges spanned many years, took place at different locations, and were made by different accusers.  
 Most of these charges have already been chronologically presented in Part I of this series. They included (1) Nienstedt's alleged homosexual activities as a young priest in the United States and in Rome; (2) Nienstedt's alleged boundary violations with young seminarians and young men; (3) allegations of sexual solicitation of young priests. In addition, there was the question of the exact nature of Nienstedt's relationship with convicted pederast Fr. Curtis Weymeyer that had been raised earlier in June 2012 by Canonical Chancellor, Jennifer Haselburger. 
 Six months after she resigned, in September 2013, Haselberger went public with her complaints against the Archdiocese's handling of clerical sex abuse cases. Her timing loosely corresponded to the three-year opening of the window on the statute of limitations in Minnesota in May of that year. It also corresponded to the three-year investigation of the Ramsey County Attorney's Office (RCAO), along with the St. Paul Police Department, of a possible cover-up of sex abuse cases in the Archdiocese. 
Father Daniel Griffith Takes Over the DSE 
On August 15, 2013, Archbishop Nienstedt appointed Father Daniel Griffith to become the Archdiocesan Delegate for Safe Environment (DSE). Griffith was already aware of the charges made against the Archbishop when he took office.  
One of Griffith's first steps as DSE was to take his concerns regarding the accusations against Nienstedt to Archbishop Emeritus Flynn, who in turn forwarded the allegations against Nienstedt to Cardinal Giovanni Battista Re, the former Prefect for Congregation for Bishops.  
 This writer remembers Cardinal Giovanni Battista Re's role as the proverbial "fixer" for the Vatican in more than one troubling case involving homosexual bishops like the late Bishop Joseph Anthony Ferrario of Honolulu. In any case, we are not privy to the correspondence between Flynn and Re.   
On November 22, 2013, a confidential memo was circulated among a small group of Chancery officials to discuss the developing crisis regarding the Archbishop's alleged misconduct in Detroit, New Ulm and Rome. A meeting ensued between Father Dan Griffith, Joe Keuppers, Chancellor for Civil Affairs, Attorney Brian Wenger, Susan Mulheron, Associate Judge and Canonist, and Sara Mealey, the Archdiocese's Communications and Public Relations Director.  
According to Griffith, "It did not matter whether the behavior [of Nienstedt] was of a homosexual or heterosexual character.  Sexual conduct is a violation of the moral law and canon law," he said.  All those in attendance agreed that Nienstedt should be held to the same standard as any priest, although it did not quite work out that way in the course of actual events.   
Three days later, on Monday, November 25, 2013, a memo was sent to Nienstedt by Auxiliary Bishop Lee Piché, and Attorney Brian Wenger, outside legal counsel for the Archdiocese, listing the charges against him, and asking the Archbishop for his cooperation in a discreet internal investigation to be conducted by an impartial legal firm from outside the Archdiocese.  
Nienstedt immediately denied all the charges. He claimed he wasn't "gay." He attributed the "rumors" to the fact that he had closed down a Dignity chapter when he was an auxiliary bishop even though some of the allegations went back to his early years in the priesthood. On December 23, 2013, Nienstedt had his criminal defense attorney, Jon M. Hopeman, call Father Griffith and demanded that the DSE officer fork over the names of all the persons making the allegations. Griffith refused, stating that would be highly improper under the circumstances.  
Archbishop Nienstedt Agrees to Inquiry   
On January 31 of the new year, after weeks of foot-dragging, Nienstedt agreed to a discreet and thorough internal investigation. He appointed two of his auxiliaries, Bishop Piché and Bishop Andrew Cozzens to head the investigation. Piché, in turn, picked Griffith to be the liaison between the Archdiocese and the two lead attorneys, David Wallace-Jackson and Matthew Forsgren, representing the prestigious St. Paul law firm of Greene Espel which was selected in February 2014 to determine if the allegations against Nienstedt were true or false. The one and only client of Greene Espel was the Archdiocese of Saint Paul and Minneapolis and not any particular person including Nienstedt. 
On February 6, 2014, Griffith sent the Greene Espel attorneys a confidential memo listing the accusations against Nienstedt which he said he believed were "not frivolous or manifestly false." 
On April 10, 2014, three months later, Greene Espel lawyers, David Wallace-Jackson and Matthew Forsgren met at Wenger's home with Bishops Piché and Cozzens, Griffith, and the new Vicar General, Rev. Charles Lachowitzer. The lawyers presented a progress report that included 10 affidavits and 2 memoranda of interviews and summaries from those persons making the allegations against the Archbishop. They informed the assembled archdiocesan officials that there were 24 more leads still to be investigated, as well as an interview with Archbishop Nienstedt and his cast of select witnesses. The lawyers were especially interested in the testimony of Canonist Jennifer Haselberger.  
The lawyers went out of their way to state that all evidence presented to them was "compelling," i.e., the evidence thus far was found to be "credible" in their eyes and in the eyes of the investigators for the law firm. They also pointed out that affidavits were sworn testimony, and that the penalty for false testimony is a felony under state and federal law.  They also indicated that there was some concern about reprisals among those that testified, and that some priests even gave testimony that was against their own self-interest. 
Griffith made his contribution to the assembly by noting that the testimony provided to date revealed a pattern of unwanted sexual solicitation by Nienstedt and reprisals by him against those who did not accept his advances. He also stated that that the current Rectors of St. John Vianney College Seminary, and his predecessor had voiced concern about the Archbishop's close interaction with seminarians, his correspondence with some seminarians that bordered on the intimate, and Nienstedt's annual camping trips with college seminarians.   
Griffith also related a story he heard from the former Chancellor for Civil Affairs, Andy Eisenzimmer, who claimed that a high-profile priest who was engaged in an on-going affair with a man he picked-up in a cruising area, had the rare opportunity to meet with Archbishop Nienstedt to discuss the Archdiocese's investigation into the priest's homosexual liaison. After the meeting, Nienstedt announced that the investigation was ended, and he ordered Eisenzimmer to tell the priest's accuser that he could be sued for defamation if he insisted on continuing his accusations against the priest.  
Eisenzimmer also told Griffith that, on another occasion, an active homosexual priest from another diocese wanted to be incardinated into the Archdiocese of Saint Paul and Minneapolis. Eisenzimmer warned Nienstedt against the transfer, but the Archbishop ignored his legal advice and incardinated the deviant priest anyway.  
After everyone had their say, it was agreed that Bishops Piché and Cozzens should travel to Washington, D.C. to present the evidence collected by the Greene Espel lawyers to the Apostolic Nuncio at the Vatican Embassy two days hence, on April 12, 2014. Archbishop Nienstedt accompanied his two auxiliaries.  
Nuncio Inserts a Monkey Wrench into Investigation  
It is not known if any of the Archdiocesan officials or Greene Espel attorneys present at the April meeting were aware of the fatal flaw in their strategy in the person of Archbishop Carlo Maria Viganò the Papal Nuncio to the United States from 2011 to 2016. 
Archbishop Viganò now retired, has a long history of diplomatic service to the Holy See. He holds a Doctorate in both canon and civil law and speaks four languages – his native Italian, French, Spanish and English – which is all to his good. From 2009 to 2011 he served as Secretary General of the Governatorate of Vatican City State.  
Viganò entered the Vatican's diplomatic corps in 1973. From 1978 to 1989 he was posted to the Vatican's Secretariat of State where he perchance struck up a solid friendship with an up and coming American priest by the name of John Nienstedt who also worked at the same office from 1980 to 1985.  
Hence, the monkey wrench!  
As scheduled, that Saturday, Bishops Piché and Cozzens met with Archbishop Viganò and presented the case against Nienstedt. Copies of the Greene Espel affidavits and other pertinent evidence were given to Papal Nuncio. When the meeting ended, Piché called Griffith from the airport and said he believed a resolution to the matter was near.  
After meeting with Piché and Cozzens, Viganò had a private session with his old friend, Archbishop Nienstedt. It proved to be a real game changer for everyone involved in the case.   
The Nuncio placed a call to Piché and told the auxiliary that he [Viganò] wanted a quick end to the investigation. He ordered Piché to inform the Greene Espel lawyers that they were to narrow their focus to only one point – Was Nienstedt guilty of "a grave delict?" This is the standard under canon law that determines whether punishment is merited. Further, he said, none of the remaining leads were to be pursued including the charge that Nienstedt had had sexual relations with a Swiss Guard in Rome. It was understood that Viganò's permission was needed to continue the investigation, and he was not about to give it. 
When Piché and Cozzens returned to St. Paul, they did the unthinkable. The two men, without informing any of their colleagues, drafted a letter of protest to Archbishop Viganò stating that his directive to end the Nienstedt investigation would be viewed as a cover-up. They offered an alternative plan to have another bishop from outside the Archdiocese of Saint Paul and Minneapolis be appointed to complete the investigation. The letter turned out to be a ticking time bomb. 
Upon receiving the communication from the two auxiliary bishops, the Apostolic Nuncio must have exploded with anger. Later that month, Viganò contacted Piché and repeated his instructions to shut down the investigation. In addition, he ordered Piché to take back the letter the auxiliaries had sent him and destroy it. But destroying evidence is a felony under federal and state law, and the auxiliary knew that. Shortly afterwards other Church officials including DSE Griffith learned of Viganò's decision and the Piché and Cozzens counter-letter. 
Law Firm Won't Be Part of a Cover-Up 
On Easter Sunday, April 20, 2014, Piché and Griffith met with Greene Espel attorney Wallace-Jackson in Pechi's office at the Chancery. The lawyer was told that his original mission was now truncated and the only issue to be established before the investigation was closed was if Archbishop Nienstedt was guilty of "a grave delict," i.e., was he guilty of a serious crime, or not.  
Wallace-Jackson told Griffith that his law firm wanted to follow-up on the other leads. He also explained that on April 17, 2014, his office had obtained an 11th affidavit from a man [J.H.]  who said that he was dismissed from the seminary by Nienstedt when he rebuffed Nienstedt's invitation to join him on a private ski trip.  
Bishop Piché explained that the Papal Nuncio was against a continuation of the investigation and wanted it wrapped up quickly, but he refused to hand-over to the lawyer, a copy of the letter he and Cozzens had drafted and sent to Viganò.  
At this point. Wallace-Jackson made it clear that his law firm would not be part of any "cover-up" or "white-wash."   
Archdiocese Signs Off on Greene Espel Investigation  
On July 2, 2014, Bishop Piché sent a letter to the Greene Espel lawyers informing them that their services were no longer needed by the Archdiocese. Piché asked the law firm to conclude its inquiry and submit their report to the Archdiocese. Griffith was not informed of Piche's actions at this time even though Griffith served as the intermediary between the law firm and the Archdiocese.  
The following day, Greene Espel disengaged itself from the Nienstedt investigation, but said that before filing their final report they wanted to interview Canonist Jennifer Haselberger. Griffith gave them permission to do so.  
Griffith's Smoking Gun Letter 
On July 7, 2014, Griffith, who was also a lawyer as well as the Archdiocese's DSE, wrote a confidential memorandum to Piché with a carbon copy to Cozzens titled "Archbishop John Nienstedt Investigation" which summarized the case to date. Griffith speculated that Nienstedt "may have convinced" Viganò that the allegations were false. He also alleged that not allowing the original investigators to complete the investigation as initially proposed would be seen as a "cover-up." 
Among the other gems Griffith included in his 11-page memo was that the door was opened for Archbishop Nienstedt to resign his office; and according to a statement he [Griffith] found on May 14, 2015 in the testimony of Father Curtis Wehmeyer given to Greene Espel lawyers, the priest said he felt that Archbishop Nienstedt was "grooming" him [for a homosexual relationship].   
Father Griffith resigned his position as Delegate for Safe Environment the same month.  
Greene Espel Issues Final Report  
On July 29, 2014, the lawyers for Greene Espel provided Bishop Piché with a final report that reflected the investigation's narrowed scope based on the work they had completed, but it did not include any information on the leads they were not permitted to follow. Neither Griffith nor Greene Espel were aware that plans were already in motion to hire another law firm that would be more favorable to Nienstedt.    
Archdiocese Secretly Hires a New Attorney  
It is unclear if it was Nienstedt or Piché who made the decision to hire the Minneapolis high-powered, criminal defense attorney, Peter Wold of the Wold Morrison Law Firm to complete the Nienstedt investigation. Early news reports say it was Piché, but later reports claim it was the Archbishop. In any case, Nienstedt and Piché, both knew the score.   
Further, the news of the existence of a second investigation under a new lawyer was not formally admitted or released by the Archdiocese until early December 2014. Interviewed by the Star Tribune, Jennifer Haselberger said she'd like to know who was footing the bill for the new investigation and what was wrong with the Greene Espel investigation. 
We now know, however, that the second investigation was in motion by October 22, 2014 and ended January 15, 2015 when Attorney Wold completed his report. Wold re-interviewed some of the persons who had given Greene Espel affidavits including Joel Cycenas and Father Daniel Griffith. 
The timing of the December announcement on a second expensive investigation couldn't have been worse.  
One day later, on Friday, January 16, 2015, the Archdiocese of Saint Paul and Minneapolis became the twelfth Roman Catholic diocese in the United States to seek bankruptcy protection in the face of sexual abuse claims against its clergy. Archbishop John Nienstedt, Corporate Sole, filed for Chapter 11 in U.S. Bankruptcy Court in St. Paul, MN as the "fairest and most helpful recourse" for victims of clergy abuse.   
Fortunately for the Archdiocese, U.S. Bankruptcy Court Judge, Robert Kressel, ruled that the estates of parishes and other Catholic entities should not be consolidated with those of the Archdiocese.   
In late January 2015, both the Greene Espel and Wold reports on Nienstedt were sent to the Apostolic Nuncio for advice on whether the matter should be referred for some type of canonical review or other determination.  
The Greene Espel report cost the Catholic laity of the Archdiocese of Saint Paul something in the $400,000 range and the Wold Morrison report at least $138,600, but the contents of the reports were never made public. So, the long-suffering laity got zero, zip, zilch, nada, for their hard-earned money which was siphoned off to pay for the legal costs of the Nienstedt investigation, the results of which were deliberately hidden from them.    
Criminal Charges Filed Against Archdiocese  
On the morning of June 5, 2015, the Catholic sheeple of the Archdiocese of Saint Paul and Minneapolis woke up to news that the Ramsey County Attorney Office (RCAO) had filed criminal charges and a civil petition against the Archdiocese for its gross mishandling of the Father Curtis Wehmeyer case, and its subsequent failure to protect three young brothers from the clerical boy hunter.  
Ten days later, on June 15, 2015, both Archbishop Nienstedt and Auxiliary Bishop Lee Piché resigned 
The Vatican accepted the resignations under Canon 401 paragraph 2 which states, "A diocesan bishop who has become less able to fulfill his office because of ill health or some other grave cause is earnestly requested to present his resignation from office." 
Archbishop Nienstedt explained that he had a "clean conscience" after spending much of his time the last several years putting into place "solid protocols" that will aim to protect children and the vulnerable from sexual abuse. 
Auxiliary Bishop Lee Piché was a little more honest. He simply said, "The people of the Archdiocese of Sant Paul and Minneapolis need healing and hope. I was getting in the way of that, and so I had to resign."   
That same day, Pope Francis named Bernard Hebda – the former Bishop of Gaylord, MI and the then Coadjutor Archbishop of Newark, NJ – as the Apostolic Administrator for the Archdiocese of Saint Paul and Minneapolis. Hebda was not installed as Archbishop until March 24, 2016.  
For the record, it was Bishop Hebda, after consultation with the Apostolic Nuncio in Washington, D.C. and the Holy See, who made the decision not to release the Greene Espel and Wold Morrison Reports. The new Archbishop claimed that Pope Francis "certainly knows the situation in the Archdiocese."  
According to Hebda, "that internal question became irrelevant in my mind when Archbishop Nienstedt resigned." But he added that persons who had filed an affidavit in the case were free to make their statements public. And some did.  
In contrast, this writer believes that both final reports were relevant to the Catholic laity in general, and Catholics of the Archdiocese of Saint Paul and Minneapolis, in particular, and that they belonged in the public domain. In this case, Hebda's lack of "transparency" carried a hefty price tag of more than a half-million dollars, and the loss of confidence by Catholics who haven't quite gotten the message that all clerical sodomies are equal, but some are more equal than others.   
Archdiocese Mediates Charges With RCAO  
With Nienstedt now out of the way, and Hebda at the helm of the Archdiocese of Saint Paul and Minneapolis, John J. Choi, the Ramsey County Attorney and Chief Prosecutor for St. Paul and Minneapolis worked quickly toward resolving both the criminal and civil charges against the Archdiocese (but not against any particular official of the Archdiocese including the former Archbishop).  
In December 2015, the civil case against the Archdiocese was settled. The agreement included an apology by the Archdiocese to the victims of Curtis Wehmeyer and the pursuit of "restorative justice." There were also improvements made to the Archdiocesan "Safe Environment" procedures.   
On July 20, 2016, the criminal charges were dropped in exchange for additional provisions made to the December 2015 provisions including an independent audit of the Archdiocesan compliance procedures. One of the important provisions prohibited the Archdiocese from requiring a confidential agreement in connection with victim settlements unless requested by the victim. The Archdiocese also admitted that it "wrongly" put the interests of Curtis Wehmeyer and the Archdiocese ahead of the interests of Wehmeyer's victims but refused to plead guilty to committing a crime.  
RCAO Releases Important Documents to Public 
John Choi did perform an important public service when he ordered the release of many public documents from his own office's investigation of the Archdiocese of Saint Paul and Minneapolis. These included key memorandums such as Fr. Daniel Griffith's July 7, 2014 "smoking gun" letter; affidavits from persons who gave testimony to Greene Espel, and to Eugene Leatherman, the lead investigator for RCAO; and other information not only on the Archdiocese's mishandling and cover-up of the Wehmeyer case, but also on the alleged sexual misconduct of Archbishop Nienstedt.   
In response to the release of the documents, Nienstedt issued a statement in The Catholic Spirit (the official newspaper of the archdiocese) stating that the allegations of his misconduct are "absolutely and entirely false," and that he is a heterosexual and has been celibate his whole life. He said the decades old charges against him involved no minors and no criminal conduct.  
As the Dust Settled  
As soon as Archbishop Nienstedt officially resigned on June 15, 2015, his successor, Archbishop Bernard A. Hebda, tactfully suggested that Nienstedt pack his bags and leave the Archdiocese of Saint Paul and Minneapolis if not the State of Minnesota.    
Archbishop Emeritus John Nienstedt took the hint and returned to his family home near Lake Huron in Michigan, and his home Archdiocese of Detroit. 
On January 13-14, 2016, two Opus Dei media outlets, Aleteia and Catholic World News announced "Archbishop Nienstedt's New Assignment," with the opening line, "The former head of the St. Paul-Minneapolis Archdiocese, who resigned last year is keeping busy."  
Both reports indicated that Nienstedt had found a "job" serving as an assistant priest at St. Philip Roman Catholic Church in Battle Creek, MI (Diocese of Kalamzoo) where he will have his own office. He will reside at St. Clare House at St. Joseph's Catholic Church, the news outlets reported.  
Mention was made of the "unusual circumstances" surrounding his premature resignation as Archbishop of Saint Paul and Minneapolis including the Ramsey County Attorney Office's charges against the Archdiocese and charges of "personal misconduct" against Nienstedt, but the exact nature of the "misconduct," aka alleged homosexual behavior and sexual solicitation, were passed over with the statement that the Archbishop "strongly denied" the charges.  
On the weekend of January 9 and 10, 2016, Rev. John Fleckenstein of St. Philip Church inserted into the church bulletin news that his "old and trusted friend of 20 years" from Detroit, John Nienstedt, would be joining the parish staff to assist in a variety of pastoral ministries for the next six months.   
As soon as national and local sex abuse victim support groups heard the news they contacted the media in Minnesota and Michigan to protest the assignment.  It didn't take long for the fires of discontent to spread to the parish laity who expressed fear, disunity and hurt at the very presence of Nienstedt in their parish.  
Nienstedt issued a letter to the parishioners of St. Philip stating that he had "never been sued" and "that no legal charges have ever been filed against him."  
On January 15, 2016, Msgr. Michael Osborn, Vicar general of the Kalamazoo Diocese sent a letter to parents of students at St. Joseph School. The school is attached to St. Joseph Parish, which was Nienstedt's residence. Osborn told the parents that Nienstedt had not been "appointed, assigned, or hired by the Diocese," and that the Archbishop Emeritus had no planned interaction with the parochial schools.  
Msgr. Osborn offered his assurance that "Archbishop Emeritus Nienstedt begins his temporary ministry at St. Philip Parish as "a priest in good standing, having met the Church's stringent standards required to attain that status (emphasis added)."   
Whoa! 
Since when are faithful Catholics to believe that unrepentant sodomite members of the hierarchy are in "good standing" and meet the Church's "stringent criteria" for that status?  
The next day, January 16th, the Battle Creek Enquirer carried an opinion piece by Samantha Pearl, a parent with school age children from St. Philip parish. Pearl called the Osborn letter an "outrageous response to an already inflammatory situation," and laid out the charges against Nienstedt which this series has already highlighted.   
A statement issued by the Kalamazoo diocesan public relations officer, Victoria Cessna, appears to   contradict earlier press reports by Aleteia and Catholic World News. Cessna insisted that the diocese didn't assign Nienstedt to St. Philip Church, i.e., the diocese didn't give him a "job". The arrangement was merely a personal one between friends, and it met with Bishop Bradley's approval, Cessna said. Fleckenstein had "serious health issues," she said.  
At this point Bishop Bradley officially entered the picture. According to Bradley, the Diocese of Kalamazoo "welcomed" the Archbishop, while reiterating the diocese's commitment "to providing safe environment for all people." The Bishop said he had obtained a "security (background) check" on Nienstedt and that he had "followed all the proper canonical protocols." That Bradley took all these precautions indicated to this writer that Nienstedt's assignment at St. Philip was more than a brief, intermural venture, as Msgr. Osborn and Ms. Cessna had claimed earlier.  
Nienstedt Flees Battle Creek Parish  
On January 21, 2016, two weeks and one day after Nienstedt had unpacked his bags at St. Joseph Church and settled into his office at St. Philip Church, Bishop Bradley announced the termination of the Archbishop's short soiree through the Diocese of Kalamazoo.   
In his January 21, 2016 letter to the faithful of the dioceses, especially those of St. Philip Parish, Bradley noted that as their spiritual father, he "made every effort to ensure that there were no canonical restrictions" regarding Nienstedt's priestly ministry at St. Philip and that he followed "all the proper protocols (including appropriate background checks)." However, he failed to foresee "the full impact and strong emotional reaction" to Nienstedt's presence in the diocese. The bottom line of Bradley's letter was that "Archbishop Nienstedt has chosen to withdraw from the Diocese effective immediately for the good of the Church we all love."  
Where would he go next? The public relations office of the Diocese of Kalamazoo said that Nienstedt had not informed the diocese of "his next location." A media representative of the Archdiocese of Saint Paul and Minneapolis said the question of Nienstedt's whereabouts should be directed at the Archbishop himself. 
Nienstedt Returns to Michigan  
As expected, the Archbishop Emeritus returned to his family residence near Lake Huron in Michigan, obviously chastened by the Battle Creek experience. But that incident turned out to be a mere inconvenience when compared to the Ramsey County Attorney Office's release of affidavits and testimony against Nienstedt that same summer.  
Now, in better times, Nienstedt would have submitted to a canonical trial, and if found guilty of the delict of sodomy and seduction would have been relegated by the pope to a far-off monastery to live a life of austerity, repentance and prayer guarded by two elderly monks who never left his side.   
But these are not better times in the Church as every faithful Catholic knows. Instead, in the New Year of 2016, Nienstedt found himself as a permanent guest of the Napa Institute, the spiritual oasis of wealthy, cultured, and well-connected Catholics in the wine country of Napa Valley, Orange County, California.  
It is the last place he needed to be.  
An Introduction to the Napa Institute 
Founded in September 2010 and incorporated on October 28, 2011, the Napa Institute is a "non-profit" tax-deductible entity which takes the form of an annual academic and spiritual apostolic conference, and regional symposia, designed to inspire wealthy Catholic leaders "to defend and advance the Catholic Faith in the 'Next America' – today's emerging secular society."  
The "target population" of the Napa Institute includes members of the Catholic hierarchy, Catholic professionals including diocesan staff and leaders of Catholic apostolates and institutions, and affluent Catholic leaders and their spouses.  
The Napa Institute is the combined brainchild of Napa Valley lawyer, real estate entrepreneur and Catholic philanthropist Timothy R. Busch, (Chair) and former Gonzaga University President and Eternal Word Television Network (EWTN) personality, Fr. Robert Spitzer, S.J. (President).  
Mr. Tm Busch is founder of the Busch Firm which specializes in high end estate planning and multi-million-dollar real estate projects and business transactions. He is also the founder and CEO of Pacific Hospitality Group, LLC, which owns eight hotels including the Meritage Hotel and Spa in Napa Valley with its Our Lady [Queen] of Grapes Chapel! The oratory is part of the Diocese of Santa Rosa headed by Bishop Robert Vasa.   
Busch serves or has served on the Board of Catholic University of America (CUA), the Magis Center, and the Papal Foundation.  The Busch Family Foundation donated $15 million to CUA to renovate and provide operational funds for the university's School of Business and Economics [renamed the Tim and Steph Busch School of Business and Economics].   
Fr. Robert Spitzer is President of the Magis Center of Reason and Faith located at the Christ Cathedral in Garden Grove, California. The Center was also co-founded by Busch and Spitzer. Spitzer also co-founded the Spitzer Center of Ethical [now Visionary] Leadership at Ann Arbor, Mich., which seeks to help church organizations "optimize their culture, confidence, spirituality and faith for the New Evangelization."  He is also the Rector of Junípero Serra Catholic High School in San Juan Capistrano, California, which was co-founded by Tim Busch and his wife, Steph.  
The Napa Institute has no physical headquarters of its own. Its base of operation is the southern corporate office of the Busch Firm at 2532 Dupont Drive in Irvine, CA, but its Annual Conference is held at Busch's premier Meritage Resort and Spa famous for its gourmet dining and fine wines. Here successful Catholic CEOs and their families can hob nob with prominent members of the American Catholic hierarchy, Vatican prelates and lay and clerical Catholic intellectuals and leaders on how best to "set a new course for American Catholicism in a secularized society." 
The Governance of the Napa Institute 
The officers of the Napa Institute are Rev. Robert Spitzer, President and Director; Timothy Busch, Chair and Director; John C Peiffer II, Secretary and Treasurer. Other members of the Board of Directors are Archbishop Charles J. Chaput; Mark Brumley, Timothy Gray, Frank J. Hanna III. In 2014, George Weigel was added to the Board. That same year, Busch hired John M. Meyer to be the Napa Institute's Executive Director.  
When the Napa Institute began is programs, its budget was a mere $21,000. By 2015, its grants and gross receipts had risen to $1,300,000.  
The Napa Institute Support Foundation was incorporated by Tim Busch (President) in January 2016, to financially support the Institute. Stephan L. Busch is Secretary Director and there are three other Directors. The Support Foundation assets are over $4 million. 
Napa Institute Ecclesiastical Advisory Board 
Members of the American hierarchy serving on the Napa Institute's Ecclesiastical Advisory Board include:  
Archbishop José Horacio Gómez, Archdiocese of Los Angeles (California)

 

Bishop Kevin Vann, Diocese of Orange (California)

 

Bishop Robert F. Vasa, Diocese of Santa Rosa (California)

 

Bishop Peter Leslie Smith, Auxiliary Bishop of the Archdiocese of Portland (Oregon)

 

Archbishop Samuel Aquila, Archdiocese of Denver (Colorado)

 

Bishop Michael C. Barber, Diocese of Oakland (California)

 

Archbishop Salvatore Cordileone, Archdiocese of San Francisco (California)

 

Bishop Robert Charles Morlino, Diocese of Madison (Wisconsin)

 

Archbishop Steven J. Lopes, Personal Ordinariate of the Chair of Saint Peter 

 
In addition, Archbishop Charles J. Chaput of the Philadelphia Archdiocese sits on the Board of Directors of the Napa Institute as I have already noted.   
The Hidden Hand of Opus Dei at the Napa Institute 
There is a certain degree of irony in the above sub-title since my decision to do this story on Archbishop Nienstedt was determined, in part, by my desire to take a break from my frequent critical writings on Opus Dei which includes a monthly e-mail series called OD WATCH.  
But, I should have known better.  
It is a rarity these days to find a truly Catholic apostolate or organization or media outlet which does not have Opus Dei's paw prints – visible and invisible – running through it in some form or another.   
The Napa Institute is no exception to the rule as I was about to discover. After all, what better target for Opus Dei to colonize than a Catholic Institute which also caters to the wealthy and influential? With Busch providing the $$$ and Opus Dei providing the spiritual and doctrinal inspiration, why it's a match made in hell!  
But why is Opus Dei relevant to an article on the wayward Archbishop? Opus Dei's influence is relevant because it is unlikely that Nienstedt would have found a permanent home at the Napa Institute without the Prelature's approval, specifically the approval of Opus Dei Archbishop José Gómez, a leading light at the Napa Institute.  
Opus Dei Connections to the Ecclesiastical Advisory Board  
My first clue that there were connections between the Napa Institute and Opus Dei occurred when I reviewed the names of the members of The Napa Institute's Ecclesiastical Advisory Board, some of whom are associated with Opus Dei's Rome Experience Program "inspired by the spirituality and teachings of Josemaria Escriva," the founder of the Work.    
The most obvious connection was that of Archbishop José Gómez, who was the first numerary member of Opus Dei to be consecrated a bishop in the U.S.    
Born in Mexico and later a naturalized American citizen, Gómez has spent his entire adult life under the rule of Opus Dei which he joined in his early twenties while attending the National University of Mexico. He studied at both Rome campus of the University of Navarre and at Opus Dei's University main campus in Pamplona, Spain. He was ordained a priest of Opus Dei by Cardinal Franz König in 1978; consecrated an Auxiliary Bishop of Denver by Archbishop Chaput in 2001; appointed Archbishop of San Antonio (Texas) in 2004 by Pope John Paul II; and became Archbishop of Los Angeles in 2011. 
In November 2016, Gómez was elected for a three-year term as Vice-President of the U.S. Conference of Catholic Bishops. The office of vice-presidency is generally a stepping stone to the presidency of the USCCB.  
In keeping with Opus Dei's special interest in Catholic media, Gómez is a member of the Pontifical Council for Social Communication. The Archbishop is also a founding member of ENDOW (Educating on the Nature and Dignity of Women) and the creator of Catholic Association of Latino Leaders (CALL).  
Archbishop Gómez was the principle consecrator of Bishop William Vann who also sits on the Napa Institute's Ecclesiastical Advisory Board. Bishop Vann has close connections to Opus Dei. He is an Advisory Board member of Opus Dei's Rome Experience Program which provides Opus Dei spiritual formation for diocesan priests. Also, Vann's Chancellor for the Diocese of Orange and the lead administrator and secretary of the Diocesan Curia is Dr. Pia de Solenni. SThD, who received her Doctorate in Theology from Opus Dei's Pontifical University of the Holy Cross in Rome.   
A third member of the Napa Institute Ecclesiastical Board who also serves on the Advisory Board of Rome Experience Program is Bishop Robert Morlino, head of the Madison Diocese. 
Also, Rev. Ronald Cattany of the Archdiocese of Denver is the Assistant Program Director for the Rome Experience, presumably has the approbation of his superior Archbishop Samuel Aquila, another member of the Ecclesiastical Board.  
For the record, I should mention that Archbishop Bernard A. Hebda, who replaced Archbishop Nienstedt as the Archbishop of Sant Paul and Minneapolis, is also an advisor to the Rome Experience Program. This is important in so far as Hebda may have played a role in Nienstedt coming to the Institute in 2016, a matter we will revisit later in this concluding segment on Archbishop Nienstedt.  
Opus Dei's Presence at Napa Institute Conferences 
Since the founding of the Napa Institute, Opus Dei has always played an important role at its major four-day conferences which focus on themes equally close to the heart of Opus Die including "religious freedom," "the sanctity of work," later changed to "the dignity of work," faith and reason, economic justice, Christian business ethics, "human ecology," "spiritual refreshment," and "building a culture of life." 
Media technicians from EWTN have been on hand to record the plenary sessions and some "breakout sessions," for posterity.  
Registration fees are very high, although clergy and religious do get a $1000 discount. The current fee for Catholic laity for the 2018 Meritage Conference featuring "The Magisterium of Pope John Paul II," is $2,500 per person not including lodgings and travel.   
Daily Masses include the Tridentine Mass and the "Nervous Ordo Mass" said in Latin and the vernacular. 
Special attention is allotted each day for Confession and Spiritual Direction (Opus Dei priests frequently available), and there is a beautiful Eucharistic Procession and the Angelus as well as the Exposition of the Blessed Sacrament and Adoration.  
Gourmet foods, fine wines, cigars, and beautiful lovely music, accommodations, and scenery flow seamlessly through the Conference days with leisure time for golf outings and sightseeing excursions. I know it's a terrible penance to impose on anyone, but Conference attendees appear willing to suffer through the Conference. 
Napa Institute Conferences Throughout the Years  
At the First Napa Institute Conference held on July 28-31, 2011, Opus Dei Archbishop Gómez gave the opening address on the theme of "Immigration and the Next America."  
At the Second Napa Institute Conference held on July 26-29, 2012, Napa Board member, Archbishop Chaput gave the major address titled "Building a Culture of Religious Freedom," in which he decried the fact that "America is now mission territory." Ironically, what Chaput laments can be traced directly to Vatican II's Declaration on Religious Freedom, but the speaker fails to make any connection between Dignitatis Humanae and the decline of Catholic practices and vocations in the West, and leaves the 200 Catholics in the audience in untroubled bliss and ignorance.   
The text of Chaput's 2012 speech has been preserved at Opus Dei's corporate work, the Witherspoon Institute's website.  
Archbishop Chaput, a Capuchin priest, has championed the Church's new sects (cults) including Opus Dei, Focolare, Communion and Liberation and especially the Neo-Catechumenal Way as dynamic forces which can invigorate the Church and the world.  
At the Third Annual Conference held on August 1-4, 2013, Tim Busch, Napa Institute's co-founder invited American Bishops to come together for a panel on issues facing the Catholic Church.  
Archbishop Nienstedt was listed as the conference's chief catechist. His main address was on the family as a foundation of culture and is still available on the Legatus website.  This event is significant as it demonstrates that Nienstedt was acquainted with the Napa Institute before he joined the staff in 2016.  
Other prelates in attendance at the August 2013 conference were Archbishops Gómez, Chaput, Aquila, Cordileone, and Bishops Vasa, Vann, Morlino and retired Archbishop Alexander J. Burnett of Seattle. 
That same year, 2013, Opus Dei Archbishop Gómez led a Napa Institute pilgrimage to the Basilica of Our Lady of Guadalupe in Mexico City. The trip brochure boasted 5-star accommodations and behind- the-scene access for the pilgrims. 
By the time of the Fourth Conference held on July 24-27, 2014, it was clear that the Napa Institute was broadening its horizons. A strategic plan for expansion was presented to the attendees, now numbering 366. Episcopal guest speakers included Cardinal William Levada, Cardinal James Harvey, Archbishop Joseph Kurtz, president of the USCCB, and Archbishop Thomas Wenski, along with the regulars Archbishop Chaput and Archbishop Cordileone. Opus Dei supporter Rick Santorum was among the Catholic lay leader speakers.   
The Fifth Annual Conference on July 30-Agust 2, 2015, featured the presence of one of the most pro-homosexual prelates in the Church, Cardinal Christoph Schönborn, Archbishop of Vienna and editor of the 1992 Catechism of the Catholic Church, which proves that Napa Institute money doesn't necessarily buy discernment. Schönborn, a Dominican, has a close and wearisome association with Opus Dei. Opus Dei Today and other Opus news outlets have always given Schönborn good press, and the prelate has always come to the defense of the Prelature.   
The Sixth Annual Conference held July 7-10, 2016, boasted 500 attendees. It was the most controversial Napa Institute Conference to date.   
This was because the secular media had discovered that the elusive Archbishop Nienstedt had moved to the Napa Valley area and was saying Mass that weekend at the Meritage Chapel for Napa Institute attendees.  
Executive Director John Meyers had to explain to reporters covering the conference that Nienstedt had been hired as a consultant by the Napa Institute to write and edit religious documents.  
Bishop Vasa, when questioned by the media, came to the Archbishop's defense stating Nienstedt was "a priest in good standing." More on Vasa's comments later. 
Other prelates present at the conference were Cardinal Timothy Dolan, Archbishop Alexander Sample, Archbishop Bernardito Auza, and Bishop Michael Barber. None protested the presence of Archbishop Nienstedt at the Conference.     
Among the Opus Dei speakers at the Conference was Scott Hahn, although he was not identified as such in the publicity brochure.  
On March 16-18, 2016, the Napa Institute joined with Catholic University of America's School of Business and Economics to present a Conference on Human Ecology. On hand to offer Mass and spiritual direction and guidance to the attendees were Father Arne Panula, Vicar for Opus Dei for the United States (now deceased), and Opus Dei priest, Msgr. Martin Schlag, who received his Doctorate in Theology from Opus Dei's Pontifical University of the Holy Cross.   
On April 3-6, just three months before the July Conference, Tim Busch announced that the Napa Institute would be holding its first International Conference on Church Management in Rome at Opus Dei's Pontifical University of the Holy Cross. 
At the Seventh Annual Conference held from July 26-30, 2017, Opus Dei members and supporters and founders of Opus Dei-related "apostolates" were openly working the crowd. These included Archbishop Gómez, Scott Hahn, Rick Santorum, and George Weigel. Father Luke Mata, the Vicar of Opus Dei in California, said Mass at Our Lady of Grapes Chapel, and offered spiritual direction.   
Opus Dei's presence will be even stronger at the July 11-July 15, 2018, Eighth Annual Conference based on the theme "The Magisterium of Pope St. John Paul II." There will be a private reception with Aleteia, an Opus Dei media outlet; Father Juan R. Vélez, a priest of Opus Dei, who resides in Chicago will talk on John Henry Newman; Father Luke Mata, a priest of Opus Dei will say Mass at Our Lady of the Grapes Chapel; Scott Hahn will give a talk on Biblical Theology; and Kathryn Jean Lopez of Catholic Voices USA, an Opus Dei "apostolate," will moderate the panel on John Paul II. 
Please note also that, as of this writing, Archbishop John Nienstedt is scheduled to be saying Holy Mass at Our Lady of Grapes Chapel on July 9, 10, and 11, 2018, at the Napa Conference.    
Napa Institute Joins EWTN 
Another vital connection between the Napa Institute and Opus Dei is the Eternal Word Television Network (EWTN Global Catholic Network).  
At the Fourth Napa Institute Conference held in July 2014, Bishop Vann and EWTN CEO, Michael Warsaw, announced that the world's largest religious media network was building a West Coast facility on the campus of Christ Cathedral Church in Vann's Diocese of Orange, CA.  
Speaking for the Napa Institute, Vann said, "We are blessed to partner with EWTN." But he did not mention EWTN's active but secret and silent partner Opus Dei, an important subject certainly, but for another day.  
In the meantime, the union between the Napa Institute and EWTN (and Opus Dei) will certainly prosper with Opus Dei Archbishop Gómez, Archbishop Chaput, and Frank J. Hannah III, a Director of the Napa Institute, all sitting on the EWTN Board of Governors.  
The Napa Institute, Legatus, and Opus Dei
One of strongest connections between the Napa Institute and Opus Dei runs through Tom Monaghan's Legatus: Ambassadors for Christ in the Marketplace, an organization of "top-tier," monied CEOs – the kind that both the Institute and the Prelature adore and attract. 
Tom Monaghan, "the Pizza King," founded Legatus in 1987 in Ann Arbor, Mich. As advertised, the Catholic business organization of successful CEOs and their spouses is based on four pillars – "faith, family, community, and business." 
Tim Busch has been an active member of Legatus since 1990 and has been named Legatus's Ambassador of the Year in 1994 and again in 2009. Napa Institute's other co-founder, Father Spitzer has served as the International Chaplain for Legatus, Busch's private foundation, the Napa Institute Foundation (not to be confused with the Napa Institute Support Foundation) has contributed to the formation of Legatus chapters in the Western United States especially in California. 
Legatus's Ecclesiastical Advisor is none other than Opus Dei Archbishop Jose Gómez of Los Angeles. He succeeded Cardinal Anthony Bevilacqua of Philadelphia in 2012.  
Closing the Case of Archbishop John Nienstedt 
As we bring this series to a close, there are still many questions surrounding the continuing permanent presence of Archbishop Nienstedt at the Napa Institute – important question which have never been answered and maybe never will be.  
On August 27, 2016, following the July 2016 Napa Institute Conference at the Meritage Resort and Spa where Archbishop Nienstedt said Mass for the attendees, The Press Democrat quoted Bishop Vasa of Santa Rosa Diocese and a member of the Napa Institute Ecclesiastical Advisory Board as saying that the resort chapel is "a suitable place for him [Nienstedt] to celebrate Mass."  
When asked how he knew Nienstedt was coming to the Napa Valley, Vasa said, "I talked to Mr. Tim Busch, he told me. I talked to (successor) Archbishop (Bernard) Hebda of St. Paul and Minneapolis and he told me. So, that's how I know."  
Vasa went on to explain there was nothing to prevent the Archbishop from presiding over any diocesan parish were the pastor to invite him. Vasa said Archbishop Hebda told him that Nienstedt is "a priest in good standing." 
"I have no concerns about him," Vasa said.  
No concerns? Really! 
Here we have a Catholic prelate who has perjured himself at least twice under oath in a court deposition given on clerical sex abuse of minors; has engaged in a systematic cover-up of sex abuse cases in his Archdiocese; had or attempted to have consensual anonymous sex with young males as well as his own seminarians; and is accused of having sex with a Pontifical Swiss Guard (a charge prevented from being investigated by Archbishop Carlo Maria Viganò), and Bishop Vasa has no concerns, not even possible concerns for the sacrilegious Masses being said by an unrepentant Archbishop Nienstedt?  
I wonder what the pious, and wealthy and influential guests of the Napa Institute would have to say if they learned that their sons who were attending World Youth Day abroad were sequestered in a hotel room after a drenching rain and told to strip naked in front of Archbishop Nienstedt and he stripped naked in front of them?  
What's wrong with Bishop Vasa? What's wrong with Archbishop Gómez and Archbishop Hebda, and all those close-mouthed Catholic prelates present at the 2016 Napa Institute Conference?  
What's wrong with Tim and Steph Busch and the fathers and mothers present at Napa Institute Conference that would permit them to remain silent in the face of such a public demonstration of moral turpitude as Archbishop Nienstedt saying public Mass at Our Lady of Grapes Chapel on the evening of July 9, 2018 at the opening of the Eighth Napa Conference.    
And what about the eternal soul of the wretched Archbishop Nienstedt?  
It's clear his fellow bishops don't care a fig about the victims of clerical sexual abuse of minors and vulnerable adults (including the handicapped and seminarians and newly ordained priests and religious). But what is even more clear is that they don't care about the eternal welfare of poor Archbishop Nienstedt, or else why would they continue to place him in an environment filled with potential male victims who are just his type – young, elite, and cultured. 
I know that there are many truly pious and faithful Catholics who attend the Napa Institute annual event. But perhaps the next time they are called upon to write out that big fat check to the Tim and Steph Busch's Napa Institute, they'll remember this strange and sad tale of Archbishop Nienstedt and just say, No! At least until Archbishop Nienstedt is sent away to a place where he can work out his salvation in tears and trembling, as we all must do, before we are called to the Final Judgement.  
The End