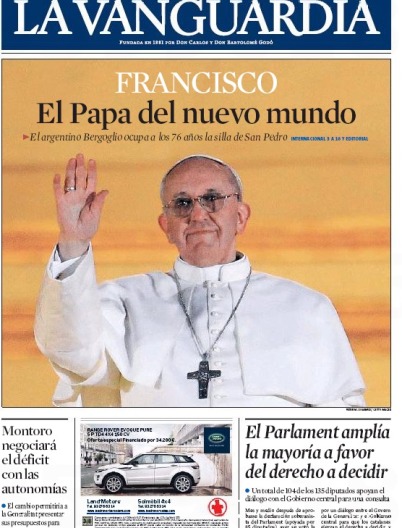 The Holy Father has once more made international headlines with yet another interview, this time with the Spanish daily, La Vanguardia, the English text of which is available on the website of Catholic News Agency.
Here are just a few initial thoughts…
Among the noteworthy portions are the Holy Father's comments on the "Invocation for Peace" that was held at the Vatican on Pentecost, wherein a Muslim cleric offered "prayers" from the Qur'an.
Pope Francis: "It was not at all a political act – I felt that from the beginning – but it was rather a religious act: opening a window to the world."
Well, so much for the defense of this abomination mounted by those who claimed the "Invocation for Peace" was a fitting exercise of the pope's role as a "Head of State."
Then we get to the matter of Pope Pius XII and the unjust criticism heaped upon him by modern day enemies of the Church.
Pope Francis: "They have said all sorts of things about poor Pius XII. But we need to remember that before he was seen as the great defender of the Jews. He hid many in convents in Rome and in other Italian cities, and also in the residence of Castel Gandolfo. Forty-two babies, children of Jews and other persecuted who sought refuge there were born there, in the Pope's room, in his own bed. I don't want to say that Pius XII did not make any mistakes – I myself make many – but one needs to see his role in the context of the time."
With gratitude to the Holy Father for this defense of his predecessor, we need to be honest; lip service is easy.
Beatifying the hapless Paul VI, destroyer of the sacred liturgy, while the cause of Pius XII remains stalled for fear of offending those who reject Christ will effectively strip from these words whatever force they may now appear to have.
On the same topic, the Holy Father continued:
Pope Francis: "Did you know that they [the Allied powers] knew the rail network of the Nazis perfectly well to take the Jews to concentration camps? They had the pictures. But they did not bomb those railroad tracks. Why?" 
And yet, during a homily back in February, he made headlines for his condemnation of weapons manufacturers.
Pope Francis: "Think of the great dining rooms, of the parties held by those who control the arms industry, who produce weapons. Compare a sick, starving child in a refugee camp with the big parties, the good life led by the masters of the arms trade."
This is the problem with setting up anonymous bogymen – a hallmark of the current pontificate; it leads to apparent contradictions. Sticking with Catholic doctrine (in this case as it concerns just war) is the answer, of course, but we all know how Pope Francis feels about "those who long for an exaggerated doctrinal 'security.'"