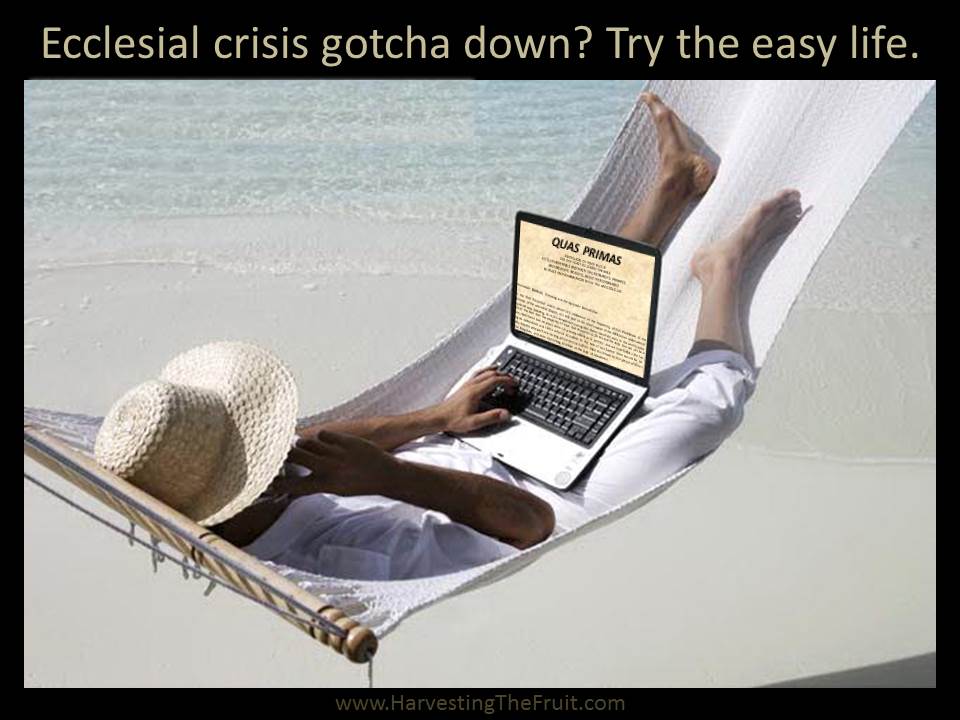 No one ever said it would be easy.
I think all of us recognize that there's some truth to that old saw, especially those of us who strive, however poorly in the case of the present writer, to walk in the ways of Him who said:
"Pick up your cross and follow me … for the gate is narrow and the way is hard."
For Catholics of a more traditional bent, who endure all manner of derision and persecution in our day, not only from unbelievers outside of the Church, but also from within at the hands of men who occupy even the highest offices, the "hard way" is an especially tangible reality.
This being the case, it is perhaps understandable that we sometimes lose sight of the fact that ours is a faith of glorious paradoxes, wherein suffering and joy; mystery and simplicity; thirst and nourishment; far from being mutually exclusive, are in some way bound together one to the other in this vale of tears.
A reminder, therefore, may be in order; that the soldiers of Christ enlisted in the Church Militant may ever be mindful that we serve Him who also said:
"Come to me, all who labor and are heavy laden, and I will give you rest. Take my yoke upon you, and learn from me; for I am gentle and lowly in heart, and you will find rest for your souls. For my yoke is easy, and my burden is light."
This morning, as I pondered the nonsense that seems to flow out of Rome and elsewhere in the Church on a near daily basis, it occurred to me how dreadfully laborious the life of the neo-Catholic conservative commentator must be.
When events such as those that took place at the Vatican on Pentecost unfold, or when the Vicar of Christ refrains from making the Sign of the Cross out of "respect for the consciences" of non-Catholics, or when he publicly anoints religious pluralism "a gift," or when he refers to a heretical layman in a clerical costume as a "brother bishop," or encourages Muslims to hold fast to the Qur'an and their false religion, or whatever the offense against Our Blessed Lord du jour may be, the neo-Catholic mind is immediately compelled to contort and twist and reconfigure whatever fragments of Catholic sense still remain; suppressing not only the voices of Pontiffs past but also the forces of logic and reason; all in an effort to buttress an unstable faith built upon the post-conciliar illusion of "continuity."
At stake for the neo-Catholic conservative commentator is nothing less than the required work permit for those who wish to trade in a newchurch pseudo-apostolate; the key without which access to the diocesan machine and anything that is darkened by its considerable shadow is even remotely possible.
The so-called "traditionalist" (aka Catholic), by contrast, immediately recognizes and identifies offenses against Our Lord for what they are, regardless of the source; he laments them, makes reparations for them, and to whatever extent his sphere of influence may allow, he corrects them.
No mental gymnastics; no spin jobs; no tortured translations necessary.
At the end of the day, nothing could be simpler.
No one ever said it would be easy.
That's true enough, but it's also true that conforming one's mind to the Church in all things, in some ways, is nothing short of the easy life.