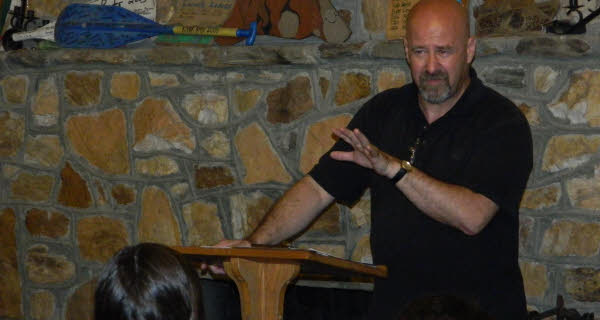 As I suggested in a previous post, as the Catholic world reacts to the "Invocation for Peace" that took place at the Vatican on Pentecost, the mettle of individuals is being made known.
Fr. Dwight Longenecker, for example, has provided a veritable case study for the typical modus operandi of many so-called "conservative" Catholics in the face of such events; a multilayered approach consisting of condescension, mind-bending illogic and contradiction, all neatly packaged in a cloak of denial.
On Saturday, the day before the big event, Fr. Longenecker stepped up to the plate in defense of Pope Francis on his blog. Well, sorta…
What he really did was take a bat to those who don't appreciate, as apparently he does, the nuances between Catholics and non-Catholics "being together for prayer, but not prayer together," having lifted this quote from a damage-control paper issued by the Pontifical Council for Interreligious Dialogue in May.
"It is in the subtle distinctions," Fr. Longenecker proposed for the benefit of those who may lack the intellectual heft to see what he sees, "that true discernment lies."
Oh the sublimity!
To be clear, I don't necessarily think that Fr. Longenecker is so much enthralled with his own erudition as he is convinced of a far more dangerous proposition; namely, that everything that comes out of Rome, including every last word and deed of the popes, can be defended as nourishment for the soul.
"Being together for prayer, but not prayer together."
The hairsplitting ecumaniacs who cook this stuff up would be a source of amusement if not for the tragic consequences of their agenda.
Belittling those, like me, who just don't get it, Fr. Longenecker writes, "You'd think Pope Francis was just about to convert to Islam, become the chief Imam and turn St Peter's into a mosque," smugly assuring readers that the pope himself isn't likely to recite Muslim prayers.
Maybe Fr. Longenecker just needs a little more time to get his hands around this papacy thing.
Apparently he doesn't quite comprehend the fact that the Petrine Office, and the person who occupies it (even if that man be a Jesuit), carry unparalleled gravitas; so much so that the pope, in just a moment's time, can literally alter the course of human history.
Even without dropping to his knees in the direction of Mecca, simply inviting Muslim clerics to pray from that condemnable book of blasphemies known as the Qur'an, at the Vatican, the place recognized as the very heart of the Catholic Church by people the world over, in his presence, before a delegation of cardinals, lends an entirely unwarranted degree of prestige to a dangerous and false religion that is utterly hostile to the mission that Christ gave to His Church.
If it takes a deep appreciation for "subtle distinctions" in order to convince oneself that this an acceptable response to our first obligation; namely, to render unto the Lord the honor and reverence that He is due, count me out. I'll just continue sentire cum ecclesia, thank you very much.
To Fr. Longenecker, by contrast, the pope's interfaith powwow "is part of his role as the premier spiritual leader in the world."
Oh, really? And what does this say about the Holy Roman Pontiffs that came before the conciliar storm? Are we to believe that the poor popes of old also lacked an appreciation for subtle distinctions?
The hubris of those who operate as if the likes of Pope Pius XI, who promulgated the most important (and most widely ignored) encyclical on ecumenism of the last century, Mortalium Animos, were in some way lacking in their own approach to the spiritual leadership role of their exalted office is truly stunning, and unfortunately, entirely commonplace.
If pressed to identify exactly what has changed since then, the defenders of newchurch ecumenism have nothing of substance to offer. (Please, if you who are reading this are among them, prove me wrong so I can sleep better at night.)
It's not as though the popes prior to the groovy 1960's never took the time to consider the possible merits of such interfaith gatherings as that which took place on Pentecost under Pope Francis; in fact, they gave considerable thought to the matter and condemned them out of hand as a danger to the Faith, and for damn good reason.
Undaunted, Fr. Longenecker launched into an unconvincing apology for the "Muslims-and-Catholics-worship-the-same-God" theory, stating:
Islam is not a pagan religion. It is a Christian heresy. It formed in Christian lands and is a legalistic oversimplification of Christianity. The closest comparison we have in our culture to Islam is the Mormon religion. Both are heretical offshoots of Christianity. They therefore worship the same God we do–albeit in a defective way.
No, Father, your alma mater (Bob Jones University) espouses Christian heresy; Muslims don't espouse "Christian" anything.
Heresy is "the obstinate post-baptismal denial of some truth which must be believed with divine and catholic faith."
Not only are the tenets of Islam not of "post-baptismal" Christian origin, they aren't exactly a secret.
According to this false religion and its unholy writ (the Qur'an from which the "prayers" were read on Pentecost at the Vatican) the god they worship revealed to the prophet Muhammad through the angel Gabriel that "Christ, the son of Mary, was no more than a messenger" sent to prepare the way for guess who? Muhammad!
So much for that whole Prince of Peace idea, eh?
It doesn't take a doctorate in sacred theology to see that Islam isn't simply a matter of worshipping "the same God in a defective way;" it's a religion that worships a defective god; a decidedly false one.
Fr. Longenecker, however, considers this but "legalistic oversimplification of Christianity," when in truth it is nothing less than the wholesale rejection of Christianity.
In other recent posts on his blog, Fr. Longenecker labors to defend his position on Islam; you can torture yourself by reading them over there if you'd like, but this raises an interesting question:
Why is it so important for the defenders of the "Invocation for Peace" to demonstrate that the false god of Islam to whom so many lies and blasphemies are attributed is the "same God" that we worship?
Could it be that Fr. Longenecker and other likeminded men of "true discernment" understand just how contrary to the Faith such interfaith events would be if in fact the Islamic god is a false diety?
Apparently so.
"Some Catholics who are already edgy about Francis and uneasy about his stance on matters see this [Invocation for Peace] as yet another compromise–a potentially disastrous Koran kissing 'Assisi moment' –referring to Pope John Paul II's inter faith service in Assisi in 1986," he wrote.
Elsewhere he attempts to minimize Pope Francis' offense, saying, "Notice this is not taking place in a Catholic Church."
Setting aside the sacred significance of the Vatican as a whole, this raises yet more questions still.
What if the "Invocation" did take place in a Catholic Church? Are we to assume that Fr. Longenecker would have joined Neanderthals like me in voicing an objection on behalf of Our Lord?
One wonders, but I seriously doubt it.
And yet, it would seem as if Fr. Longenecker's own sensus Catholicus, such as it is, is poking at his Christian conscience; telling him that the polish pope was indeed guilty of inexplicable abominations.
Like all good "conservatives," however, he too applauded the canonization of "John Paul the Great."
In the end, Fr. Longenecker would only go so far as to say of the Pentecost fiasco:
If I had my druthers Pope Francis would follow the example of Benedict in this matter. When he met with leaders of other faiths he would simply observe a moment of prayerful silence together with them.
That's all well and good, but he seems to have forgotten that the abdicator had his own "Assisi moment."  In any case, he didn't explain why this would have been preferable. Again, it may very well be that he recognizes, on some level anyway, the lunacy of it all and is struggling to find his sea legs on this Barque in a tempest.
As it is, Fr. Longenecker ended his assault against dullards like me who felt compelled to publicly object to the globally disseminated dishonor Our Blessed Lord endured on Pentecost at the hands of His Vicar by saying, "Those who are getting all nervous [about the pope's recent shenanigans] should take a deep breath."
To which I can only suggest that Fr. Longenecker would serve his flock well by expelling a little less breath explaining away the offenses that are heaped upon Christ in our day and a little bit more defending His honor.