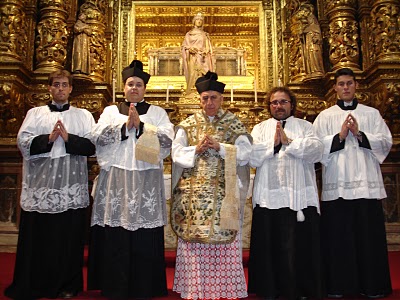 The Remnant recently reported encouraging comments regarding Pope Francis and Summorum Pontificum as offered by the renowned theologian and liturgist Don Nicola Bux.
"The movement in favor of the traditional liturgy will certainly continue because the succession of Popes does not break the continuity of tradition and he who succeeds to a predecessor does not invent the Church again", said don Bux, who is also a consultant to the Congregation for Divine Worship and well respected in tradition-minded circles. "Sometimes it is believed that the Pope, in his office, must make his personal views prevail, but this would be quite worrisome. It is clear that every Pontiff has his own temperament and history, and it is not these that are to prevail, but always the good of the Church. The Pope is a minister, but he is not the master, as was also reiterated by the current Pontiff."
I would like to be able to say that my concerns have been duly allayed, but it's as though Monsignor Bux is either employing a bit of reverse psychology or simply engaging in some very wishful thinking. In any case, his comments aren't very well supported by the witness of recent experience.
For instance, of course it is true that a new pope "does not invent the Church again," but who can deny that Pope Francis has most certainly seen to it that his "personal views have prevailed" in any number of ways, and to borrow a phrase from Msgr. Bux, it has been "quite worrisome" indeed.
Monsignor Bux went on to point to Cardinal Bergoglio's time as Bishop of Buenos Aires from Summorum Pontificum forward saying, the future Pope Francis "did not hamper the application of the Motu Proprio."
I suppose one could debate the exact meaning of "didn't hamper," but whatever that happens to be it certainly doesn't mean promoted.
A detailed report on the reception of Summorum Pontificum  is available at Rorate Caeli for those who are interested, but the bottom line is that when Cardinal Bergoglio was elected to the papacy, his archdiocese boasted a grand total of zero traditional Masses (other than the ones offered by the SSPX).
In any case, the recent decree issued by the Congregation for Religious, with the approval of Pope Francis, to the Franciscan Friars of the Immaculate certainly doesn't provide any evidence of an unwillingness to hamper; on the contrary.
With all of this said, it's difficult to understand why Msgr. Bux would opine that "The movement in favor of the traditional liturgy will certainly continue."
Movement in favor? As much as I'd like to believe it, I'm more inclined to emulate my friends in Missouri:
Show me!