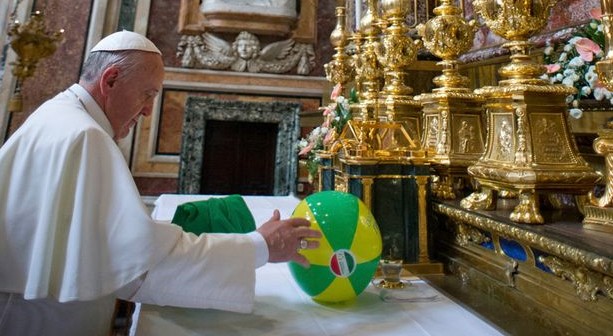 Thanks to his very own words and deeds, it has been clear for some time now that Francis, otherwise considered by the morbidly naïve as the "active member" of a newly expanded Petrine ministry, does not truly believe in the divinity of Christ.
For example, on Easter Sunday 2015, he plainly asserted that "Jesus stripped Himself of His divine glory."
Of course, Our Lord did no such thing; if He had, He'd be rendered, what? A mere man.
Needless to say, a mere man cannot be present Body, Blood, Soul and Divinity under the appearance of bread and wine, which is perhaps why the blasphemous Argentinian heretic cannot manage to bend his knee before the Most Holy Eucharist at Mass, much less conduct himself reverently before the tabernacle.
In any case, Francis provided additional evidence of his lack of faith in the divinity of Christ in one of his recent Santa Marta sermons.
Taking the occasion to once again denigrate "the lawyers, theologians who always go the way of casuistry" (i.e., faithful, well-formed Catholic clergy and laity who believe that the divinely established moral law is more than just theory), he pointed to the example of Christ's temptations in the desert to claim:
"Jesus was Himself tempted to lose the memory of His own mission, to not give way to prophecy and to prefer security instead of Hope."
Get that? Jesus was tempted to lose hope – the theological virtue that is received upon one's configuration to Christ in baptism!
Don't bother trying to decipher what "lose the memory" means; the point is that Francis sincerely believes that Jesus was tempted in the same way that you and I are tempted.
To be perfectly clear, he even went on to insist that Jesus "knew temptation in Himself."
FALSE.
The 1917 Catholic Encyclopedia sums up the correct doctrine as follows:
Like Adam, Christ (the second Adam) endured temptation only from without, inasmuch as His human nature was free from all concupiscence, but unlike Adam, He withstood the assaults of the Tempter on all points, thereby affording His mystical members a perfect model of resistance to their spiritual enemy, and a permanent source of victorious help.
As things stand today, with papal identity theft being openly perpetrated (nay, flaunted!) right under our very noses, it would seem that all of this is a relatively small thing, but the truth is it is not.
In spite of the substantial reasons to believe that the resignation of Benedict was utterly illegitimate, and likewise the conclave that followed, the Catholic world at large (with precious few meaningful exceptions) is pleased to mindlessly follow Francis into perdition; as if he were in some way being guided by the grace of Peter's Office.
As such, it is helpful to stay alert to, and to make others aware of, his various errors; in particular, the Christological heresy discussed herein as Francis' lack of faith in the divinity of Christ lies at the very heart of his unholy agenda.