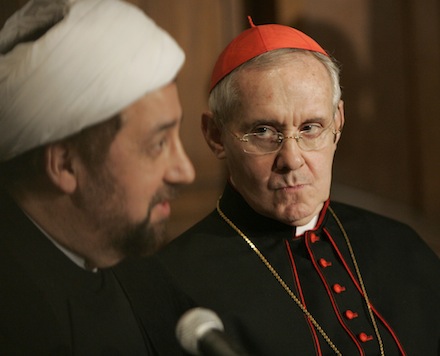 Remember when the Communications Director for the Basilian Fathers, Fr. Timothy Scott, sent out a Tweet suggesting that Cardinal Burke "STFU" back in February?
A lot of people were outraged by it, and they should have been.
Even so, I must admit that while I found Fr. Scott's Tweet outrageous too, it wasn't so much by what he said, but how and why he said it.
If he had blasted the same Tweet in Cardinal Dolan's direction, to be very honest, I would have been more inclined to lobby for his episcopal consecration than his resignation, but that's just me.
In any case, as crass as Fr. Scott's message was, there does seem to be a time and a place for it, even if not in those exact words.
Case in point; the endless, spineless, faithless calls for dialogue that flow out of Rome like so much bilge on a near daily basis!
The latest puke worthy plea of this nature was reported by Vatican Information Service yesterday:
Pontifical Council for Interreligious Dialogue: make space for dialogue with Muslims, now more than ever
It's bad enough that these pansies can't muster up the wherewithal to carry out the mission that Christ gave to His Church, but do we really need yet another plea for dialogue?
I mean, seriously, can't they just stata zitt' for a change?
(Stata zitt' – Dialectic Italian; it's kind of like an emphatic "SU" with "TF" implied rather than spoken.)
According to VIS, the Pontifical Council's newly released declaration explains why they believe dialogue is so very important, saying:
Firstly because the great majority of Muslims themselves do not identify with the current acts of barbarism.
Two questions: How do they know this, and secondly, what the hell difference does it make?
The problem of Islamic barbarism has nothing to do with polling data; it has to do with the fact that Islam is a false religion that calls for violence.
The Jesuit Islamologist, Fr. Samir Khalil Samir, S.J., felt compelled to issue a statement correcting even Pope Francis after he made the equally ludicrous statement that "authentic Islam and the proper reading of the Koran are opposed to every form of violence" (cf Evangelii Gaudium 253).
One should note that while Fr. Samir gets the matter of Islam and violence right, he too is a product of the conciliar disorientation as clearly evidenced by the following statement made in the very same essay:
In short, the Koran and Muslims deny the essential dogmas of Christianity: the Trinity, the Incarnation and Redemption. It should be added that this is their most absolute right!
How long, O' Lord?
The Pathetical Council continues:
Unfortunately today the word 'religious' is often associated with the word 'violence', whereas believers must demonstrate that religions are required to be heralds of peace and not violence.
The conciliar mind has been conditioned to avoid condemnations of every kind (save for the attacks leveled against those who still believe as authentic Catholics have always believed), and is therefore unable to conceive of any "religion" that isn't inherently good.
This is precisely the evil that Pope Pius XI envisioned taking hold if ever the ecumenical dialoguers of his day were to have their way.
Addressing the problem of those in the Church who wished to arrange "conventions, meetings and addresses at which all without distinction are invited to join in the discussion," including those "who with obstinacy and pertinacity deny the divine nature and mission" of Jesus Christ (e.g., Muslims), the Holy Father said:
Certainly such attempts can nowise be approved by Catholics, founded as they are on that false opinion which considers all religions to be more or less good and praiseworthy, since they all in different ways manifest and signify that sense which is inborn in us all, and by which we are led to God and to the obedient acknowledgment of His rule. (Mortalium Animos 2)
By contrast, the dialoguing flowerclerics of the New Springtime decried the "commonplace stigmatisation of Muslims and their religion," saying:
In such a context we are called upon to strengthen fraternity and dialogue. Believers have formidable potential for peace, if we believe that man was created by God and that humanity is a single family; and even more so if we believe, as we Christians do, that God is Love. Continuing to engage in dialogue, even when experiencing persecution, can become a sign of hope. Believers do not wish to impose their vision of humanity and of history, but rather seek to propose respect for differences, freedom of thought and religion, the protection of human dignity, and love for truth.
Close consideration of this text reveals the spiritual depravity that has infiltrated even the highest places in the Rome.
Where Holy Mother Church clearly teaches that the theological virtues of faith, hope and charity are given by God in the waters of Baptism as one rises to new life in Christ, the so-called "leaders" of the Church Irrelevant appear convinced that their fruits can be produced by human effort alone, regardless of one's religious beliefs.
Furthermore, it is clear that these poor fools have never bothered to read the unholy writ of Islam, or if they have, they simply refuse to believe their lyin' eyes.
The "Allah" of the Qur'an (aka the figment of the false prophet Muhammad's demon infested imagination) is not "Love;" far from it, he is an arbitrary tyrant and serial fomenter of unrest.
Not content to bastardize the theological virtues alone, the declaration goes on to mangle the cardinal virtue of fortitude, saying:
We must have the courage to review the quality of family life, the methods of teaching religion and history, and the contain [sic] of sermons in our places of worship.
Given the fact that all "religions" have been deemed good by the Captains of Newchurch, without any regard for what they actually teach, we cannot be surprised to discover that the concept of worship is also now treated as if it matters not one iota who is being worshiped!
If any additional evidence is needed to reveal the degree to which the conciliarized churchmen of today have rejected the Holy Catholic faith…
Above all, family and schools are the key to ensuring that tomorrow's world will be based on mutual respect and brotherhood.
So much for that whole Prince of Peace thing, eh?
My friends, where is Jesus Christ in all of this?
Objectively speaking, the religion being preached here is not the Catholic faith. Truly, it is something else, and it is patently false.
I know… This is a fearful reality to acknowledge, but even Paul VI knew that the smoke of Satan had entered the sanctuary.
It's time for all of us to man up (or woman up as the case may be) and admit that along with this smoke there is most certainly fire, and the diabolical flames have all but consumed the Catholic faith in the "official" Rome of today.
No longer can one simply accept as true even the simplest of phrases that are uttered, and even published, by the prelates of the Holy See.
It is absolutely necessary to scrutinize every last syllable these men speak, measuring them against the immutable doctrines so faithfully preserved and articulated throughout the centuries leading up to the conciliar revolution.
Holy Mother Church to whom the Faith that comes to us from the Apostles has been entrusted will never pass away. More difficult though it may be to find; it's still accessible, in spite of the Evil One's greatest efforts, and even with the cooperation of so many in ecclesial power.
If only they would just stata zitt' already!