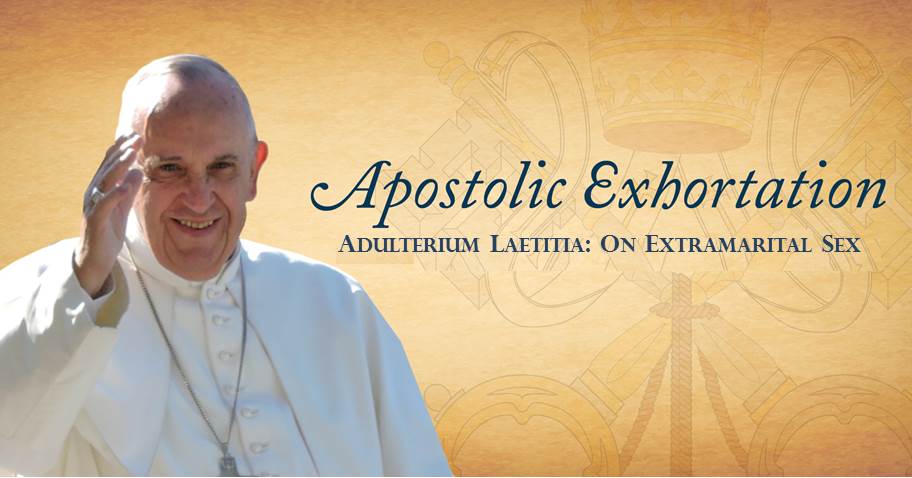 Let's be clear: Amoris Laetitia has nothing whatsoever to do with "the joy of love."
The overwhelming majority of the roughly 58,000 word text is truly nothing more than window dressing for its true intent; namely, opening the way to Holy Communion for those who persist in objective grave sin.
How do we know this?
Francis told us.
He said that "there are no other interpretations" of Amoris Laetitia than the one given in a directive recently produced by the bishops of Buenos Aires.
According to this directive, with respect to those who persist in an adulterous relationship via a civil marriage following divorce:
Amoris Laetitia opens up the possibility of access to the sacraments of Reconciliation and the Eucharist (cf. AL  notes 336 and 351).  
By what mechanism does Amoris Laetitia propose to open up this possibility?
According to the Buenos Aires bishops (and likewise to Francis), the sacraments can be made accessible by a "journey of discernment" whereby the couple, accompanied by their pastor, come to recognize that they are not fully culpable for the grave sin of adultery.
In other words, that which is an objective mortal sin (adultery) can thereby be reduced to an offense merely "venial" in nature.
This proposition rests on either one, or both, of two assumptions:
One, a pastor can judge the interior disposition of another person's soul, and two, individuals can act as their own judge; in both cases, in such way as to effectively exonerate the individual of the consequences of objective grave sin.
If these assumptions are false, Amoris Laetitia, of which "there are no other interpretations," cannot possibly stand.
This, my friends, is the nitty gritty of the entire affair (no pun intended).
Yes, I know… "aka Catholics" like us, who stand firm on the witness of tradition, understand perfectly well that these assumptions are false.
I have little doubt that many neo-Catholics recognize them as repulsive as well; even if only on a gut level, but their misguided allegiance to le pape du jour (the pope of whatever day they happen to live in) and his every last utterance has landed them squarely in a rather serious dilemma.
But alas, there may be hope…
I recently had occasion to discuss Amoris Laetitia with a personal friend (a Novus Ordo priest) who also happens to be a fairly well known and highly regarded moral theologian. I asked him where one might find a concise principle of moral theology that could be cited to dispel this "journey of discernment" notion.
His answer?
It seems to me that the quotation from Gaudium et Spes 28 [quoted in one of my recent posts] is itself the concise principle of moral theology that could be cited to this end … for it gives the Church's understanding of the reason why the Lord commands us not to judge (and it even cites the relevant Scripture texts in its note 11). 
Specifically, Gaudium et Spes 28 states:
"God alone is the judge and searcher of hearts, for that reason He forbids us to make judgments about the internal guilt of anyone." (GS 28)
The bottom line is that mankind has neither the knowledge, nor the right, to judge the internal state of another's heart; this belongs "to God alone" – no exceptions.
Importantly, this includes making judgments that would effectively acquit one who is, objectively speaking, contravening the Divine Law.
Interesting, is it not, that one of the keys to solving the neo-Catholic dilemma over Amoris Laetitia can be found in the only object of veneration that can compete with le pape du jour for their misguided allegiance – the Second Vatican Council?
Unfortunately, it may be more realistic to believe that the citation from Gaudium et Spes will only serve to double the dilemma for most. Let us pray that's not the case and it actually opens a few eyes.
In any event, just in case you weren't already concerned enough about the present state of affairs in Rome, consider:
While it can be said that Francis is simply steering the Church toward the Council's logical conclusion, he is also, in another sense, boldly steering the Church even beyond the confines of Vatican Council II!
Prayer. Penance. Sacrifice.