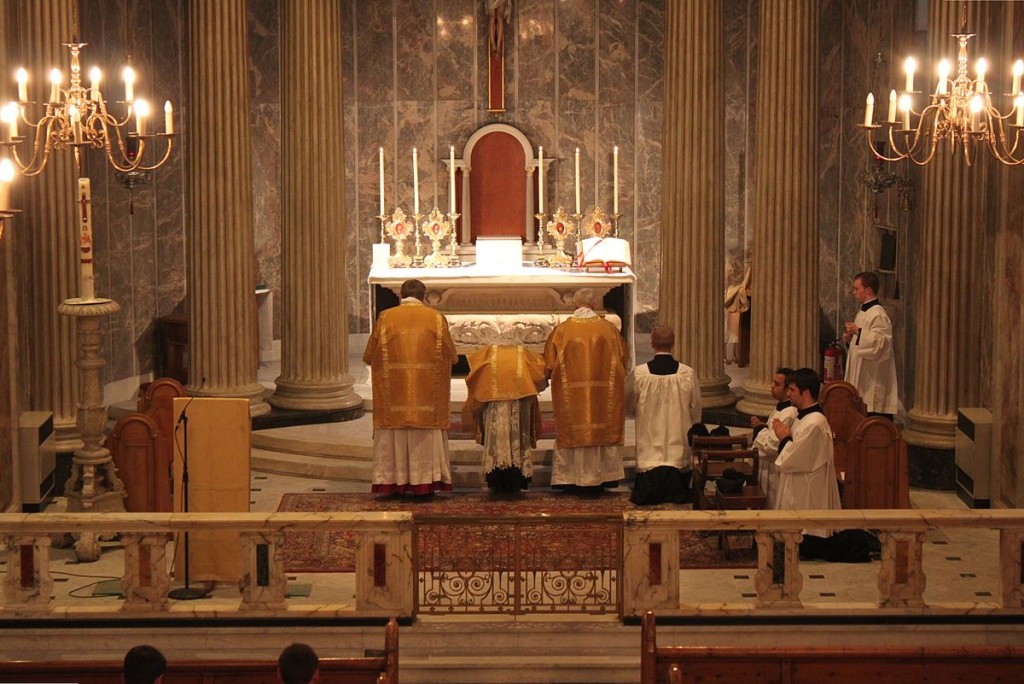 "I was wrong."
Three simple words, but for some, not easily said; even when they are plainly merited.
A kind reader recently informed me that I made a mistake in my last post, Welcome to the vineyard, Johnny.
In truth, it is not  the case that Christopher Ferrara "finally got around to addressing Cardinal Burke's endorsement of the fake letter attributed to Sr. Lucia" (as I wrote) in his recent Catholic Family News article.
It ends up, that article is really just a reprint of a Fatima Perspectives piece Mr. Ferrara had written all the way back on August 8th.
Bottom line: I was wrong, and I for one don't find saying so the least bit difficult.
As I've written before, the truth is the truth and it must be told. That's what we do here; as best we can, anyway. Admitting mistakes is always going to be a part of that effort.
So, how does this corrected information impact the conclusions I had drawn?
Considerably, actually.
It seems that my optimism was ill-founded; specifically, that Mr. Ferrara and the Fatima Center might soon withdraw or amend their unqualified praise for Cardinal Burke and his Roman Life Forum speech replete with so many gravely dangerous notions.
I'll explain, first by filling you in on some background information not previously shared:
On May 19, the day after portions of Cardinal Burke's speech were published, both Mr. Ferrara and I posted our reactions.
I focused on the bizarre notion that Our Lady's request for the consecration "is not just for once," while writing that "Cardinal Burke owes Fr. Gruner an apology."
Mr. Ferrara, by contrast, praised Cardinal Burke for his comments concerning the consecration and for "vindicating" Fr. Gruner.
The following day, not knowing that Mr. Ferrara had already published his praise piece, I wrote to him asking for his support in addressing Cardinal Burke's errors.
He declined (obviously), saying among other things that we should make the LifeSite News "spin" our own, and we need to be "smart" instead of "provocative" (along with a handful of other implied insults concerning my motives).
My reply read in part:
I'm not real sure what is so smart about ignoring the ludicrous suggestion – given in reference to the consecration – that "Mary's appeal is not for just once;" as if the consecration needs to be done "today, once again"? Please. This makes a mockery of the entire message and has "false friend" written all over it.
You're exactly right – LifeSite is spinning it. If his comments need spinning, what good are they? Already on Facebook I am seeing comments from neo-cons saying, "His [Cd. Burke's] reasoning is perfect, because it acknowledges what Pope St. John Paul II did, but, in tune with the sensibility of the faithful, asks for it to be repeated, which is not unreasonable." (That's a direct quote left on a priest's FB page.) Translation: Fr. Gruner is still to be considered a kook, his life's work should be ignored, and Our Lady is a liar.
Our Lady's words were clear enough. So too are the results of ignoring them. You know this better than I do. Time is short. Is it really too much to ask a cardinal who just so happens to be on record dismissing people like Fr. Gruner (and you) as bothersome Fatima controversialists to speak clearly as well? To Hell with spin.
Unbeknownst to me at the time as well was that Cornelia Ferreira had also warned the Fatima Center that Burke's speech was not a cause for celebration, but rather the opposite (as she demonstrated so very well in her inaugural article in this space).
Fast forward to today…
It is now clear that Mr. Ferrara has known since at least August 8th that Cardinal Burke's Roman Life Forum speech is, in fact, no vindication of Fr. Gruner at all; on the contrary, it is a mockery of both him and Our Lady.
At this point, however, the Fatima Center appears to be all-in with its giddy initial response to the speech; praising Cardinal Burke, not only for supposedly vindicating Fr. Gruner, but also for his "courageous declarations" and his "intellectual honesty."
Bear well in mind that this alleged "intellectual honesty" includes an unabashed attempt to make it appear as though the New Evangelization, Vatican II and the pontificate of John Paul the Great Ecumenist are in no way opposed to the message of Fatima.
Even so, in the summer edition of the Fatima Crusader – sent to readers all over the world who place their trust in the Fatima Center – there is an article by Mr. Ferrara further gushing over Burke's speech – it bears the subtitle:
"Father Gruner's Legacy Bears Fruit — Cardinal Burke Tells the Truth about the Secret and the Consecration of Russia."
Is Cardinal Burke's attempt to associate with Fatima the very dangers that Our Lady came to warn us about (e.g., the Council and the New Evangelization) really a fruit of Fr. Gruner's legacy?
Obviously not, but those who placed their trust in what they read in the Fatima Crusader (as well as on the 'new' Fatima Center website) believe so.
Is Cardinal Burke really telling the truth when he quotes "Saint" John Paul II in declaring that Mary's appeal for the consecration of Russia "is not for just once" and "must be taken up by generation after generation, in accordance with the ever new 'signs of the times'"?
Again, obviously not.
If there was ever any doubt as to whether or not Cardinal Burke is "telling the truth about Fatima" at the time of the Crusader's printing, every last bit of it was removed over a month ago when His Eminence made it plain that he believes the consecration of Russia "has been done just as Our Lady asked, on 25 March 1984."
Look, none of us – me first and foremost – gets everything right every time. Sometimes, the pursuit of truth demands  that we say, "I was wrong."
As I wrote at the outset, however, some folks find it very difficult to make that admission; even when it is obvious, and even when failing to do so guarantees that the innocent will be misled on critically important matters.
At this point, enough has been said on this topic for readers to decide for themselves if the 'new' Fatima Center can be counted on to defend Fr. Gruner's reputation and legacy; much less carry on his work.
It's time to move on.