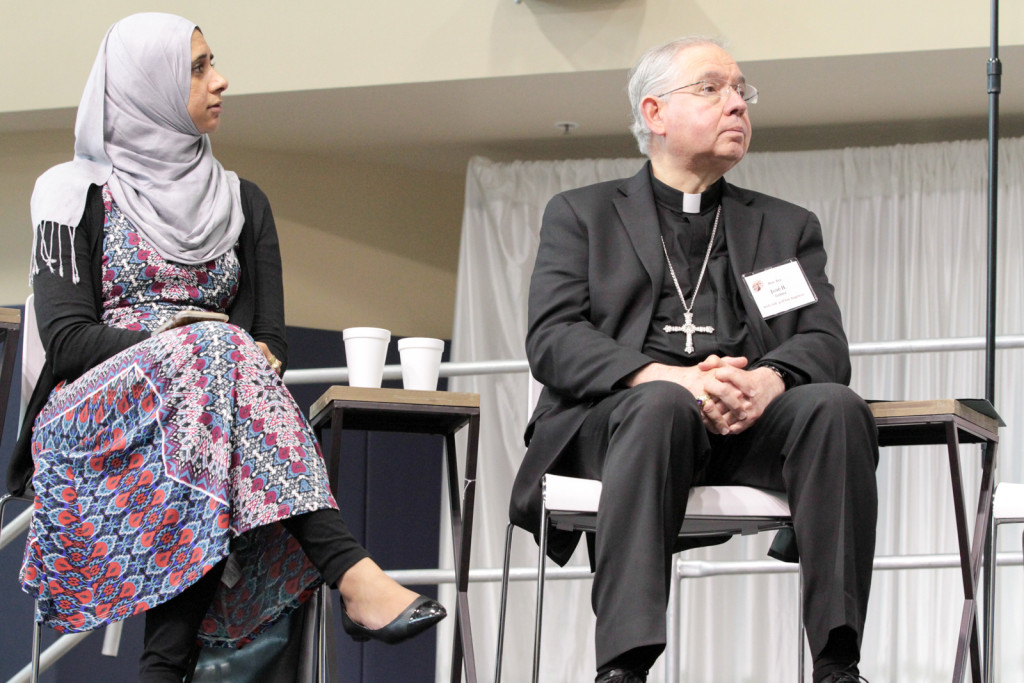 A message from Francis that was delivered to a regional World Meeting of Popular Movements that took place in the United States from February 16-19 is causing a stir among conservatives; both Catholic and political.
The reasons are twofold.
First, Francis insisted that "Muslim terrorism does not exist."
"There are fundamentalist and violent individuals in all peoples and religions," he continued; as if suicide bombers are just as likely to shout Laudetur Iesus Christus or Avinu Malkeinu (Hebrew for "Our Father, Our King) as Allahu Akbar.
On the other hand, Francis said, "the ecological crisis is real," with the latter being described more specifically as "a disturbing warming of the climatic system."
At a time when godless social engineers are using the Trump Administration's stance on global warming and immigration as fuel for igniting civil unrest among America's unchurched, uneducated and unhinged, Francis cast his lot with the activists:
I know that you have committed yourselves to fight for social justice, to defend our Sister Mother Earth and to stand alongside migrants. I want to reaffirm your choice…
This, of course, is just more of the same from the author of Evangelii Gaudium and Laudato Si' – so-called "official papal texts" that contain similarly ludicrous statements on the topics of Islam and ecology.
While it is right for Catholics to be outraged by this latest bit of leftist screed emanating from Rome, few it seems have taken notice of the most offensive part of Francis' message; much less the unavoidable conclusion to which it leads.
In his message to the World Meeting of Popular Movements (WMPM), which is described on its website as "an initiative of Pope Francis working to address the economy of exclusion and inequality," said "Pope" encouraged attendees not to be "paralyzed by fear nor shackled within the conflict."
Precisely what "conflict" does Francis have in mind?
It's the almighty "class struggle" – the same that forms the centerpiece of Marxist ideology.
Karl Marx is widely considered the father of the "social conflict theory," which seeks to ignite tensions between the "Haves" and the "Have-nots" as a vehicle for social change.
Readers may recall that Francis, in an interview with Eugenio Scalfari, publisher of the Italian newspaper, La Repubblica, recently said, "It is the communists who think like Christians."
And it is Francis who thinks like a Communist.
"We have to acknowledge the danger [of entering the conflict] but also the opportunity that every crisis brings," he went on to tell attendees of the WMPM.
Never let a good crisis go to waste.
This may sound familiar to American ears in particular; it's the motto that governs the behavior of Saul Alinsky's disciples; among whom are such upstanding persons as Barak Obama and Hillary Clinton.
The now-deceased Alinsky left behind a legacy that most notably includes the book Rules for Radicals, a field guide for leftist rabble-rousers that was written, according to its author, "for the Have-Nots on how to take it away."
Raised in an Orthodox Jewish home, "Saul Alinsky was an agnostic Jew for whom religion of any kind held very little importance." (Deal Hudson, Understanding Maritain: Philosopher and Friend, Mercer University Press. p. 40.)
In an interview with Playboy Magazine in 1971, Alisnky said:
I'll tell you one thing about religious identity … Whenever anyone asks me my religion, I always say—and always will say—Jewish.
Not only did Alinsky's lack of religious faith fail to stop him from self-identifying as Jewish, it also didn't prevent him from citing Sacred Scripture; twisting it and misappropriating it at will in furtherance of his agenda:
The episode between Moses and God, when the Jews had begun to worship the Golden Calf, is revealing. Moses did not try to communicate with God in terms of mercy or justice when God was angry and wanted to destroy the Jews; he moved in on a top value and outmaneuvered God. It is only when the other party is concerned or feels threatened that he will listen — in the arena of action, a threat or a crisis becomes almost a precondition to communication … Moses kept his cool, and he knew that the most important center of his attack would have to be on what he judged to be God's prime value. As Moses read it, it was that God wanted to be No. 1. (Rules for Radicals, pgs. 89-89)
It is a reprehensible thing indeed for a man to self-identify with a specific religion in spite of his lack of religious faith, but it is more disgusting still when that same man preys upon the religious sentiments of his audience; leveraging biblical texts simply in order to promote a secular agenda devoid of any religious purpose.
What kind of man does this?
Well, for one, Saul Alinsky; for another, Jorge Mario Bergoglio.
Addressing the WMPM, Francis (as he is widely known) likewise preyed upon the religious sentiments of his audience, saying:
The grave danger [of failing to enter the conflict] is to disown our neighbors. When we do so, we deny their humanity and our own humanity without realizing it; we deny ourselves, and we deny the most important Commandments of Jesus.
The most important Commandments of Jesus…
Francis is referring to the answer that Our Lord gave when asked which is the greatest commandment in the law:
"Thou shalt love the Lord thy God with thy whole heart and with thy whole soul and with thy whole mind. This is the greatest and the first commandment. And the second is like to this: Thou shalt love thy neighbor as thyself." (Matthew 22: 37-39)
And yet, oddly, or perhaps better said, predictably, Francis ignored the "greatest and the first commandment" entirely; focusing exclusively on the "second" – that which has no merit apart from the former.
Not even once were those gathered for this "initiative of Pope Francis" called upon by their leader to love the Lord thy God, and yet, in an address of less than 2,000 words, he managed to invoke neighbors and humanity – the principal players in the class struggle – more than two dozen times.
As I write, the Church is reeling from the effects of Bergoglio's two-part Secret Synod – a well-calculated and clearly diabolical effort designed to call into question matters long ago settled – and the document that emerged therefrom, Amoris Laetitia.
Now, all indications are that a similar effort is underway for the purpose of casting doubt on the Church's infallible teaching concerning Holy Orders as validly conferred only upon baptized males.
My friends, this "Pope Francis" isn't even bothering to pretend that he's Catholic, and yet somehow we're obligated to believe that he's the Vicar of Christ?
Let's be perfectly honest:
All of the evidence says that "Francis" is little more than the stage name of an irreligious papal imposter; the world's most famous community organizer and disciple of Saul Alinsky who described Jorge Bergoglio to a tee more than forty years ago when he wrote:
"To the questioner nothing is sacred. He detests dogma, defies any finite definition of morality, rebels against any repression of a free, open search for ideas no matter where they may lead." (ibid.)

Your kind support is both necessary and greatly appreciated!