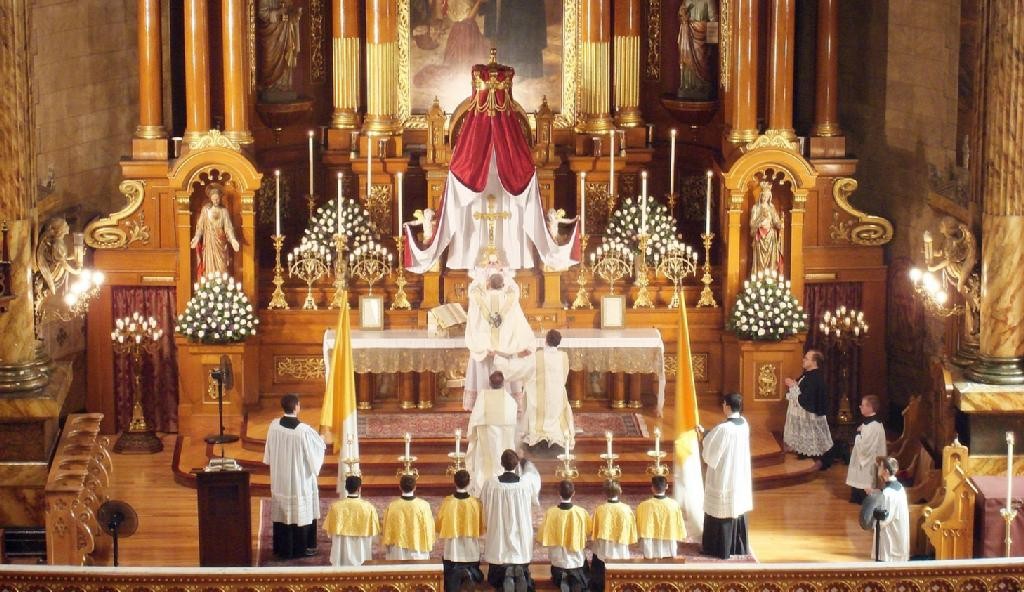 The Introit for Sexagesima Sunday could not but resonate deeply with those of us who, with Christ, suffer at the hands of that scourge on His Mystical Body known as "Francis."
Arise, why sleepest Thou, O Lord? arise, and cast us not off to the end. Why turnest Thou Thy face away, and forgettest our trouble? our belly hath cleaved to the earth: arise, O Lord, help us and deliver us. We have heard, O God, with our ears: our fathers have declared to us.
We will return to this Scripture passage momentarily.
I must admit that every time we enter the Canon of the Mass, I am compelled to cry out to the Lord for deliverance from the crisis besting the Church; not just as it has existed since time of Vatican Council II, but more specifically as it concerns the papacy in recent years:
We therefore, humbly pray and beseech Thee, most merciful Father, through Jesus Christ, Thy Son, our Lord, that Thou wouldst vouchsafe to accept and bless these gifts, these presents, this holy Victim without blemish, which in the first place we offer Thee for Thy holy Catholic Church; vouchsafe to preserve and govern her in peace and union throughout the world, together with Thy servant N., our Pope, and N., our Bishop, and all who follow and foster the Catholic and Apostolic Faith. 
Thy servant N., our Pope…
Something tells me that I am not the only one who isn't entirely certain how to fill in the blank; thus leaving it to God to decide.
That said, the portion of this prayer that I find the most striking is what follows:
…and all who follow and foster the Catholic and Apostolic Faith. 
The question that has crossed mind in relation to these words is simply this:
Does this imply a condition of some sort?
In other words, are those who do not follow and foster the Catholic and Apostolic Faith excluded from this particular offering?
If that is the case, then it really doesn't matter whether one mentions "Francis" or "Benedict" as neither one of them qualifies.
Let's be perfectly honest:
If the prayer "For the Church and Ecclesiastical Authorities" is conditional upon their following and fostering the Catholic and Apostolic Faith, then there hasn't been a man worthy of being mentioned at "N., our Pope" for more than 50 years, and very few at "N., our Bishop."
Now, that is not to say that there is no place in the Mass to formally offer prayers for these men; might I suggest that the Nobis quoque peccatoribus is perhaps most appropriate.
In any case, each of us would also do well to make prayers for their conversion a permanent feature of our private Mass intentions.
Then there are certain propers for "Various Commemorations" that seem most fitting for men like Francis.
For example, the Church provides propers that can be prayed "Against Persecutors and Evildoers":
Collect
O Lord, we beseech Thee, crush the pride of our enemies and humble their insolence by the might of Thy hand.
Secret
O Lord, by virtue of this Mystery, may we be purified from our own hidden sins and delivered from the snares of our enemies.
Postcommunion
O God, our Protector, look down, and defend us from the perils of our enemies: that all trouble being removed, we may freely serve Thee.
There are similar propers that may be offered "Against the Persecutors of the Church" that are equally as applicable to the machinations of Francis (e.g., "overcoming all hostility and error" and protection from "human dangers" that "we may ever cleave to what is Divine").
Returning now to the Introit for this past Sexagesima Sunday…
After beseeching the Lord for deliverance from our trouble, it concludes with the following:
We have heard, O God, with our ears: our fathers have declared to us.
This verse comes from Psalm 43:2, and if we place it context we will discover exactly what "our fathers have declared to us."
The work thou hast wrought in their days, and in the days of old. Thy hand destroyed the Gentiles, and thou plantedst them: thou didst afflict the people and cast them out. For they got not the possession of the land by their own sword: neither did their own arm save them. But thy right hand and thy arm, and the light of thy countenance: because thou wast pleased with them. (Psalm 43:2-4)
The lesson for us should be clear:
We are unable to deliver ourselves from the present crisis; rather, it will take place only by Divine intervention.
What we can and must do on a personal level, however, is to strive, with the aid of God's grace, for righteousness; that is, to be pleasing to God, knowing that He stands ready to deliver His faithful ones – be it in this life or the next.
As for "the Church and Ecclesiastical Authorities;" most notably the men who would be pope, the Blessed Virgin Mary made it known at Fatima precisely what must be done in order to please God.
May the Lord soon afflict and cast out from the sacred hierarchy His enemies, that His will may be done, placing devotion to the Immaculate Heart alongside devotion to His Sacred Heart, bringing about the period of peace that Our Lady promised at long last.