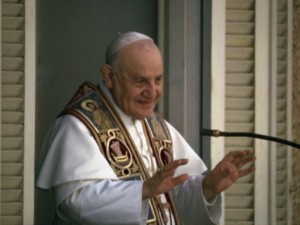 Vatican Radio has reported that Pope Francis has undertaken the rare move of waiving the heretofore required second verifiable miracle in the  cause of Pope John XXIII, clearing the way for his canonization.
Rumors have since abounded that the Holy Father was taking under consideration a suggestion put forth by Cardinal Kurt Koch, President of the Pontifical Commission for Religious Relations with the Jews, wherein the deficit would be addressed by issuing a debitum to the cause of Pope Pius XII, a debt instrument that would require a third verifiable miracle prior to the canonization of the pre-conciliar, World War II, pontiff.    
UPDATE: Since this report initially surfaced, it has been discovered that the present writer started the above stated rumor. In any event, be honest; it's pretty believable, and that's saying something.