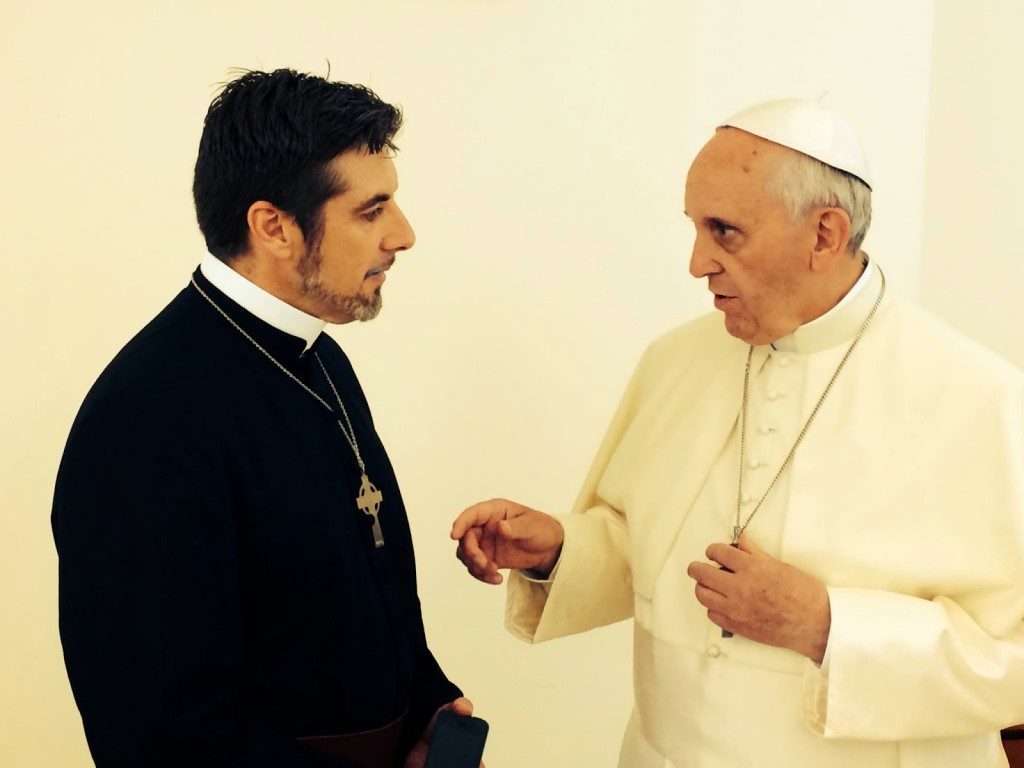 There is a much talk in recent days about the Requiem Mass offered at at St. John the Evangelist Roman Catholic Church for Tony Palmer, the Pentecostal leader whom Pope Francis addressed as "my brother bishop."
John Vennari has posted an excellent article on the situation at Catholic Family News in which he provides important information about the faith of the Church regarding "Christian unity," aptly demonstrating how far we have fallen in recent decades. It's well worth a read if you've not already done so.
The flashpoint of the story is the following account offered by Michael Daly, CJ, a member of the "non-denominational Franciscan" group called the Companions of Jesus, based in the UK, who was present at the funeral:
"Father David told us that because Tony [Palmer] was not a Roman Catholic he had to ask his bishop's permission to celebrate the requiem and though Tony's wife and children are Roman Catholics, permission still had to be given for the requiem. The bishop agreed but said that Tony could not be buried as a bishop as he was not a Roman Catholic bishop. However, Pope Francis said he should and could be buried as a bishop, and so that put an end to that little bit of ecclesiastical nonsense!"
I must confess some ignorance here as even after some effort I still can't quite figure out what it means to be "buried as a bishop."
Bishops, as I understand, are buried in their liturgical vestments, but I couldn't find any other information about how the rite itself differs from the Requiem Mass of a layman. Perhaps an informed reader can provide some more information.
In any case, what appears to me to be most noteworthy is the treatment found in the 1983 Code of Canon Law:
Can. 1184 §1 Church funeral rites are to be denied to the following, unless they gave some signs of repentance before death:
1° notorious apostates, heretics and schismatics;
2° those who for anti-christian motives chose that their bodies be cremated;
3° other manifest sinners to whom a Church funeral could not be granted without public scandal to the faithful.
§2 If any doubt occurs, the local Ordinary is to be consulted and his judgment followed.
Can. 1185 Any form of funeral Mass is also to be denied to a person who has been excluded from a Church funeral.
By all appearances it would seem that Tony Palmer should have been denied "any form of funeral Mass," period. Recourse to the judgment of the local ordinary applies only when "doubt occurs."
In the present situation, can there be any doubt that Tony Palmer, a layman posing as a bishop, was a notorious heretic? As for the public scandal accompanying the funeral that he was eventually granted, nothing could be more clearly evident.
So, where exactly is the doubt that opened the door in this case? (Not that the current crop of hierarchs are prone to adhering to the law, mind you, but let's just overlook that unsavory fact for the present moment.)
If indeed the account offered by Michael Daly is accurate, could the "doubt" in this case be more accurately described as Pope Francis' certainty; specifically, his firsthand knowledge that Palmer did indeed express a desire to enter the Catholic Church but was counseled to do otherwise by his mentor Cardinal Jorge Bergoglio?