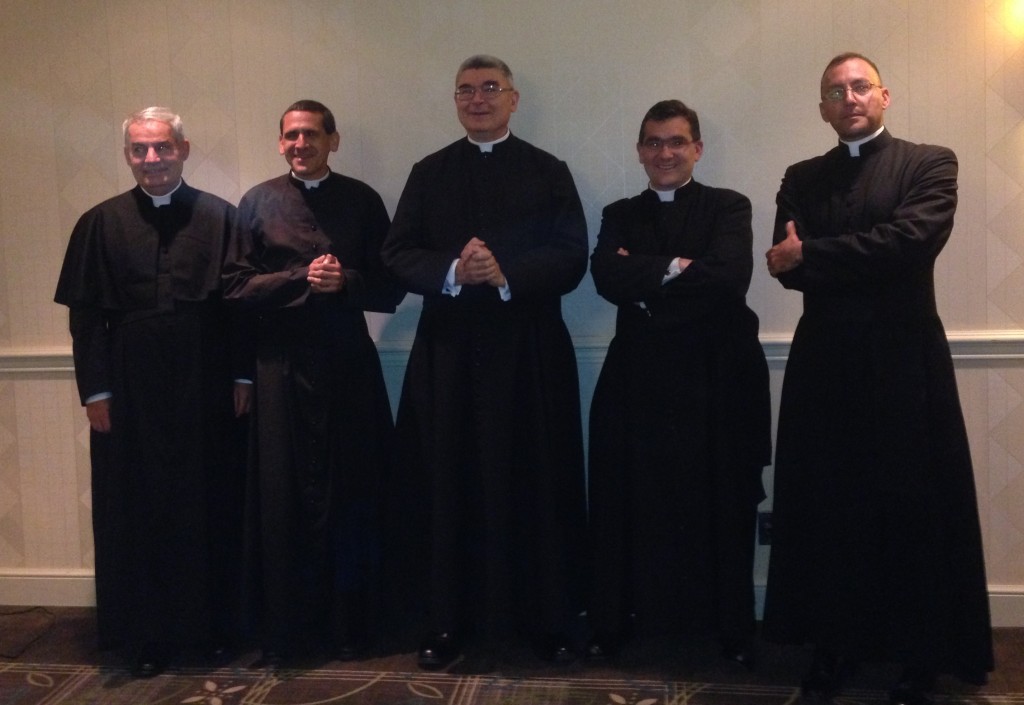 By: Fr. Michael Rodriguez
To be very clear, it's not that I'm on "team SSPX" or "team Fellay." I'm on "team Catholic."
Thank you!  Please keep reminding the faithful of this:  we are on "team Catholic."  Below is an excerpt from a talk which I gave recently:
Be faithful to the truth.  Be faithful to the perennial teaching of the Holy Catholic Church!  And remember, our true identity is Catholic, not allegiance to a particular group.  Take heed of the Apostle's warning in 1 Cor 1:11-13, "I belong to Paul, I to Apollo, I to Cephas, I to Christ."
Let us be proud and humbled to say, "I am first and foremost, a Catholic."
And as a Catholic, it is very helpful to remind oneself that in all probability, God—in His mysterious Providence—is using all these groups of Catholics striving to recover the Catholic Faith and Catholic tradition, be they diocesan or religious priests, Ecclesia Dei groups or the Priestly Fraternity of St. Pius X, monasteries, convents, and independents.
The solution will most likely not come from any single one of these groups, but all of them, each in its own way, may very well play a role in the ultimate solution effected by Divine Providence, and Divine Providence alone.  It is God Who chooses whom He wills, when He wills, and how He wills. As Catholics, our primary focus must be on God, His Providence, and His Church; only afterwards, and secondarily, should we focus on affiliation with a particular traditional group.
Based on Catholic Church teaching, the definitive solution to this terrible crisis of faith, crisis of truth, will undoubtedly involve the Holy Father, but this does not discount the very real possibility that God may also be using all these different traditional groups.
After all, we do see some very good fruit from each of them, e.g. large families, abundant vocations to the priesthood and religious life, a great love for and devotion to all things Catholic, and a willingness to suffer for Christ and His truth.
On the other hand, beware of the tail of the devil! A lamentable bad fruit that is often found among the various traditional groups is continuous infighting and mutual condemnations—explain to me how this can possibly come from God?
Is this not rather a sign of the seduction of the father of lies and sower of division? Infighting among traditional groups certainly does not provide a good witness to Catholics who are not yet very familiar with tradition or the Latin Mass.
Imagine if the Dominicans and Jesuits had excommunicated each other in the 17th century as they argued over the theology of grace? Or if the Benedictines of Cluny and the Cistercians had condemned each other in the 12th century over the Rule of St. Benedict?
There are plenty of further examples.  The Dominicans and Franciscans could have argued over who was the real mendicant order called by God to help reform the Church, or the Cistercians and Trappists over who were the real sons of St. Bernard.  Yet God in His goodness and wisdom—in ways that far transcend our limited capacity to understand—uses all of these different groups, and they are all, first and foremost, Catholic.
Our identity is Catholic first, and our primary duty is to adhere to the truth taught by the Catholic Church. To keep the true Faith is the first condition of salvation—is our focus on this, or are we too preoccupied with arguing over matters which at present are clouded and confused on account of the grave crisis, on account of the sinister diabolical disorientation that God has allowed to descend upon all of us as a justly merited divine chastisement?