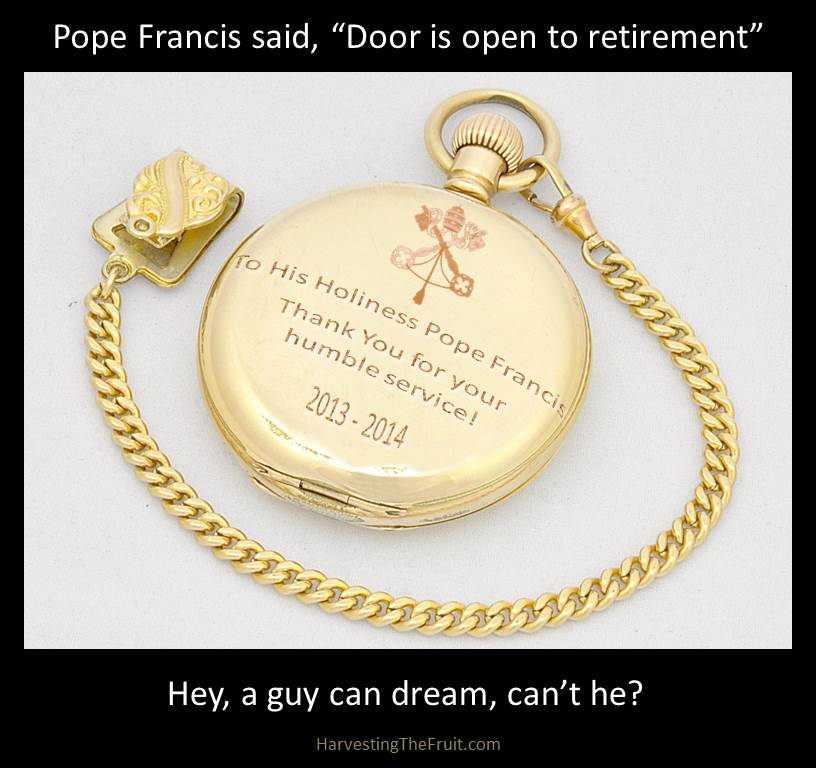 Imagine a day in the coming year when Pope Francis will make a surprise announcement:
"In today's world, shaken by questions of deep relevance for the life of the poor, in order to guide the Church in the way of synodality and to proclaim the rights of the human person … I have had to recognize my incapacity to adequately fulfill the ministry of Bishop of Rome…"
Some weeks later, a global television audience the size of which exceeds that of the last five Super Bowls combined will look on, with copious tears in their collective eyes, as Francesco makes one last entrance into St. Peter's Square via a self-powered Papal Flintstone Coup. With chants of sant'oggi, sant'oggi, sant'oggi ringing out from the assembled faithful (along with their Muslim, Jewish and Wiccan brothers and sisters), Francesco will then climb aboard the Humble Copter and depart for Argentina where a one room flat in an interdenominational retirement community awaits…
It's quite a dream until one realizes that the College of Cardinals, with the likes of Roger Maphony, Walter "profound and serene" Kasper, and Oscar (winner for best supporting role in a modernist papacy) Rodriguez Maradiaga will assemble in conclave shortly thereafter to elect the next Superior General of the Vatican Peace Corps.
And so the nightmare continues.