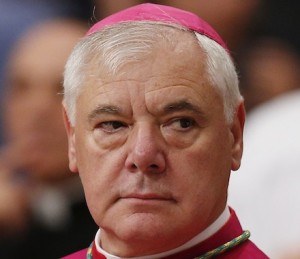 Archbishop Gerhard Muller stirred the ecclessial pot last week when he said of the Society of St. Pius X in an interview with the Italian newspaper, Corriere della Sera:
"The canonical excommunication due to the illicit [episcopal] ordination was lifted from the bishops, but the sacramental one remains, de facto, for the schism; because they have removed themselves away from communion with the Church."
For those unaware, please allow me to state for the record that I'm not a member of the Society of St. Pius X; I'm just a Catholic guy who refuses to accept stones in the place of bread, regardless of who may be doing the serving.
With that in mind, I feel compelled to begin my commentary on this topic with a few reminders:
1. We're talking about an interview in a secular newspaper.
2. Neo-con Catholics were quick to dismiss any number of Pope Francis scandalous remarks simply because they were only reportedly made in an interview with the mainstream media.
3. Archbishop Muller is the same reliable source who told us just a few weeks ago that the liturgical reform after Vatican II was a smashing success that "has proved an effective remedy against a godless culture."
As for points 1 and 2, I have no doubt that Archbishop Muller believes the SSPX to be in schism; I mainly just wished to point out, as if anyone reading this is as yet unaware, that the neo-con Catholic ethos is inherently hypocritical.
Regarding point number 3, it should be rather obvious by now that when it comes to Archbishop Muller's insights on matters Catholic, caveat emptor is the order of the day for the wise. As if to make that very point himself, Archbishop Muller stated in the very same interview with Corriere della Sera that Fr. Gustavo Gutiérrez, the founder of liberation theology, "has always been orthodox."
Now let's consider the allegation of schism. According to Canon Law, schism is defined as follows:
"Schism is the refusal of submission to the Supreme Pontiff or of communion with the members of the Church subject to him." (cf Canon 751)
This definition presupposes that one has the Catholic wherewithal to consider that said "submission" is limited to those things that are consonant with the sacred deposit of Christian doctrine; i.e., it is not an absolute submission such that one is bound to submit to those things that are contrary to the Faith.
Yes, this would seem to be common sense of the most elementary kind, but in this age of diabolical disorientation, one cannot assume that all possess it.
Now, let's consider more specifically that to which the SSPX has refused submission, summed up rather concisely in a statement made by the Superior General of the SSPX, Bishop Bernard Fellay:
"Pope Benedict requested that we accept that the Second Vatican Council is an integral part of Tradition, we say, 'Sorry, that's not the reality, so we're not going to sign it. We're not going to recognize that.'"
To be perfectly blunt, if Pope Francis were to knock on my door right now to personally request that very same act of submission on my part, I'd offer him the utmost respect, a good cup of coffee and the opportunity to have his photograph taken with me in front of the fireplace, but I can assure you I would not submit apart from the very same kinds of clarifications the SSPX has insisted upon.
Nor should any Catholic, for the simple reason that what the pope is asking (and let us assume in charity that he somehow fails to realize as much) is that we deny the Lord. It really is that simple.
Anyone interested in exploring multiple examples of how the content of the Council is unworthy of being accepted carte blanche is welcome to scour the archives of this blog, but here's just one example that is so patently obvious that it simply cannot be denied apart from denying revealed truth itself.
In the Declaration on the Church's Relationship with Non-Christian Religions, Nostra Aetate, the Council states, "Indeed, the Church believes that by His cross Christ, Our Peace, reconciled Jews and Gentiles, making both one in Himself." (NA 4)
Bearing in mind that Nostra Aetate intends to address the Church's relationship with Non-Christian religions, "in our time," it is clear that one can either submit to the notion that this utter nonsense is "an integral part of Tradition," or one can believe in the words of Our Blessed Lord who said, "He who rejects me rejects Him who sent me." (cf Luke 10:16)
(A detailed examination of this unacceptable statement in Nostra Aetate can be read here.)
This much should be abundantly clear, one who is well-formed in the Catholic faith simply cannot submit to both Our Lord Jesus Christ and to a pope who demands submission to NA 4; it's either one or the other.
As for me, I will serve the Lord and thereby reject any such illicit request for submission. Furthermore, I will by God's grace gladly suffer the consequences no matter how bitter.
Archbishop Muller can cry "schism" all he wants, and the pope can chime in if he so chooses, but for those who understand what is truly at stake, there is no sting, just the blessedness that comes from being reviled and persecuted on account of Our Lord.