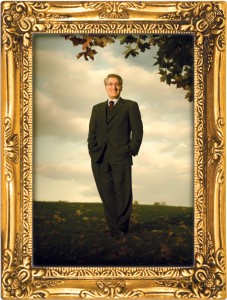 First Things recently ran a piece by Professor Robert George entitled, Our Big Brothers in the Faith, that although ostensibly written in response to the SSPX members who disrupted an interfaith service at the Cathedral in Buenos Aires commemorating Kristallnacht (a two day offensive against Jews that took place in Germany on November 9 and 10, 1938), it's boilerplate post-conciliar, Nostra Aetate –  John Paul "the" ahem… "Great" inspired religious diplomacy cloaked in righteous indignation.
Don't get me wrong, there's plenty of genuine indignation in the article, but rather than confining it to the actions of a handful of protesters (much less engaging the relative merits of their own indignation), George instead takes aim at the SSPX more generally.
After trotting out that worn out old saw about Society members "thinking they are more Catholic than the Pope," George, in pot-calling-kettle-black fashion, picks up the nearest ferula and plays a little "if I were pope," saying:
"Although I understand the efforts of the Vatican to reason with these people in the hope of persuading them to accept the teachings of the Second Vatican Council from which they vehemently dissent, these efforts were, in my opinion, doomed from the start by the sheer intransigence and fanaticism of the SSPX."
He continues:
"I do not question the importance of avoiding schisms whenever possible, but the SSPX simply does not believe what the Church solemnly teaches in certain key areas. In particular, the SSPX rejects the teachings of 'Dignitatis Humanae' (on religious liberty) and 'Nostra Aetate' (on the Jewish people and non-Christian religions)."
Herein lies the second irony in as many paragraphs as apparently Professor George thinks the Second Vatican Council is more Catholic than Christ!
Nostra Aetate, as the previous post addresses, suggests that the Jews, a People whose identity "in our time" is firmly established upon their rejection of Jesus Christ, form the one people of God along with the children of the Church, in spite of the fact that Christ Himself said that in rejecting Him one rejects the God of Abraham, Isaac and Jacob who sent Him.
A disinterested Buddhist can see how utterly illogical the conciliar proposition is, (provided, of course, that Jesus is to be believed) and yet Professor George, one of the shining stars of neo-con academia, simply cannot understand why a bona fide Catholic would "vehemently dissent" from such a "solemn teaching" as this.
Only in the disoriented world of Robert George and such esteemed confreres as George Weigel, and John Paul  II for that matter, is siding with Christ over the text of Vatican II an unforgivable offense.