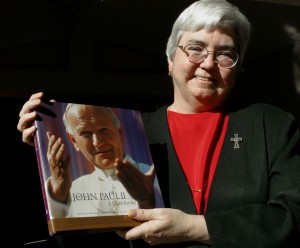 Director of Media Relations for the USCCB, Sr. Mary Ann Walsh, has an editorial posted on the Huffington Post Blog entitled, "John XXIII and John Paul II: New Models for Holiness," about their pending canonizations.
It's worth a read, if for no other reason than to provide further evidence of the warped lens through which so many in the Church tend to view the Catholic faith in these post-conciliar years, beginning with their conception of the Council itself.
According to Sr. Walsh:
"Vatican II urged the Church to see it had a role in society, not apart from it."

In the parallel universe of new-church, where people like Sr. Walsh and the majority of the bishops for whom she works reside, this statement probably rings downright musical. To those whose worldview is informed by the timeless truths of the Holy Roman Catholic Faith, however, the sour intonations of what Fatima visionary Sr. Lucia described as a diabolical disorientation are nearly deafening.
You see, only dyed-in-the-wool modernists (and those who as yet remain duped by them) can imagine that ignoring the Social Kingship of Our Lord Jesus Christ, treating the immutable doctrine that underlies it as if it were but an outdated fad, is tantamount to the Church embracing her "role in society."
The Fathers of Vatican Council II, in reality, collectively chose to set aside any and all claims of privilege – those that are rightly the Church's very own by virtue of the merits of her Founder and Head, Christ the King – with the  naive expectation that by forming a more cozy relationship with the world (not to mention all of the false religions that pollute the minds and endanger the souls of so many of its inhabitants) the Catholic Church would somehow be rendered more relevant.
For how many more decades, one can only wonder in amazement, must the Church languish on the very fringes of an increasingly disinterested society, with her institutional structures decaying and crumbling right before our very eyes, until the aging masterminds of this monumental sell-out and their delusional proteges realize that the plot – in spite of whatever good intentions may have inspired it – didn't work?
Given Sr. Walsh's frame of reference; again, one that is held in common with the majority of the hierarchy, it is no surprise that she imagines:
"If we achieve peace in our troubled world now it will be because of religious groups working together. The possibility for such began decades ago and included the work of this saint-to-be [Pope John XIII]."
For modernists, "peace" is nothing more than "everyone getting along;" a function of "working together" with those who adamantly oppose Jesus Christ, His Church and His Divine Law, a purely humanistic exercise that requires the Catholic party to place such pesky obstacles as "objective religious truth" on a veritable shelf for the good of the process.
(A Catholic understanding of peace and the Church's unique role in fostering it in this world can be found in the first Encyclical of Pope Pius XI, Ubi Arcano Dei Consilio.)
It is only when one accepts such a fundamentally flawed concept that a pope who approved of a pact with the Soviet Union, wherein the ecumenical council he convened would refrain from condemning what was the world's most pressing evil at the time (Communism) in exchange for sending schismatic Russian Orthodox observers to said council, considered a champion of peace.
Likewise is it that a pope who arguably did more to engender religious indifferentism than any of other Roman Pontiff in recent history by publicly venerating a vile book of religious falsehoods (the Qur'an) as though it were sacred, among numerous other inexplicably irresponsible acts of ecumeniacism, can somehow be held up as a model for "how we should live."
And so new-church enters a new phase.
It is has always had its own not-so-Catholic peculiarities. Why not its own saints?