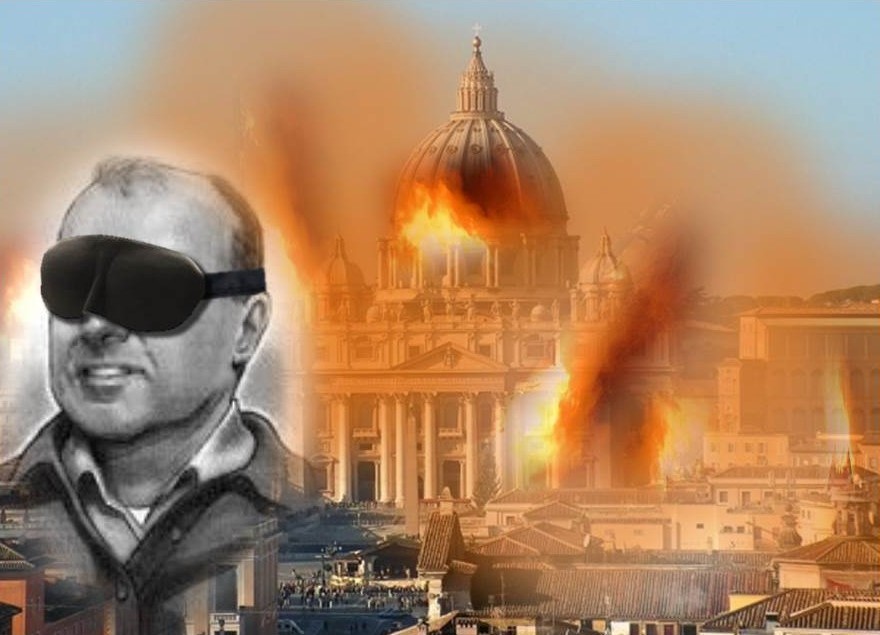 If for no other reason than its tittle, This Disastrous Papacy, a recent post by Phil Lawler at CatholicCulture.org is being received by many as evidence that neo-conservative eyes are slowly beginning to open to the Bergoglian crisis.
Lawler writes:
Something snapped last Friday, when Pope Francis used the day's Gospel reading as one more opportunity to promote his own view on divorce and remarriage.
Don't get me wrong, I'm glad that this Santa Marta homily finally caused something to "snap" for Lawler, but Francis has been mangling Scripture at will for years now.
What's more, in so doing he is simply following the example of the Almighty Council wherein Sacred Scripture is boldly misappropriated in the conciliar text to create the illusion of tradition when, in fact, it is being turned on its head. (For example, see HERE.)
Back to Francis…
It's nice that Lawler is finally fed up with Francis' blatant biblical liberties, but it has been nearly eleven months since Francis disseminated heresy and blasphemy in an Apostolic Exhortation addressed to the entire Church.
Lawler, apparently, isn't prepared to acknowledge the gravity of this particular transgression, much less Francis' obstinate refusal to confirm the true faith in light of his errors, and this even after being publicly challenged to do so on numerous occasions.
Perhaps he just isn't ready for the "crackle" and "pop."
No surprise here. Denial is endemic to Catholic neo-conservativism, and, as expected, it was on full display in Lawler's column:
When I tell friends that I consider this papacy a disaster, I notice that more often than not, they feel oddly reassured … knowing that their own misgivings are not irrational … that they need not continue a fruitless search for ways to reconcile the irreconcilable.
OK, so far so good. Admitting that the false doctrines being taught by Francis are irreconcilable with the immutable faith of the Church is a step in the right direction, but then the other shoe drops:
Moreover, having given the problem a proper name, they can recognize what this crisis of Catholicism is not. Pope Francis is not an antipope, much less the Antichrist. The See of Peter is not vacant, and Benedict is not the "real" Pontiff. Francis is our Pope, for better or worse. And if it is for worse—as I sadly conclude it is—the Church has survived bad Popes in the past.
We have had bad popes in the past…
Yes, we have, but when invoked in relation to Francis, this is truly nothing more than a canard.
Never before has the Church suffered a pope who has attacked Catholic doctrine and promulgated heresy and blasphemy as boldly as Francis has. Never.
Never before has a pope been publicly warned and admonished to remove the suspicion of heresy by so many – including members of the College of Cardinals – much less refused, as Francis has. Never.
Never before has a pope accused Our Lord of instituting Laws too difficult to follow and of actively willing that we should persist in mortal sin. Never.
I could go on, but presumably the point has been made.
Francis is our Pope, for better or worse.
For Lawler, apparently, it is utterly inconceivable that Jorge Bergoglio is, or even may become (i.e., judge and thus reveal himself to be), a formal heretic; a man who by his own actions has separated himself from the Body of Christ and thus the papacy.
Again, no surprise here either as, in addition to denial, papalotry is yet another bedrock feature of Catholic neo-conservatism.
Lawler plays that card for all to see as he continues:
We Catholics have been spoiled for decades, enjoying a succession of outstanding Vatican leaders: Pontiffs who were gifted teachers and saintly men. We have grown accustomed to looking to Rome for guidance. Now we cannot.
Oh, yes, of course… those gifted and saintly men who thumbed their nose at Our Lady and conspired to bury the Third Secret of Fatima; orchestrated the Assisi abominations; begged the intercession of St. John the Baptist to "protect Islam;" insisted that "the freedom to choose and practice religion, and the freedom to change it" are "fundamental human rights and freedoms;" fled for fear of the wolves, etc.
And let us not fail to acknowledge that outstanding Vatican leader who shines more brightly than his post-conciliar peers for having jettisoned the papal tiara, worshiped at the altar of humanity in the sanctuary of the United Nations, and foist upon the Church the Novus Ordo Missae – blessed be he!
Look, I don't mean to be harsh…
If indeed some of the scales are falling from neo-conservative eyes, great, but let's be realistic about just how many are still firmly in place.