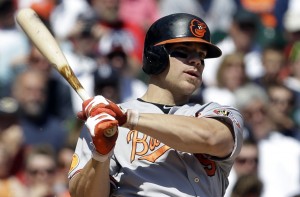 In the July 13th edition, the Baltimore Sun published a profile piece about the rising popularity of Orioles first baseman Chris Davis entitled, "Crush on him," a play on the major league home run leader's nickname.
Having been born and raised in Baltimore, I've been an Orioles fan my entire life, so I read the article thinking I just might learn something interesting about our hometown hero, and I did.
Perhaps it has been common knowledge for some time, but within three paragraphs I discovered something I hadn't previously known:
For his part, Davis is happy with his public persona. "It's something that every guy should be aware of — what you're portraying yourself to be, not only to the public, but especially to the kids," he said before Wednesday night's game against the Rangers. "For me, I want to be known as a guy who is obviously very adamant about his faith. I want that to speak volumes about me. Also, I want to be the guy that parents aren't afraid to tell their kids to look up to and to model themselves after."
Cool, I thought, maybe he's a devout Catholic.
I continued reading, looking forward to finding out more, but the remaining twenty or so paragraphs failed to mention Davis' faith even once, in spite of his rather impassioned statement.
That's not to say that I didn't learn anything.
Though it was certainly nothing new, I learned, or better stated, had it confirmed once more, that the Evil One's tentacles run deep, very deep indeed, and his modus operandi is the epitome of subtlety.
After going on and on about how popular Davis is, particularly among females who find his "gorgeous eyes" and well-defined muscles irresistible, the article states:
Columbia musician Lauren Young, 33, has trouble finding the right words to describe her feelings. "He's just so big and tall," she said. "Is anyone not a huge fan?" And while she's gay, Young said that really doesn't come into play where Davis is concerned.
Yea, I get it. Chris Davis is such a hunk, even the gay chicks dig him. Cute. (Can  a Pulitzer Prize be far behind for this scribe?)
What I also get is that this matter-of-fact reference to a fan being "gay" is a ploy of the Evil One – carried out with the aid of a fully complicit writer or perhaps a useful dupe, it matters not which – designed to reinforce the lie that homosexuality is no more unnatural than having brown hair or red, or preferring mustard instead of ketchup on an overpriced ballpark hotdog.
In sum, the subtle underlying message-by-design in this article is that people who wish to self-identify by their faith are the ones who are flirting with disordered behavior, while those who choose to identify themselves by a desire to engage in sexual activity with people of their own gender are not.
Nice try, slugger, but that one landed in foul territory.