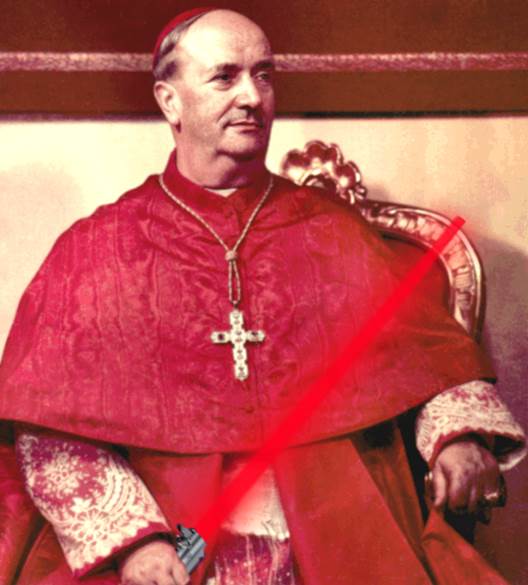 Not so long ago, during a Council far, far away from Catholic tradition…
It is a period of civil war. Rebel churchmen, striking from a hidden base, have won an unprecedented victory against the Empire of Christ. During the battle, Rebel bishops managed to squash preliminary schemata replete with the Empire's ultimate weapon, tradition – the armor of God powerful enough to defend against every heresy.
Less-than-amused by the Empire's sinister enemies, Prince Ottaviani races to halt the coming destruction, but the custodian of the Mass, Paul the Sith, proceeded with plans to corrupt the sacred liturgy…
[NOTE: Yes, I know, the "Empire" in these films is the bad guy, even though I've actually never seen any of them. At any rate…]
Though we strike back as best we can, we all know that the ever-adaptable Novus Ordo – the bastard rite that was forced upon the faithful by Paul the Sith – isn't going anywhere anytime soon.
How adaptable is it?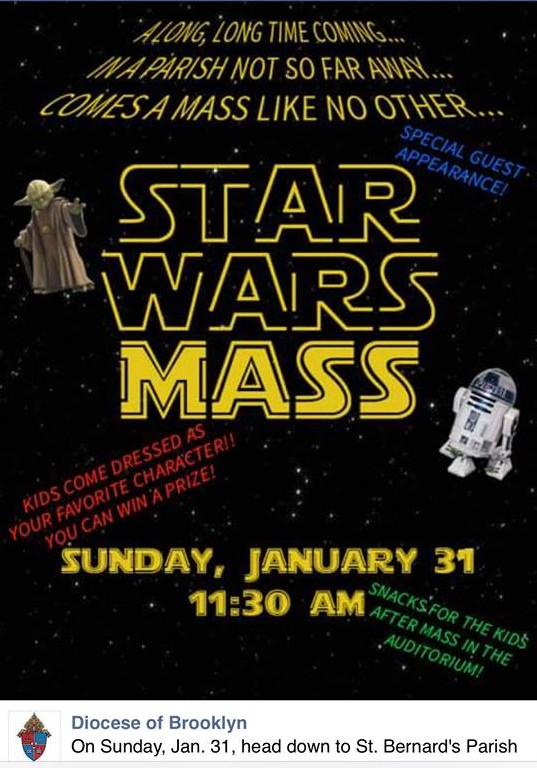 We got your Puppet Masses, your Clown Masses, your Barney the Dinosaur Masses; even your World Cup Soccer Masses.  And now we have … the Star Wars Mass!
Perhaps you've already heard; it's schedule to take place on Sunday, January 31st at 11:30 am at St. Bernard of Clairvaux Church at 2055 East 69th St. in Brooklyn, NY 11234.
I understand that the parish is getting tired of receiving calls about this, so have at it: 718-763-5533
All indications are that the parish is forging ahead with its plans, in spite of the backlash. So…
We have a number of readers in the area. I wonder if any would be willing to don a neo-Catholic disguise and video the wretched thing.
If so, shoot me a message.
In the meantime, enjoy this embarrassing video of a priest (duly infected with the force of the Novus Ordo) as he views for the first time the trailer to the latest Star Wars film.