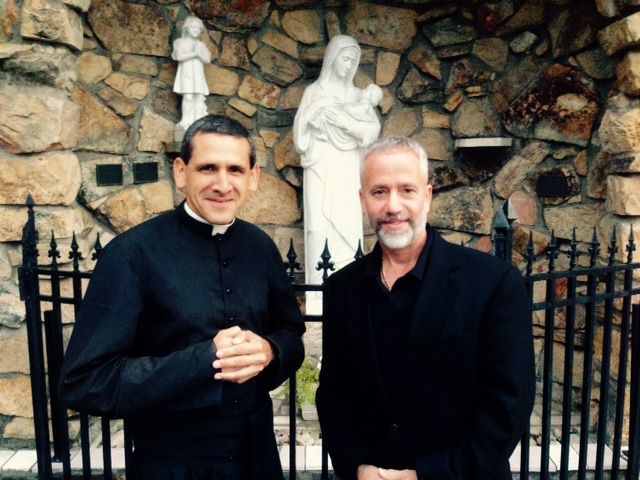 I'm pleased, and honored, to share below brief excerpts taken from an extensive interview that I recently conducted with Fr. Michael Rodriguez; including an update on his current situation.
The complete interview (over 6,000 words in length) will be published in the next print edition of Catholic Family News, wherein Father discusses his journey to tradition, explains why he is no longer able to celebrate the Novus Ordo in good conscience, and gives valuable advice to both laypersons and his brother priests, and a great deal more.
I can assure you that you will find Fr. Rodriguez's insights and reflections deeply moving and of great benefit. If you're not already a subscriber to CFN, you may do so HERE.
Lastly, during the course of the interview, Fr. Rodriguez recommended a number of books by name; each of which may make for good Lenten reflection material. You will find links to these books throughout. (Please note: purchasing them via these links will help support akaCatholic. In fact, I believe that entering Amazon via one of these links can benefit us regardless of what you purchase once there.)
LV: Can you bring us up to date on your status with respect to the Diocese of El Paso?

Fr. Rodriguez: At present, January 2016, I am a priest in good standing of the Diocese of El Paso, TX, with no pastoral assignment.
My Bishop, Most Rev. Mark J. Seitz, had appointed me as the Administrator of Sacred Heart Mission in Shafter, Texas (a small mission in one of the most remote parts of the diocese), effective July 11, 2014, for a term of three years. However, as a sine qua non condition of the assignment, he insisted that I offer the Novus Ordo Missæ. At the time, I had already been offering the Traditional Latin Mass exclusively for almost three years!
On July 24, 2014, my Bishop issued a Personal Precept which included the order, "I enjoin you to celebrate the Mass and Sacraments according to the Novus Ordo in the Mission of Shafter. The Mass and the Sacraments must be celebrated in the vernacular of the people (English or Spanish) and not Ad Orientem."
Throughout my nineteen years as a priest, I have always done my best to practice the virtue of obedience, but now I was put in an impossible situation. St. John of the Cross teaches, "Obedience is a penance of the intellect and therefore a more acceptable sacrifice than all corporal penances. Hence God loves your tiniest act of obedience more than all other homages you might think of offering Him." What was I to do? Never before had the opening words of the prayer from the Divine Office struck a deeper chord in my soul, "Deus in adiutórium meum inténde. Dómine, ad adiuvándum me festína." "O God, come to my assistance. O Lord, make haste to help me." The decision I had to make was my most difficult one yet as a priest. Holy Mary, Virgin Mother of God, intercede for me, a poor sinner.
I wrote many letters to my Bishop. The following is a sample of this correspondence; it is an excerpt from a letter which I wrote to him on September 8, 2014, the Nativity of the Blessed Virgin Mary:
I am 100% committed to my priestly promise of obedience. You are my bishop, and thus, I have promised obedience to you. It is my firm and sincere intention to be obedient to you. Unfortunately for me (and my conscience), your July 24, 2014, Precept contains an order which is "problematic," to say the least.

The order you are giving contradicts Pope St. Pius V's Apostolic Constitution Quo Primum, Canon IX (a dogmatic canon) of Session XXII of the Holy Council of Trent, Pope Pius VI's Constitution Auctorem Fidei (see the 33rd of 85 propositions which are condemned, Denzinger 1533), Pope Pius XII's Encyclical Letter Mediator Dei 59, and the Second Vatican Council's Constitution on the Sacred Liturgy, Sacrosanctum Concilium 36 and 54. Moreover, your order appears to be irreconcilable with the Decree of the Council of Nicea II regarding ecclesiastical tradition (Denzinger 308), and Canon XIII (a dogmatic canon) of Session VII of the Holy Council of Trent.

In addition, the order contained in your Precept appears to (a) deny the Catholic priest's legitimate right to offer the Extraordinary Form of the Roman Rite (presumably, exclusively) as expressed in Summorum Pontificum Art. 1, and (b) dismiss Summorum Pontificum Art. 1, "the Roman Missal promulgated by St. Pius V . . . must be given due honor for its venerable and ancient usage." Finally, from the pastoral perspective, your order appears to disregard the expressed needs and good of the faithful of Presidio/Shafter, who are specifically requesting parish life based on the Traditional Latin Mass.

As I wrote to you in my July 1, 2014, letter, as a priest of the Diocese of El Paso, I am committed to do my very best to spiritually nourish, teach, and serve the souls placed under my care. However, I cannot do this apart from what has always been the lex orandi, lex credendi of Holy Mother Church. Thus, with respect to the Holy Sacrifice of the Mass and the celebration of the Sacraments, it is not a matter of "preference" or my "unwillingness" to obey; rather, there are all-important ecclesial, theological, liturgical, spiritual, ascetical, and pastoral reasons which compel me, in conscience, to offer the Traditional Latin Mass exclusively.
In the end, I had to follow what Holy Mother Church has always taught. Out of fidelity to God and to the Church's immemorial lex orandi, lex credendi, and for the good of the souls entrusted to my care, I could not, in conscience, follow the specific liturgical directive given by my Bishop.
Effective November 10, 2014, my Bishop revoked my appointment as Administrator of Sacred Heart Mission. I was unable to hold back my tears during the final Holy Sacrifice of the Mass which I offered in Shafter, TX, on Sunday, November 9, 2014. With a sorrowful heart and plenteous tears, I prayed the words of blessed Job, "The Lord gave, and the Lord hath taken away, as it hath pleased the Lord so it is done. Blessed be the name of the Lord." (Job 1:21)
I begged my Bishop for a minimum one-year sabbatical, in order to have ample time to pray, study, reflect, go on an extended retreat, and discern God's will for my future. He refused, and instead gave me only six months, and restricted the use of my priestly faculties. Eventually, he extended my sabbatical to August 31, 2015.
At the beginning of October 2015, my Bishop initiated a canonical process to determine whether or not I have committed a Delict against Ecclesiastical Authority (i.e. disobedience). Currently, I await whatever decision he may make. If necessary, I am prepared to appeal to Rome. I am under no illusion that Rome will intervene to do what is right and just, but at least by appealing, I will know, in conscience, that I went to heroic lengths in the practice of obedience by following the juridical process instituted by the Church for recourse against the abuse of power.
At present, I continue to discern God's will for the future of my priesthood. What is Thy will, O Lord? What wilt Thou have me to do? (Acts 9:6) In spite of some very difficult trials over the past four years, I am in awe of God's goodness, mercy, and mysterious ways. Throughout this time, He has granted me so, so many unexpected blessings—and now, what shall I render to the Lord for all He hath rendered unto me? (Psalm 115:12)
LV: What would you like the outcome of this situation to be?
Fr. Rodriguez: Humanly speaking, I think the ideal outcome of my present predicament would be for my Bishop to either place me in charge of any diocesan parish/mission church, or designate me as a "Diocesan Missionary" with the apostolate of serving the restoration of the Mass and Faith of the Ages anywhere in the world. If ever there were a pipe dream, I realize this is it. Ultimately though, the ideal outcome is whatever the good Lord wills. I only hope to be able to fulfill, in some measure, the blessed words spoken by Mary, Virgin most holy, Virgin most pure, "Fiat mihi secúndum verbum tuum." (Lk 1:38)
Please keep me in your prayers. Please pray especially to Our Lady in honor of her Immaculate Conception, that she may conform my heart to that of her Son. Please keep my Bishop in your prayers as well.
LV: Our pilgrimage to Italy with readers is less than six months away. What about this trip are you most looking forward to?
Fr. Rodriguez: I spent four years in Rome, from 1992 to 1996, completing my seminary training at the Pontifical North American College. I studied theology at both the Pontifical Gregorian University and the Pontifical Liturgical Institute, St. Anselmo. Since I left the eternal city in 1996, I have only been back once, in 2006. Thus, this coming summer will be just my second time back in Rome, since my seminary days, so I am excited about simply returning to Rome, the city whose ground has been consecrated by the glorious blood of two princes.
However, what I am most looking forward to, is returning to Rome and Italy on a traditional pilgrimage. The last time I was in Rome, I was still in the initial stages of offering the Traditional Latin Mass, so this time around, with the Mass of the Ages as the centerpiece of our trip, it will be far more meaningful.
Imagine, I have not yet had the grand privilege of offering the Traditional Latin Mass in any of the Churches in Rome! I am definitely looking forward to meeting and enjoying the company of Catholic faithful who appreciate and love (and have suffered for!) the Mass of the Ages and the Faith of the Ages. During our pilgrimage, I hope to provide guidance, prayer, support, and especially the Sacraments, to Catholic faithful who are striving for holiness, the restoration of the Catholic religion, and the universal reign of Christ the King.
One final comment. Even though the number of pilgrims in our group will be statistically insignificant relative to the population of the cities we will visit, our Catholic presence will be very spiritually significant, since we will be bringing with us both the Mass and the Faith of the Ages!, not only for own spiritual growth and benefit, but also for the conversion, sanctification, and salvation of all the inhabitants of the places we visit. I look forward to seeing you in June!
[NOTE: Time is running out to register for the trip. The deadline is February 28th. For more information or to register, click the banner below.]