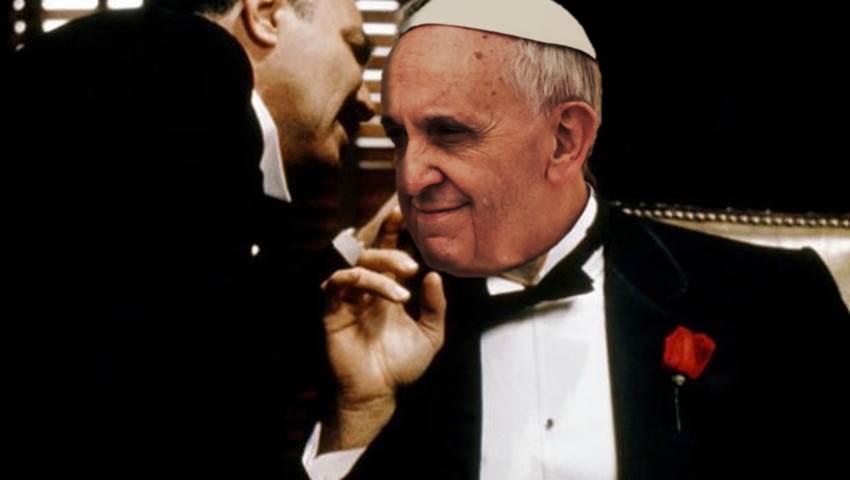 Edward Pentin is reporting that Cardinal Godfried Danneels admitted, in a recently released authorized biography, that he was part of what he called a "Mafia' Club" opposed to Pope Benedict XVI:
[Daneels] called it a "mafia" club that bore the name of St. Gallen. The group wanted a drastic reform of the Church, to make it "much more modern", and for Cardinal Jorge Bergoglio to head it. The group, which also comprised Cardinal Walter Kasper and the late Jesuit Cardinal Carlo Maria Martini, has been documented in Austen Ivereigh's biography of Pope Francis, The Great Reformer.
OK, let me get this straight…
So… there was a group of liberal loons in red that were organized to resist the efforts of Pope Benedict XVI in order to promote their vision of a "much more modern" Church.
This group fashioned itself as a "Mafia Club."
Interesting…
Mafiosi (not that I am confirming that I have knowledge of any such group ever having existed) as I understand it, don't ordinarily form bonds in order to share their hopes and dreams with one another.
Rather, they join forces with one another in order to extort, threaten, infiltrate and intimidate and whatever the hell else they have to do to get whatever it is that they want. Often, it is the person or persons that stand in their way who gets to decide if the process happens the easy way or the hard way.
So, this leads me to wonder what sort of offer these men made to Benedict the Abdicator that he couldn't refuse?
Cardinal Danneels' revelation also leads me to wonder if… no, make that, it leads me to believe that it is far more likely than not that Jorge Bergoglio was among the caporegime of this so-called "Mafia Club."
I mean, does it make any sense at all that this club of miscreant cardinals, which included the "profound and serene" theologian Walter Kasper, would be laboring against the reigning pope in order to bring about a "much more modern" Church headed by a fellow-cardinal who was ignorant of their very existence ?
If any response is given from the Damage Control Team at Holy See Central, this is what it will be.
And yet, only a fool can believe that Jorge Bergoglio was ignorant as to the existence of this "club," and only a bigger fool can believe that he wasn't a central figure in it; if not the capo di tutti capi himself.
Now that Daneels has violated the omertà and spilled the beans (which just goes to show you the kind of cloth he's cut from), maybe those bishops who are cheering the revolutionaries on will begin kissing the pope's ring.