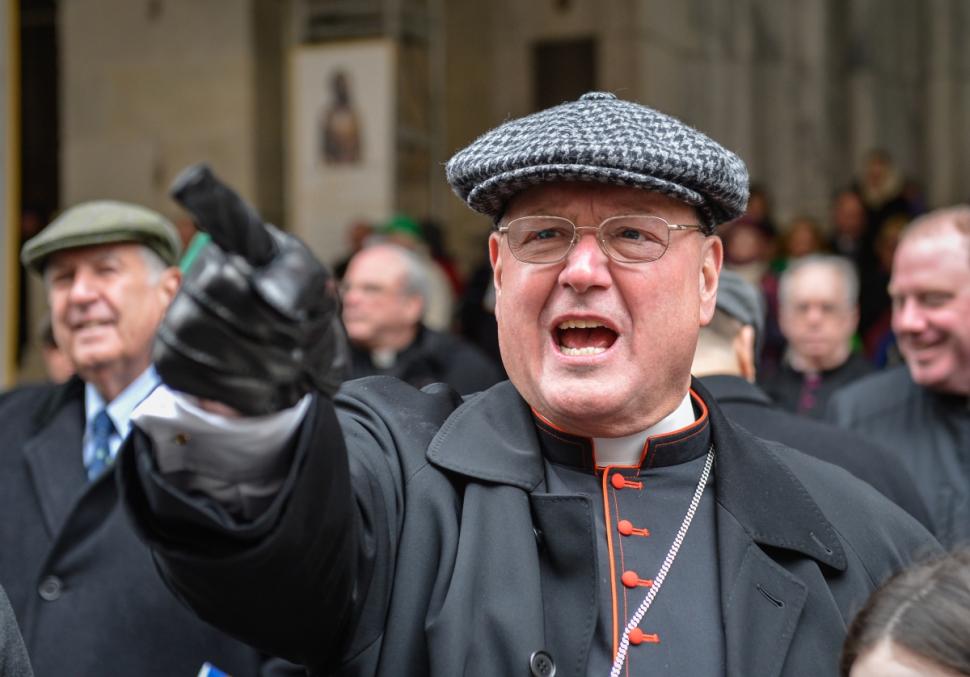 In light of recent events, I'm certainly not the first to say: May God bless Monsignor Charles Pope!
Unlike many others, however, I do not mean to beg God's blessing on him as a reward for his authentically Catholic (and subsequently deleted) blog post of September 4, 2014, indirectly calling attention to Cardinal Timothy Dolan's willingness to deny Christ in order to satiate his bloated appetite for the earthly rewards that flow forth from "happy-clappy, lighthearted engagement of our culture" in all of its Godless, murderous, homo-deviant glory; rather, I wish to pray the Lord to bless Msgr. Pope with that which is apparently lacking in him at present; namely, the intrepid heart of martyr.
[For those who haven't yet read the blog post to which I refer, or perhaps may wish to reread it, it is available in its fullness here.]
My intent herein is not to disparage Msgr. Pope; rather, it is simply to point out just how well the situation at hand answers the questions Catholics so often ask in our day:
Where is the voice of those churchmen who cannot but recognize the great apostasy being perpetrated from among their own ranks? Are there any prelates left who still think and feel with the Church?
Starting with the latter, the answer is that those men most certainly do still exist, and Msgr. Charles Pope is one of them. As for the former, their voices, like that of the monsignor, are being pressed into silence.
Let me be clear, however; the faithful voices of which I speak are not so much being silenced by the likes of the cardinal buffoon of New York, or his spineless counterpart to the south who would sooner curry favor with gay activists by chastising a faithful priest than to uphold the demands of Canon 915; rather, these voices are being suppressed from within thanks to a regrettable lack of fortitude.
The Baltimore Catechism defines the cardinal virtue of fortitude as that which "disposes us to do what is good in spite of any difficulty."
It is, in other words, the virtue that allows one to persevere in defending and upholding the truth for its own sake in the face of any persecution, even death.
As for Msgr. Pope, there can be no doubt whatsoever that he was forced to remove the blog post in question, or perhaps more accurately, was made to express regret for having written it after it was unceremoniously removed at the behest of a superior.
His follow-up post addressing the now deleted hay maker of Sept. 4th pretty much tells the story.
I apologize if the language I used caused offense … I remain concerned … my intent is not to directly criticize any bishop or diocese.
This ain't rocket science, folks.
Whenever two or more homo-militants are gathered to cry persecution, the media is present in their midst to breathlessly broadcast their every last grievance.
And yet, as far as I can tell, the deviants who pressed for the "right" to put their perversion on display in New York's St. Patrick's Day Parade are still too busy celebrating Cardinal Dolan's apostasy to take notice of a solitary blog post on the Archdiocese of Washington website.
Hint: That means that the offended parties to whom Msgr. Pope offered apology are most likely a couple of men draped in red, even if perhaps under which are a pair of pink boxers.
In truth, however, there is but one offended party in this mess that truly matters, and that is Our Lord Jesus Christ; the same who will one day ask Msgr. Pope and others like him why they chose to bow down to the demands of faithless men rather than to accept the great blessing of being persecuted for His name's sake.
Look, I don't claim to know the heart of Msgr. Pope with absolute certainty; nor do I have intimate knowledge of the virtual waterboarding he most certainly endured at the hands of his superiors in the hours after he hit "publish" on September 4th.
I have, however, read enough of his lucid commentary over the years to confidently state that only a damned fool imagines that the Catholic sense that moved him to write that initial blog post in the first place, and the prudence that caused him to tactfully refrain from calling out the Big Apple's plump little protestant prince by name, have somehow withered to the point of causing him second thoughts.
As such, it is reasonable to suspect that the fear of some loss – perhaps his blogging privileges on the Archdiocese website, his pastorship, or his freedom to celebrate the Traditional Latin Mass – whatever it may be, the potential loss of something likely motivated him to retreat.
While I don't know what that something may have been, I do know that it wasn't worth it.
As the Dolans and the Weurls (and while we're at it, let's be perfectly frank, the Bergoglios) of the Church go about abusing their exalted offices and thus the souls in their care – the same for whom Our Blessed Lord died – the flock at large is literally starving for clerics who are willing to serve up the truth unadulterated.
The last thing we need is one more miserable spoonful of sugar coated, lukewarm pabulum like, "I remain concerned… my intent is not to directly criticize any bishop or diocese."
Well, if you're truly concerned; that is, more concerned about the Truth than what may be lost by proclaiming Him – and I am here speaking to every single member of the sacred hierarchy who has somehow managed to avoid the diabolical disorientation that infects so many among their confreres –  then why the hell not directly criticize the wolves who prowl about the sheepfold in clerical disguise?
As it is, this is a question that many men of the Church will one day have to answer before Christ, and I thnk all concerned realize that the excuse de jour, whatever that may be, isn't very likely to cut it.
So, let us pray for the conversion of those prelates, like the aforementioned bishops, whose very words and deeds are as poison to the Body of Christ, indeed, but let us pray all the more for those clerics who, like Msgr. Pope, see their grave offenses for exactly what they are and as yet lack the fortitude to withstand the persecution that necessarily follows from confronting them head-on.