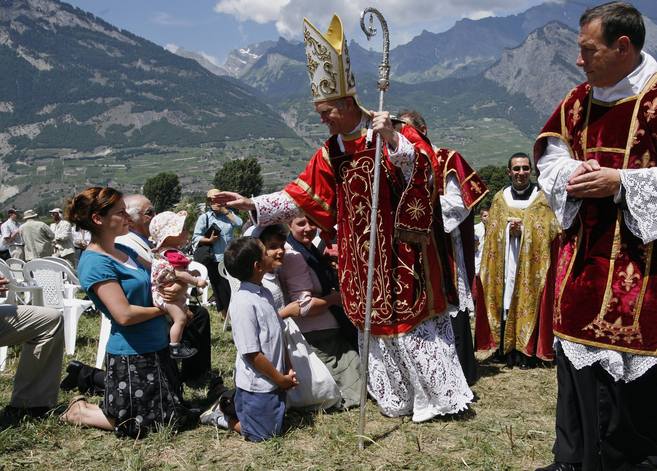 It occurs to me that it may be helpful, in light of recent conversations (i.e., attacks) concerning the status of the Society of St. Pius X, to review the basics of so-called "full communion" as understood by those who are running the dog and pony show in Rome.
So, is the SSPX comprised of "schismatics feeling they are in good standing," as one Michael Voris claims?
According to Canon Law:
Schism is the refusal of submission to the Supreme Pontiff or of communion with the members of the Church subject to him. (cf Canon 751)
In order for this definition to be understood in a Catholic sense, one must recognize that said "submission" is not absolute but rather limited to those things that are consonant with the sacred deposit of Christian doctrine; i.e., one is never bound to submit to those things that are contrary to the Faith, even if such a demand should come from the pope.
This much is simply Catholic common sense.
Specifically with regard to the SSPX and the allegation of schism, the question that must be answered in order to determine guilt or innocence is obvious:
To what precisely has the Society refused submission?
Superior General of the SSPX, Bishop Bernard Fellay, has never been bashful about providing the answer, saying:
Pope Benedict requested that we accept that the Second Vatican Council is an integral part of Tradition, we say, 'Sorry, that's not the reality, so we're not going to sign it. We're not going to recognize that.'
May God bless Bishop Fellay!
This refusal of submission does not in any way shape or form represent schism, for the simple reason that the content of Vatican Council II is not an integral part of Tradition, and the demand of said submission is therefore not properly understood as a function of the Supreme Pontiff's legitimate authority, but rather an abuse of the same.
How so?
Look, no marginally well-formed Catholic (including Michael Voris, who does not have the integrity to answer such matters directly) would dare to assert as a part of Tradition such egregiously false notions as:
– The Jews in our time, who are defined (and happily so) by their rejection of Our Blessed Lord and His Holy Cross, are "one" in Christ Jesus, "by His Cross," with Gentiles (defined as "the wild shoots" that have been "grafted in to that well-cultivated olive tree" that is, the "Ancient Covenant" with God), and this in spite of Our Lord's words, "He who rejects me rejects Him who sent me." (Nostra Aetate 4)
– There are heretical communities too numerous to number (e.g., Joel Osteen's cash cow congregation) that are used by Our Lord as "means of salvation" as communities. (Unitatis Redintegratio 3)
– Divine revelation itself affirms that man has the right to religious freedom (Dignitatis Humanae 2), the Council's treatment of which, according to Pope Benedict, is understood such that "At stake was the freedom to choose and practice religion and the freedom to change it, as fundamental human rights and freedoms." (L'Osservatore Romano, Oct. 10, 2011, as reported by Vatican Radio)
Look, the bottom line, visible to anyone of good will, is simply this:
The Society of St. Pius X is entirely Catholic, and the withholding of ordinary jurisdiction from their bishops and priests is a magnificent injustice for which Our Blessed Lord will demand recompense.
In conclusion, I offer here for those who have yet to see it, a video recently produced by the Society explaining the matter of "supplied jurisdiction;" demonstrating how Our Lord in His wisdom has seen to it that diabolically disoriented men (like popes who make unjust demands for submission to false propositions as the price for "full communion") are allowed to go only so far in depriving souls of the gifts entrusted to the Church for their good.