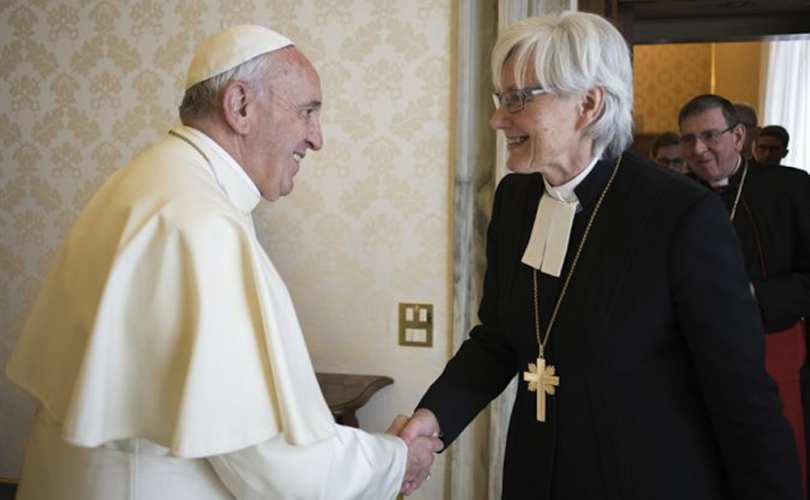 During the Sweden-to-Rome in-flight press conference on November 1st, Francis was asked to comment on the possibility of women being ordained priests.
His answer is widely being reported as an unequivocal, quasi-heroic defense of the Holy Catholic faith; thus inciting, and predictably so, a standing ovation from the neo-conservative peanut gallery.
Don't get me wrong; whenever Francis says anything that even remotely resembles a defense of authentic Catholic doctrine, it's newsworthy.
In this instance, however, the news is being somewhat embellished.
For example, the headline at National Catholic Register (part of the EWTN/CNA family) read, Pope Francis: No to Women Priests Is 'Final Word.'
Life Site News followed suit, reporting: BREAKING: Pope Francis insists women cannot be ordained priests.
Catholic News Agency (better known as the Bergoglian News Agency) ran the headline: Pope Francis reiterates a strong 'no' to women priests.
According to CNA, Francis said:
On the ordination of women in the Catholic Church, the final word is clear, it was said by St. John Paul II and this remains.
What really transpired?
A female Swedish reporter asked:
"Is it realistic to think of women priests in the Catholic Church in the next few decades? If not, why not? Do Catholic priests worry [NOTE: more accurately, 'have fear'] about the competition?"
Francis responded in Italian, saying:
"Sull'ordinazione di donne nella Chiesa Cattolica, l'ultima parola chiara è stata data da San Giovanni Paolo II, e questa rimane. Questo rimane. Sulla competizione, non so…"
Accurately translated, this means:
"As for the ordination of women in the Catholic Church, the last clear word was given by Saint John Paul II, and this holds. Concerning competition, I do not know…"
The "last clear word" in this case refers to the 1994 document, Ordinatio Sacerdotalis.
The above English translation happens to be the one provided by the Holy See, and apart from the fact that Francis more properly said that the teaching of John Paul II "remains" (as opposed to "holds"), it is perfectly accurate.
Is it just me, or is there a noteworthy difference between saying that JPII gave "the final word which is clear" and simply acknowledging that his was the "last clear word" that was given on the topic?
In any case, does it really matter?
You tell me.
John Paul II gave (more precisely, repeated) the final word on Communion for the divorced and remarried in Familiaris Consortio.
And what did Francis do with this teaching?
He unceremoniously overturned it with Amoris Laetitia; as if it was simply among some of the "last clear words" given on a topic that wasn't really settled – and this in spite of the fact that John Paul II cited Sacred Scripture and the constant witness of tradition!
Are you saying that Francis doesn't consider the matter of female ordination final?
Never mind what I'm saying; listen to what Francis is saying.
The reporter pressed Francis further on the ordination of women, asking, "Really? Never?"
Francis replied:
"Se leggiamo bene la dichiarazione fatta da San Giovanni Paolo II, va in quella linea."
Accurately translated, this is to say:
"If we read well the declaration made by St. John Paul II, it goes in that line."
It goes in that line; i.e., it heads in that direction? Really?
No, it doesn't simply go in a line that leads toward never, it truly and properly means never.
The reality of the matter is precisely what Ordinatio Sacerdotalis says, the Church has no authority whatsoever to ordain women; it's utterly impossible.
Then again, so too is the prospect of an expanded Petrine ministry with a synodal and collegial dimension that includes two members; one active, the other contemplative.
(Don't get me started!)
All of this having been said, while this much ballyhooed exchange between Francis and a Swedish journalist is likely to be about as close as he'll ever come to safeguarding authentic doctrine, the one thing that no one seems to be commenting upon is this gem:
Francis doesn't know whether or not priests are afraid of the "competition" that female priests might represent.
Some stirring defense of the Faith, no?