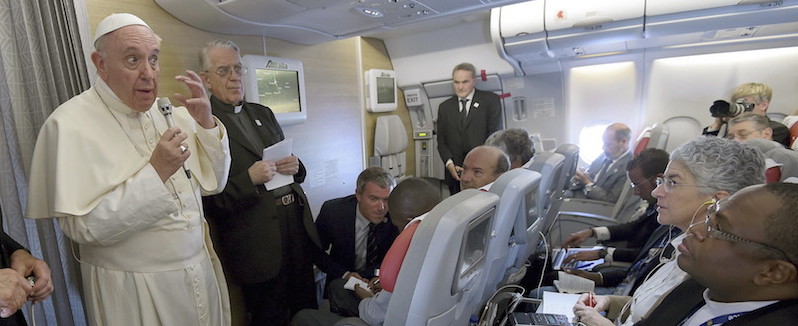 To the delight of Masons, morons and one-world-religionists everywhere, Francis the Loquacious recently pontificated (or is that anti-pontificated?) that all religions want peace.
On the flight from Rome to World Youth Day in Poland, commenting upon the murder of Fr. Jacques Hamel at the hands of devout Muslims in France the previous day, His Humanist said to the journalists present:
A word that is often repeated is 'insecurity.' But the real word is 'war'… When I speak of war, I speak of real war, not of a war of religion, no. There is war for interests, there is war for money, there is war for the resources of nature, there is war for the domination of peoples: this is war. Someone may think: 'He is talking about a war of religion.' No. All the religions, we want peace.
These comments are so entirely disconnected from reality that neo-conservative Catholics, heretics, and even some Muslims alike saw fit to severely criticize them.
To put the offensiveness of these remarks in context from a traditionalist (aka Catholic) perspective, it is important to note that they were made in order to clarify the following comments made just moments earlier:
Let us not be afraid to say this truth: the world is at war, because it has lost peace.

Thanks so much for your work on this Youth Day. Youth always speaks to us of hope. Let us hope that the young people will say something that gives us a little more hope, in this moment.
The real truth of the matter concerning the absence of peace in our world, as anyone with even a modicum of sensus Catholicus very well knows, can be summed up no better than the following taken from the magnificent encyclical of Pope Pius XI, Quas Primas:
The empire of Christ over all nations was rejected. The right which the Church has from Christ himself, to teach mankind, to make laws, to govern peoples in all that pertains to their eternal salvation, that right was denied. Then gradually the religion of Christ came to be likened to false religions and to be placed ignominiously on the same level with them. (Quas Primas 24)
This being so, one should reasonably expect the presumed head of the Catholic Church on earth to labor ceaselessly in calling mankind's attention back to Christ, the Prince of Peace, especially in the present "moment" when violence is daily carried out in service to the false god of Islam.
The Argentinian Jesuit in white, by contrast, saw fit to do otherwise, and after having endured three-and-a-half years of his drivel, nothing could be more obvious:
The "faith" being propagated by Francis is very much an inversion of the Catholic Faith and the mission that was given to the Church by Christ, wherein rather than baptizing, preaching the Word of God, and teaching; he is content to hearken to the voice of man while calling others to do the same.
One can no longer deny the fact that Our Lord Jesus Christ, His sovereignty, and His kingship occupy no part of Jorge Mario Bergoglio's program. His words and his deeds are clear; for him, and for those who think like him, of which there are many, Christ the King has been unceremoniously dethroned in favor of humankind.
That is why he has no compunction about proclaiming, not Our Blessed Lord, but "the young people" as a source of hope – this being an inversion of the theological virtue that is infused in the soul, along with faith and charity, when one is configured to Christ in baptism – in favor of that which is entirely earthbound and eminently emotional.
And what precisely do "young people" have to offer that Jesus Christ does not?
In all but a minority of cases, they largely offer a worldview that tends to reject objective black-and-white truths; reflecting little appreciation for the stark contrast that exists between truth and falsehood.
As such, the young are both a perfect audience for, and a model of, the "personal faith" that has come to replace the faith of the Church since the time of the Council – the only kind of "faith" to which men like Jorge Bergoglio will ever call anyone, a profound intervention of God notwithstanding.
For revolutionaries like Francis, the young are the "hope" of a future wherein the one-world-religion of man will prosper to such extent as to relegate the one true faith of Christ to the brink of extinction.
Unfortunately, fertile ground for this revolutionary brand of poisonous thinking can be found in the minds of certain "grown ups" as well.
Consider, for example, Bishop Mario Grech of the Diocese of Gozo in Malta, who recently invited the Muslim cleric, Imam Mohammed Elsadi, to be his distinguished guest at a celebration of Mass for the Feast of the Assumption of the Blessed Virgin Mary.
In his now public letter to Elsadi, Bishop Grech said that the invitation to join him at Mass grew out of recent events whereby he felt it necessary for the men "to unite together against the current division and hatred."
Among those inspirational events, Grech expressly stated, "I am driven by what Pope Francis said recently that 'all religions want peace … the others wish war.'"
As reported by the Times of Malta:
In his homily, the Bishop said some people wanted to give certain conflicts a religious tinge, referring to Fr. Hamel's murder and the killing of an Imam and his assistant in New York last Sunday.
OK, let's revisit what happened. In the former case, two Muslim madmen, whose "holy writ" calls for the head of infidels, killed a Catholic priest during Mass and then came running from the church shouting "Allahu Akbar."
Clearly, this event has more than just a "religious tinge;" rather, it was without any question whatsoever a religious execution stained with Islam.
As for the murder of the Imam and his secretary in NY, whether or not the suspect ever claims a religious motive matters not one iota. Christianity in no way calls for such executions.
No one in the Catholic hierarchy, in spite of its overall wretched condition, is calling on the faithful to gun down Islamists. Muslim clerics who openly call for jihad and the murder of innocents, by contrast, are a dime a dozen.
Oh, yea… and then there's the disturbing history of Islam; a warmongering scourge on the planet from the earliest days following its inspiration by Satan himself.
Be all of this as it may, according to the Times:
Mgr Grech said no religion believed in violence, insisting the real reasons for conflicts around the world lay elsewhere. 'There are wars fomented by the financial world, others that are ideological and the actors of these conflicts are not soldiers armed with weapons but people donning a jacket and tie,' he said, adding it was a pity that some of these people called themselves Christian.
More pitiable still is that among the staunchest promoters of religious indifferentism and secular humanism in our world are not just men adorned in the Masonic apron, but people donning the mitre and crozier; some of whom even call themselves pope.