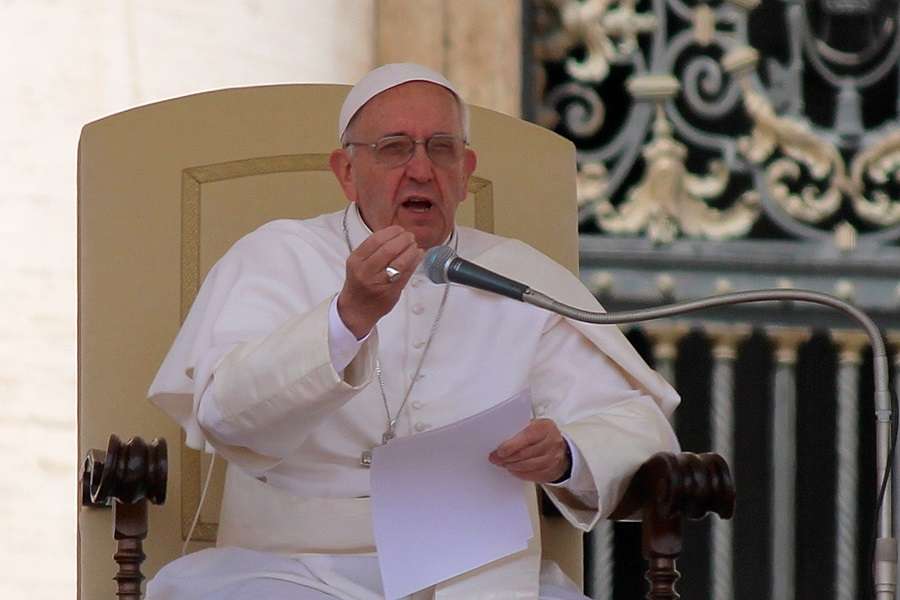 In an article published today, well-known Italian journalist Sandro Magister chronicles the various ways in which His Humbleness, Francis, has twisted and mangled both Sacred Scripture and Catholic doctrine in such way as to make one believe that there is no Hell and all will be saved.
Among the outrages Magister relays is the following:
On Wednesday, October 11, at the general audience in Saint Peter's Square, Francis said that such a judgment is not to be feared, because "at the end of our history there is the merciful Jesus," and therefore "everything will be saved. Everything."
In the text distributed to the journalists accredited to the Holy See, this last word, "everything," was emphasized in boldface.
This is the same audience cited in yesterday's post wherein Francis mentioned the 100th anniversary of Our Lady's appearance at Fatima; that's right, where she showed the three shepherd children a vision of Hell populated with tormented souls.
If one still needed evidence that the men running the show in today's Rome do not believe that Our Lady actually appeared at Fatima, much less the messages and the warnings that she delivered there, this should do it.
Oh, yeah, and it also underscores what I wrote yesterday; these men – Francis chief among them – simply are not Catholic.
At any rate, Magister also relayed the following:
At another general audience a few months ago, on Wednesday, August 23, Francis gave for the end of history an image that is entirely and only comforting: that of "an immense tent, where God will welcome all mankind so as to dwell with them definitively."
This is nothing new for Francis. What does appear to be new, if my social media feed is any indication, is that it's not just so-called "traditionalists" who are taking notice.
Many "conservatives" can't help but acknowledge that these Bergoglian assertions are misrepresentations of the Catholic faith.
Sure, some may feel compelled to excuse them as merely examples of Francis' unfortunate habit of using imprecise language, but there is no denying, even for many of them, that "everything is saved" and "all mankind will dwell with God in eternity" are heretical propositions.
I wonder… how many of these same conservatives would be surprised to discover that Francis isn't being reckless; rather, he is simply repeating the doctrine (false doctrine, that is) found in the Novus Ordo Missae?

Consider, for example, the following excerpts taken from the Novus Ordo Roman Missal for the Mass of Christian Burial:
Before we go our separate ways, let us take leave of our brother/sister. May our farewell express our affection for him/her; may it ease our sadness and strengthen our hope. One day we shall joyfully greet him/her again when the love of Christ, which conquers all things, destroys even death itself. (Final Commendation and Farewell, Invitation to Prayer, Option 1)
Can we really be assured that we will one day "joyfully greet" our deceased loved ones once again? Of course not. Maybe we will, but then again, maybe we won't.
Option 2 isn't any better:
Trusting in God, we have prayed together for (N.) and now we come to the last farewell. There is sadness in parting, but we take comfort in the hope that one day we shall see N. again and enjoy his/her friendship. Although this congregation will disperse in sorrow, the mercy of God will gather us together again in the joy of his kingdom. Therefore let us console one another in the faith of Jesus Christ.
Can we be certain that everyone, without distinction, will one day be gathered together in the joy of God's kingdom? Of course not.
Notice, however, that this is no different than what Francis said: "All mankind will dwell with God in eternity."
Into your hands, Father of mercies, we commend our brother/sister (N.) in the sure and certain hope that, together with all who have died in Christ, he/she will rise with him … help us who remain to comfort one another with assurances of faith, until we all meet in Christ and are with you and with our brother/sister for ever. (Prayer of Commendation, Option A)
"Sure and certain hope" that "we all" will rise with and meet "in Christ"? Nonsense!
This alone is proof positive that the Novus Ordo Missae – in its official text and not simply by way of liturgical abuse – is poisonous. Clearly, therefore, this rite came not from Holy Mother Church, but rather was it dispensed to the faithful by sinful men, Paul VI above all, who far overstepped their bounds.
Please, pass this along to a "conservative" Catholic near you.