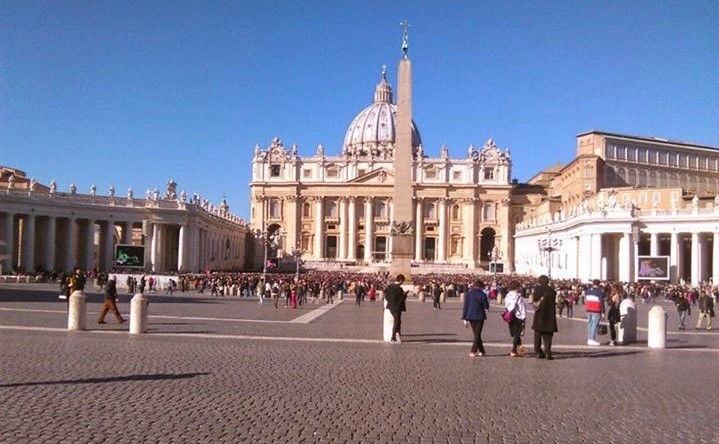 In June 2014, the Pontifical International Theological Commission released a document entitled, Sensus Fidelium in the Life of the Church.
The punchline to the 22,000 word text is as simple as it is predictable; "the magisterium needs means by which to consult the faithful who can be an important factor in the development of doctrine." (cf Article 74)
In other words, the shepherds must be led by the sheep!
While we reject such modernist notions, there is a supernatural sense by which the faithful are endowed with an ability to distinguish truth from lies; even when those who hold the sacred teaching office are somehow negligent.
St. John, in his First Epistle, described it as follows:
"But you have the unction from the Holy One and know all things. I have not written to you as to them that know not the truth, but as to them that know it: and that no lie is of the truth … These things have I written to you concerning them that seduce you. And as for you, let the unction, which you have received from Him abide in you. And you have no need that any man teach you: but as his unction teacheth you of all things and is truth and is no lie." (1 John 2:20-21, 26-27)
One cannot but see this evidenced in the considerable number of faithful who just instinctively know that Francis is among the seducers; the content of his teaching often so incompatible with the truth as to be properly understood as a lie.
Even many neo-Catholics are starting to acknowledge an interior urge to tune the man out. Just Google the phrase "Francis fatigue" and you'll see what I mean.
For my own part, I know a number of Novus Ordo pastors who plainly admit to finding it necessary, if for no other reason than their own sanity and sense of peace, to ignore Francis and his near endless stream of heterodox rhetoric.
Several priests that I know deliberately refrain from mentioning Francis by name in their homilies; much more so do they keep silent about his words and deeds.
This "need to ignore" isn't just confined to Francis' off-the-cuff pronouncements and ill-advised media interviews, mind you.
At a recent speaking engagement, I asked a diocesan priest that I met if his parishioners were troubled or confused by Amoris Laetitia. He told me that his flock is largely comprised of simple folk who probably have no idea that the document even exists, and he sure as heck wasn't about to introduce them to it!
Think about that for a moment…
This is a pastor who recognizes the necessity of safeguarding his flock from the contents of an "Apostolic Exhortation," so-called!
Is the pope Catholic?
For how long has this question been floated, not just rhetorically in order to make a valid point in a humorous way, but in all seriousness with Francis in mind?
Many of you may recall John Vennari (please keep him and his family in prayer!) writing just 90 days after conclave 2013:
"I would never allow Pope Francis to teach religion to my children."
Even though he took some heat for that statement at the time, there can be little doubt that many of John's erstwhile critics concur with his opinion today.
Overall, the number of faithful who recognize Francis as a man that must be avoided appears to have grown exponentially; in particular following the publication of Amoris Laetitia and the multiple unanswered appeals asking him to confirm the true faith.
What exactly is moving so many of the faithful, priests included, to distance themselves and those in their care from Francesco?
The answer, in my view, is plain:
It's that aforementioned supernatural sense whereby the faithful are endowed with an ability to distinguish truth from lies; the evangelist from the seducer, and it's moving them in considerable numbers to follow St. Paul's exhortation:
"Avoid the heretic, after a first and second correction, knowing that such a man is perverted and sins, since he is condemned by his own judgment." (Tit. 3:10-11)
For the faithful Catholic, a true pope can never be avoided, and yet in the case of Francis, many are being moved to do just that.
What does this tell us?
If nothing else, it seems to suggest that the days when one could say that a moral unanimity of Catholics throughout the world (understood as those who actually know their faith) accept Jorge Bergoglio as pope – the avoidance of whom can never be justified – are numbered if not already past.