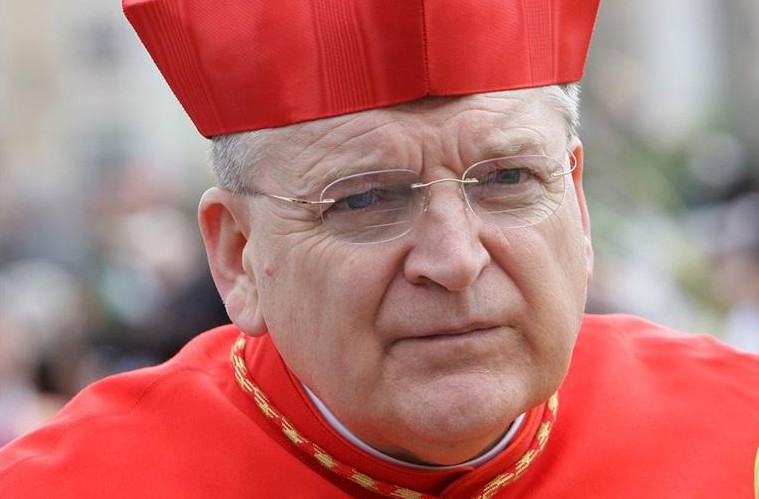 Just last week, I published a post exploring whether or not Cardinal Burke may have taken the formal act of correction off the table.
At the conclusion to that post I wrote, "Perhaps His Eminence will be asked about this directly in a future interview (which, if history is any indication, cannot be very far removed from today)."
Well, we didn't have to wait very long at all.
On August 14th, the Wanderer published Part 2 of an interview with His Eminence wherein he indicated that the formal act of correction is not only on the table, it may in fact be the precursor to something far more significant.
Here, I'd like to delve into the relevant parts of the discussion concerning the correction, but before we get that…
Perhaps you may have noticed that Cardinal Burke's interviews often contain thinly veiled insults aimed directly at Francis. Well, this one was no different. In response to an invitation to recall the life of Cardinal Meisner, he said:
He was a wonderful pastor and was never one to say that those who supported the Church's teaching were legalists and do not care about people, that they were throwing stones at them. He was a very loving pastor who understood that a good shepherd of the flock must teach the truth to the faithful in its entirety.
Here's the translation (even though I am certain very few actually need it):
Francis is not a wonderful pastor. He says that those who support the Church's teaching are legalists and do not care about people, that they are throwing stones at them. Nor is Francis a loving pastor who understands that a good shepherd of the flock must teach the truth to the faithful in its entirety.
This, I suppose, is how the game is played in Rome…
Returning to the main topic at hand, the interviewer asked:
Setting aside the question of timing, please explain how the process for the execution of a "formal correction" would proceed should a response to the five dubia not be forthcoming? [Sic] How is a formal correction officially submitted, how is it addressed within the Church's hierarchal structure, etc.?
First, let me say that I am unaware to what extent, if any, the interviewer had to agree to avoid certain topics going in, but apart from this, why on earth would he set aside "the question of timing"?
I mean, the dubia is about to have a birthday for crying out loud!
In any event, it seems as if the answer to that question is, if not given, at least suggested later in the interview. We'll get to that in a moment.
Let's take a look at Cardinal Burke's reply piecemeal:
The process has not been frequently invoked in the Church, and not now for several centuries. There has been the correction of past Holy Fathers on significant points, but not in a doctrinal way.
NB: His Eminence is saying that this is not a matter of discipline (as the proponents of Amoris Laetitia like to contend); it is a matter of doctrine.
It seems to me that the essence of the correction is quite simple. On the one hand, one sets forth the clear teaching of the Church; on the other hand, what is actually being taught by the Roman Pontiff is stated. If there is a contradiction, the Roman Pontiff is called to conform his own teaching in obedience to Christ and the Magisterium of the Church.
In other words, as things currently stand, Francis' teaching is not in conformity with that of Christ and the Magisterium of the Church, and so he will be called upon to conform.
At this, we arrive at one of the most crucially important parts of the interview as Cardinal Burke continues:
The question is asked, "How would this be done?" It is done very simply by a formal declaration to which the Holy Father would be obliged to respond.
NB: Once a correction is issued, Francis will be obliged to respond.
In my previously mentioned post concerning the correction, I pointed out how inconsistent, and even contradictory, Cardinal Burke has been at times when commenting upon the matter. Herein lies yet another example.
In a January 2017 interview with the Italian publication, La Verità, Cardinal Burke said of the dubia:
There is no ultimatum to the Pope, but we must go forward: the faith is in danger
As I stated at the time, the dubia has always been an "ultimatum;" a proposal that essentially demands, "Do this, or else suffer the consequences."
Now, Cardinal Burke is plainly admitting that this is the case.
Again, in the interviewer's defense, perhaps he was forbidden to ask it, but the next logical question is obvious:
You state that he would be 'obliged.' What consequences will he face for failing to do so?
Though it wasn't asked, it was in my estimation answered, and in this case, Cardinal Burke is demonstrating consistency.
Before we get to that answer, let's consider "the question of timing."
Cardinal Burke went on to say:
Pope Francis has chosen not to respond to the five dubia, so it is now necessary simply to state what the Church teaches about marriage, the family, acts that are intrinsically evil, and so forth.
As we have come to learn, one cannot put too much stock in any one thing the cardinal states. Even so, one might take note that he did not say "it will be necessary" to proceed to the correction; he said "it is now necessary."
The implication is that it is coming soon.
If I was foolish enough to place a bet on where this merry-go-round is headed, my money would be on some time shortly after September 19th – the one year anniversary of the dubia's issuance.
As for the form of the correction, Cardinal Burke stated:
So then, the next step would be a formal declaration stating the clear teachings of the Church as set forth in the dubia. Furthermore, it would be stated that these truths of the Faith are not being clearly set forth by the Roman Pontiff. In other words, instead of asking the questions as was done in the dubia, the formal correction would be stating the answers as clearly taught by the Church.
Regular readers of this space may recall my multi-part series with Robert Siscoe concerning whether or not Francis is a formal heretic. I argued that he is; Robert that he is not. We both agreed, however, that the sacred hierarchy has a duty in such cases to make a formal declaration.
Such a declaration is not a matter of judging, properly speaking, since a pope (if you will allow in this case) is judged by no man, rather it is a matter of announcing to the Church what he himself has revealed.
The purpose of the declaration, as described by 18th century theologian, Fr. Pietro Ballerini, is as follows:
So that he might not cause damage to the rest, he would have to have his heresy and contumacy publicly proclaimed, so that all might be able to be equally on guard in relation to him.
This is essentially what Cardinal Burke is talking about:
…a formal declaration stating … that these truths of the Faith are not being clearly set forth by the Roman Pontiff.
Granted, Cardinal Burke chose to employ less precise wording than Fr. Ballerini.
No surprise there. After all, if the interview didn't amount to a certain number of puzzle pieces for the reader to assemble one would have to wonder if it was "fake news"!
Perhaps the most noteworthy part of the interview pertains to Cardinal Burke's response to a question about the CDF.
He was asked:
During his tenure as Prefect of the Congregation for the Doctrine of the Faith (CDF), Gerhard Cardinal Mueller was a steadfast defender that confusing statements in Amoris Laetitia must be interpreted in line with the Church's traditional teaching on reception of Holy Communion by civilly divorced and remarried Catholics. Do you foresee any possibility of a reversal in this teaching from the CDF in the aftermath of his non-renewal as Prefect?
Pay close attention to Cardinal Burke's response:
It is not possible for the Congregation of the Doctrine of the Faith to declare otherwise. If it did, it would be out of communion with the Church. What Cardinal Mueller has set forth is exactly what has always been taught by the Church. In more recent times, paragraph 84 of Pope St. John Paul II's apostolic exhortation Familiaris Consortio has pronounced the Church's constant teaching. So then, that type of reversal is simply not possible.
When the pieces are assembled, it would seem that this is His Eminence's answer to the unasked question:
You state that Francis would be 'obliged' to respond to the formal correction; presumably, in conformity with what has always been taught by the Church. What would be the consequences of his failure to do so?
The answer: He would be out of communion with the Church.
In this, there is consistency.
Recall Cardinal Burke's December 2016 interview with Catholic World Report wherein he was asked:
Some people are saying that the pope could separate himself from communion with the Church. Can the pope legitimately be declared in schism or heresy?
To which Cardinal Burke replied:
If a Pope would formally profess heresy he would cease, by that act, to be the Pope. It's automatic. And so, that could happen.
As I suggested, no one knows where this merry-go-round is headed. What we have before us is a series of puzzle pieces that, once put together, may or may not tell the tale.
Even so, it seems that the formal act of correction, which now appears likely, is not the end game, but rather just might be (please, God) a  step in what may lead to Francis being openly declared an anti-pope.
Yes, all of this speculating is growing tiresome, but these are the cards we've been dealt.
In any event, it looks like the next month or so (as October 13 approaches) is going to be very interesting indeed.