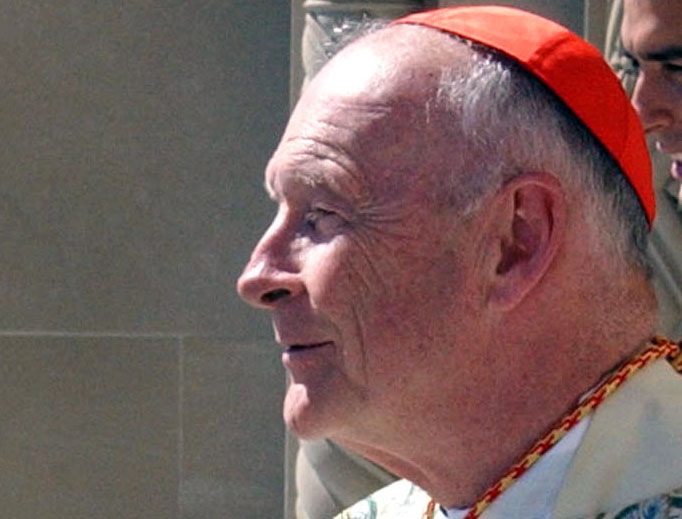 On Wednesday, June 20, 2018, the Archdiocese of New York released a statement saying that Cardinal Theodore McCarrick has been suspended from public ministry after an accusation that he sexually abused a minor (altar boy) while serving as a parish priest there nearly 50 years ago was deemed "credible and substantiated."
Since then, Bishop James F. Checchio of Metuchen, and Cardinal Joseph Tobin of Newark issued statements revealing that both dioceses had "received three allegations of sexual misconduct [on the part of McCarrick] with adults decades ago; two of these allegations resulted in settlements."
This is the same Joseph "Nighty-Night" Tobin who wrote:
In too many parts of our church LGBT people have been made to feel unwelcome, excluded, and even shamed. Father Martin's brave, prophetic, and inspiring new book marks an essential step in inviting church leaders to minister with more compassion, and in reminding LGBT Catholics that they are as much a part of our church as any other Catholic.
It has also since come to light (see Rod Dreher's articles linked below) that at least one of the incidents that resulted in a settlement involved McCarrick's unwanted advances toward a seminarian in 1986 when he was Bishop of Metuchen.
So, let me get this straight (no pun intended): Powerful people in both dioceses – their bishops, and undoubtedly many others – have known for some time now that McCarrick is a homo-predator.
Did they tell anyone? If so, who did they tell? If not, why not?
The settlement (consisting of hard-earned money donated by the faithful) was paid out in 2006; the same year that Benedict XVI accepted McCarrick's letter of resignation as the Archbishop of Washington, D.C. – something a bishop is required to submit, but the pope is not obligated to accept, upon reaching age 75.
Following McCarrick's resignation, man's man Donald Wuerl – who readers may recall suspended a faithful priest in 2012 for denying Holy Communion to a lesbian activist – was appointed by Benedict XVI to take over as Archbishop of Washington, D.C.; an office he continues to hold more than two full years after submitting his own letter of resignation, this time to Jorge "Who am I to judge" Bergoglio.
Well, then, it sure looks to me as if a deal was cut back in 2006 and there are gay finger prints all over it:
The pope agrees to accept McCarrick's resignation letter upon receipt. The Diocese agrees to write a presumably hefty check to some victims. And all concerned agree to keep hush-hush about the entire affair.
Following McCarrick's suspension last week, he issued a statement of his own; one that tells us everything that we need to know about creepy "Uncle Ted," as he encouraged certain favored priests and seminarians to call him, while he, licking his chops, referred to them as his "nephews."
While I have absolutely no recollection of this reported abuse, and believe in my innocence, I am sorry for the pain the person who brought the charges has gone through, as well as for the scandal such charges cause our people.
Imagine someone accusing you of sexually abusing an altar boy in the sacristy of a church. Heck, imagine someone accusing you of slapping an altar boy, or cussing him out, or stealing his wallet. I don't care if the incident was alleged to have happened 90 years ago, if innocent, would you ever respond by saying "I don't recall that reported abuse."
Writing for the American Conservative, Rod Dreher has posted two articles (HERE and HERE) that provide important historical background on McCarrick and his widely known homosexual appetite.
In response to McCarrick's statement, Dreher wrote, "Innocence? I believe McCarrick is lying, and that he knows he is lying."
Maybe so, but I suspect that McCarrick has internally absolved himself of lying by virtue of the fact that he most likely does not remember that abuse. I mean, there's no telling how many altar boys' genitals he fondled over the years. How can he possibly be expected to remember that  kid?
In any event, in spite of some tripe about the role celibacy may be playing in these cases of homo-clerics gone wild, Dreher's articles are well worth reading (if you can stomach the unseemly details).
Dreher tells readers that he has "been waiting for this story to break since 2002."
Back then, I received a tip from a priest who had gone on his own dime to Rome, along with a group of prominent US Catholic laymen, to meet with an official for the Roman Curial congregation that names bishops. It had been rumored at the time that Theodore McCarrick, the Archbishop of Newark, was going to be moved to Washington, DC, and to be made a cardinal.
This group traveled to Rome to warn the Vatican that McCarrick was a sexual harrasser of seminarians. The story this priest shared with me was that McCarrick had a habit of compelling seminarians to share his bed for cuddling. These allegations did not involve sexual molestation, but were clearly about unwanted sexual harassment. To refuse the archbishop's bedtime entreaties would be to risk your future as a priest, I was told.
The story never made it print, ultimately, because none of the accusers with whom Dreher spoke were "willing to put their name to public accusations."
With this in mind, he concludes one of his articles with a passionate plea:
A word for all you Catholic priests and laymen who contacted me 16 years ago about Cardinal McCarrick, and told me what you knew, but who would not go on the record about it — it is time for you to find your voice. Speak up. Tell what you know. The young men who had to suffer this pervert's attentions all these decades deserve to have their pain acknowledged and vindicated.
Fair enough, but what is good for the goose is good for the gander.
Dreher also relates the following:
It might surprise you to learn that the person who tried to get me taken off the McCarrick trail back in 2002, was a prominent conservative layman, a closeted gay man who intervened at his dear friend the Cardinal's request.
Speaking for myself, no, this does not surprise me in the least. In fact, one person in particular comes to my mind as perhaps being the "closeted gay man" in question – a "conservative layman" of some note in Washington, D.C. in those days (and even more so today), and whose "prominence" rose considerably during the early years of Cardinal McCarrick's tenure as its Archbishop.
Of course, I could be dead wrong.
If only Mr. Dreher would be willing to do as he counsels others to do, however, there would be no question.
So, Mr. Dreher:
It is time for you to find your voice. Speak up. Tell what you know. Who is this prominent conservative layman? What is the nature of his relationship with McCarrick? In what other ways did this man perhaps leverage his prominence in order to influence others to keep the Church's gay network a secret?
We're all familiar with the old saying about the way in which to get to the bottom of institutional and political scandals: Follow the money. It's good advice.
Today, it is becoming increasingly undeniable that when it comes to the inner workings of the Catholic Church, the way to gain clarity is not just to follow the money, but to follow the fairies.
Dr. Richard Sipe, "a psychiatrist and former Benedictine monk who has treated scores of sexually abusive priests" was cited by Rod Dreher in reference to the Church's "gay network" as stating:
I've reviewed over 100 cases of sexual abuse by priests. In there you get the documentation, which unfortunately often gets sealed by the Church after they settle the cases. It's very clear that you can trace [the network], one person to another, through a sequence of appointments, the sequence of who follows whom in what position, and how they got there. It is a fact, and nobody can sincerely deny it.
That effort is well beyond the scope of this article, but I must say that I find it at least noteworthy that one Father Kevin Farrell was consecrated a bishop in 2002 by Cardinal McCarrick of Washington, D.C., serving as one of its auxiliaries until his appointment as Bishop of Dallas in 2007.
"The news of the appointment of Bishop Kevin Farrell as bishop of the large and important Diocese of Dallas is a great tribute to the talent, the experience and, in a special way, to the tremendous pastoral abilities of this faithful and gifted priest," McCarrick wrote at the time.
"He is a good friend and has been a great brother to me," McCarrick concluded.
Brother? Would it perhaps have been more fitting to call him a nephew?
In 2016, Farrell was appointed Prefect of the Bergoglian Curial creation called the Dicastery for Laity, Family and Life, and he was made a cardinal – just like Uncle Ted – shortly thereafter.
Speaking of Fr. James Martin's book, Building a Bridge: How the Catholic Church and the LGBT Community Can Enter into a Relationship of Respect, Compassion, and Sensitivity (perhaps better named Clerical Homo-Activism for Dummies), Farrell offered the following glowing endorsement:
[It is] a welcome and much-needed book that will help bishops, priests, pastoral associates, and all church leaders more compassionately minister to the LGBT community. It will also help LGBT Catholics feel more at home in what is, after all, their church.
Yes, more and more, it is starting to look like "their church."