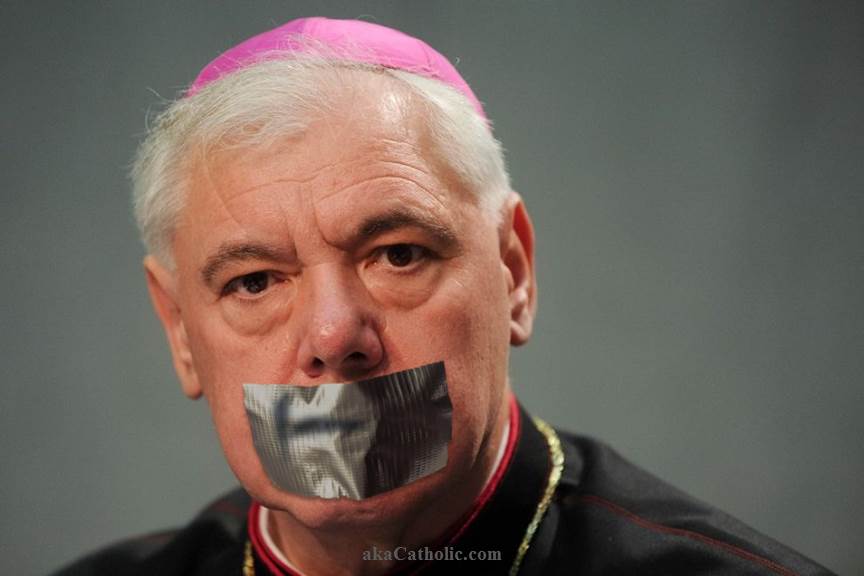 Just in case anyone happened to miss it; another important piece to the puzzling case of Jorge Bergoglio emerged a couple of days ago courtesy of Edward Pentin.
In an interview with with the Austrian media outlet, Kathpress, on December 1, Prefect of the Congregation for the Doctrine of the Faith, Cardinal Gerhard Müller, implied that Francis has ordered him not to respond to the dubium.
In a December 6th article, Church Leaders Respond to the 'Dubia,' Pentin quoted Cardinal Raymond Burke as having confirmed that this is indeed the case:
Cardinal Burke told the Register last month that Cardinal Müller earlier had relayed to the signatories that the Pope would not be responding to the questions they had submitted. 'He [Cardinal Müller] was told by the Pope that he was not to respond to the Dubia and that there would be no response to them,' he said.
When the dubium was first made public, it seemed rather likely to me that the four cardinal-authors of the text had collaborated with Cardinal Müller beforehand. Now, it appears obvious that they are, in fact, in cahoots (as well they should be).
It's not clear, however, to what extent the five cardinals may have anticipated, or not, an explicit order from Francis for the Prefect of the CDF to ignore the simple yes/no questions posed in the dubium. It's difficult to imagine that Francis' reaction has taken them, or anyone else who is paying attention, by surprise.
That said, think about what we now know.
As I mentioned in my initial post on the Pentin-Burke interview, one may very well imagine that interviewer and interviewee coordinated their efforts in order to make a precise presentation.
We now know that this is true, and what's more, we know that this coordinated effort continues.
Consider: Cardinal Burke provided the above mentioned quote (about Francis explicitly silencing the CDF) to Edward Pentin on or before November 15, the date on which the interview was published.
Obviously, that information was always newsworthy; in fact, even though we have grown numb to the Humble Dictator's despicable behavior, it's no exaggeration to call it a bombshell.
Here we have a pope who has explicitly instructed Cardinal Müller and  the CDF, which has the "proper duty of promoting and safeguarding the doctrine on faith and morals in the whole Catholic world," not to do their job; i.e., Francis deliberately ordered that errors concerning matters of faith and morals be left unaddressed so as to spread unabated.
Yes, this is a bombshell alright; an unprecedented one at that.
So, why didn't Pentin drop it three weeks ago?
Apparently, it was decided (presumably by Cardinal Burke) that it would be best for Pentin to keep that particular card in his hip pocket until further notice.
In other words, all indications are that Burke is playing Bergoglio's game of leveraging his contacts in the media in order to control the dissemination of important information; timing its publication in whatever way may best serve the mission at hand. Touché!
We also now have good reason to believe that Edward Pentin may be sitting on any number of other pieces of critically important information that further demonstrates just how fiercely Francis is opposed to the Catholic faith.
I wouldn't be surprised if Edward Pentin already knows precisely when and how Cardinal Burke and the other three cardinal-authors of the dubia intend to issue the "formal act of correction" (and if it pleases God, Bergoglio's formal deposition) that we now await.
In my opinion, the time is well at hand, but I suspect that it will not come until after Christmas; perhaps sometime in early January 2017.
Then again, this sad affair may just drag on until May; that's right, exactly 100 years after the Fatima apparitions began.