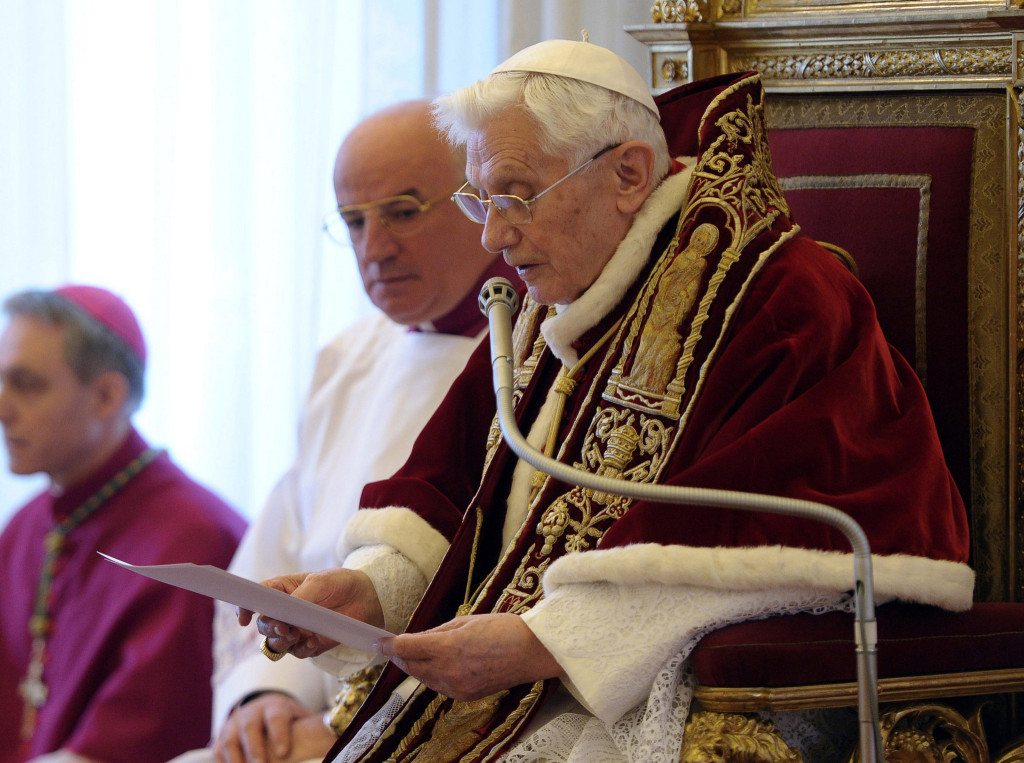 Inés San Martín of Crux recently reported a claim alleging that Pope Benedict XVI "wanted Bergoglio as his Secretary of State."
An Argentine priest [Father Fernando Miguens, the former rector of San Miguel Seminary in Argentina] who knew Cardinal Jorge Mario Bergoglio of Buenos Aires prior to his election as Pope Francis claims that in 2005, Pope emeritus Benedict XVI offered Bergoglio the position of Secretary of State, effectively the second most important position in the Vatican after the papacy itself, but the future pontiff turned it down …
As San Martín notes, "this is the first time anyone has claimed Benedict wanted Bergoglio as his Secretary of State."
Whether or not this claim is true is irrelevant. If it is, however, then surely Fr. Miguens would have had no reason to guard it as a well-kept secret for the past decade-and-a-half; in particular the most recent six-plus years.
So, why is Crux choosing to report it now?
As journalist Randy Engel has noted, "Crux news site [is] part of Opus Dei's vast international outreach media machine;" the prelature having a reputation for being unabashedly pro-papacy. Inés San Martín, for her part, "earned her degree in journalism and social communications in part from Opus Dei's flagship, the University of Navarra in Pamplona, Spain."
As a review of San Martín's page on the Crux website indicates, her specialty is "Covering the 'Francis Effect' in the Pope's native land." In other words, her job is to run defense for Jorge Bergoglio.
A perfect example of San Martín's spin-mission can be found in her article of July 15 wherein she confronted Francis' largely negative public approval ratings. She writes:
But scraping beneath the surface, another truth arises: None of those who so willingly gave an opinion on the pope have actually read anything he's said, seen any of his monthly prayer videos or even follow him on Twitter.
She went on to address the so-called "Francis Effect" directly by quoting Father Jose Maria Klappenbach, an Opus Dei priest from Buenos Aires:
A common question is whether having an Argentine pope has produced a quantitative effect in reception of the Sacraments in Argentina …  Klappenbach say[s] that even though impact on Mass attendance cannot be measured yet, there has been a change in the way the Church is perceived.
"I always say that any baptized person, as a son of God, is as Catholic as I am, even if they don't practice their faith," Klappenbach said. "And those people today, feel they belong to the Church more than they did before. There's no statistic to measure that, but I believe God has a way to do so."
In other words: Who cares if anyone goes to confession, shows up for Mass, or marries in the Church? Parishes may be closing left and right and dioceses may be going broke, but hey, more people feel Catholic in spite of their unbelief thanks to Jorge!
At this, it seems rather clear that the reason Inés San Martín and Crux have chosen to publish Fr. Miguens' claim that "Benedict XVI offered Bergoglio the position of Secretary of State" is to lend some CCC (that is, Conservative Catholic Credibility) to the latter at a time when he is coming under increasing fire; e.g., for his relentless assault on Catholic doctrine, his role in covering for homo-clerics, and his designs for the upcoming Amazonian Synod.
San Martín practically admits as much, writing:
Almost from the beginning of Francis's papacy in 2013, the popular narrative has suggested a tension between Benedict the arch-conservative and Francis the progressive reformer. In reality, sources who know Bergoglio say the two men enjoyed a deep personal respect.
"I had heard from him [Bergoglio] that the relationship between them was unsurpassable, that it was personal," a former aide, who today works in the private sector told Crux.
"Whenever the cardinal was in Rome, he would go to Benedict's office almost without requesting an audience, which was confirmed to me by several Rome-based journalists."
The two would speak on the phone regularly, even once a month at times, another source confirmed.
Though San Martín is obviously keen to demonstrate continuity between Benedict and Bergoglio in an attempt to fortify the bona fides of the latter, what she inadvertently ends up doing is exposing both men as co-conspirators in the present, and unprecedented, assault on the Catholic faith.
She went on to write:
The fact that Bergoglio was the runner-up in the 2005 conclave that elected Benedict is well-documented, as is the fact that the then-Argentine cardinal told those who were propelling his candidacy, without his encouragement, that he supported Ratzinger for pope.
Notice that, in spite of the oath of secrecy that binds the participants in a papal conclave under pain of excommunication, San Martín – like many other Catholic journalists – has no issue reporting such details as "fact." One reason, it appears, is that Jorge himself has seen fit to spill the beans; even going so far as to allow them to be published in L'Osservatore Romano.
At this, consider very carefully what Benedict stated of his so-called resignation in the 2016 book, Last Testament: In His Own Words.
It was not a retirement made under the pressure of events or a flight made due to the incapacity to face them. [Emphasis added]
Wait just a minute! In his Declaratio of 11 February 2013, he plainly stated:
In today's world, subject to so many rapid changes and shaken by questions of deep relevance for the life of faith, in order to govern the Barque of Saint Peter and proclaim the Gospel, both strength of mind and body are necessary, strength which in the last few months, has deteriorated in me to the extent that I have had to recognize my incapacity to adequately fulfill the ministry entrusted to me. [Emphasis added]
So, which is it? Was his departure necessary "due to incapacity" relative to unnamed "events" or not?
Look, if you wish to hang your hat on Benedict's words, by all means have at it, but please don't embarrass yourself by suggesting that his words put the matter of his supposed resignation to rest when, in fact, the exact opposite is true!
If Benedict hasn't raised enough red flags already, get this. After having stated in his book, "Practical governance is not my strong point and this is certainly a weakness," Benedict went on to say of Francis:
He was an archbishop for a long time, he knows the trade. He was a superior of Jesuits and has the ability to put his hands to action in an organized way. I knew that this was not my strong point.
OK, so he knew that organized action wasn't his strength. Fair enough, but doesn't his manner of speaking suggest that Benedict knew for whom he was stepping aside; namely, this Jesuit who supposedly had just such an ability?
It certainly sounds that way to me. At another point, Benedict says of Bergoglio's election:
No one expected him. I knew him, naturally, but I did not think of him. In this sense it was a big surprise. I did not think that he was in the select group of candidates.
Seriously? It is a "well-documented fact that Bergoglio was the runner-up in the 2005 conclave that elected Benedict," and yet "no one expected him" in 2013?
Based on all that has been said, it is a matter of moral certainty that Benedict XVI did not "resign" for the reasons given in the Declaratio; this based not on conjecture or mere speculation, but on the plain and objective meaning of his very own words.
It is also a practical certainty that he stepped aside (in whatever sense he may have intended to do so, whether reluctantly or not) knowing full well that he was making room for the ascendancy of Jorge Bergoglio.
In conclusion, I will close with what I consider to be matters of absolute certainty that are readily discernible to all with eyes to see:
Jorge Bergoglio is not Catholic. He is an enemy of Jesus Christ and His Mystical Body, the Church; a man whose claim to the Chair of St. Peter, albeit dubious in the extreme, was made possible only with the cooperation of Benedict XVI.