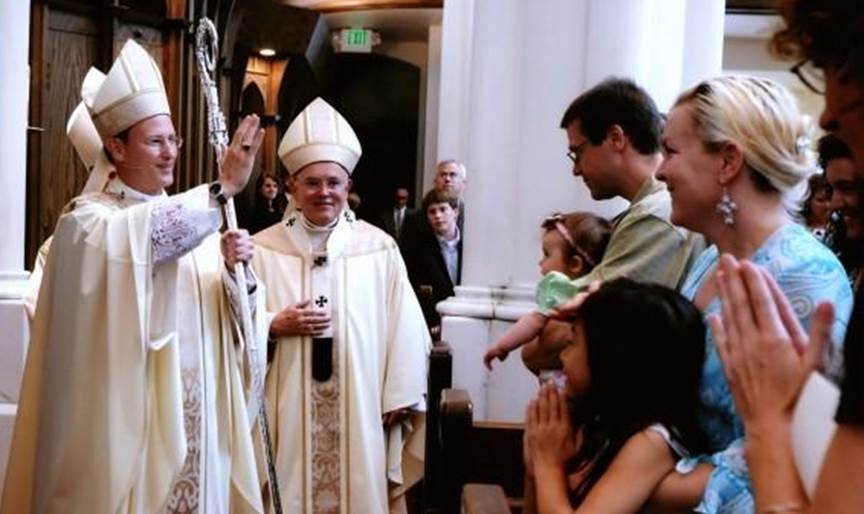 Two American bishops, Charles Chaput of Philadelphia and James Conley of Lincoln, are getting high praise for letters they sent to their clergy clarifying norms for the reception of Holy Communion in their respective dioceses.
Specifically, both men reaffirmed the immemorial practice of the Church as based upon Sacred Scripture and Tradition:
The Lord calls those who are divorced and civilly remarried, or who are cohabiting, to continence … like every person who is conscious of grave sin, divorced and civilly remarried Catholics who engage in ongoing sexual relationships may not approach Holy Communion. – Bishop Conley
Hip, hip, hooray!
Unfortunately, when the ordinary of a diocese says or does anything even remotely Catholic, it's newsworthy. Such are the times in which we live. I get it.
That said, while Chaput's and Conley's letters are somewhat better than a stick in the eye, much of what they had to say, at best, falls squarely into the category close-but-not-quite, and that's being overly charitable.
Consider: What exactly moved these bishops to write a letter to their priests addressing the proper disposition for approaching Holy Communion in the first place?
The answer; Amoris Laetitia.

OK, fine, but let's be perfectly honest:
The divorced and civilly remarried, the cohabiting, and others conscious of grave sin were answering the cattle call to Communion in Philadelphia and Lincoln (like pretty much everywhere else) long before Jorge Bergoglio arrived on the scene.
The point is simply this: Amoris Laetitia represents a danger so grave and so immediate that it simply cannot be ignored; much less can it be praised.
And yet, Chaput and Conley – the latest paper heroes of American neo-Catholcism – found it expedient to do just that.
The very heading of Chaput's letter set the tone:
Pastoral Guidelines for Implementing Amoris Laetitia.
Really? What exactly does Amoris Laetitia provide that merits implementation in any Catholic parish anywhere?
The answer is obvious; absolutely nothing.
 Chaput apparently sees it differently, writing:
Amoris Laetitia has sections of exceptional beauty and usefulness on the nature of family life and marital love.
Nonsense. Anything in Amoris Laetitia that manages to reflect the truth about marriage and family was stolen from Catholic tradition in order to give the appearance of legitimacy to the blasphemy and heresy that follows.
According to Chaput's measure of "usefulness," he would do just as well to issue guidelines for implementing the Qur'an and the Talmud in the Archdiocese of Philadelphia!
But wait, it gets worse.
Chaput goes on to lie (and frankly, I can think of no other word to describe it) about Amoris Laetitia:

The Holy Father's statements build on the classic Catholic understanding, key to moral theology,of the relationship between objective truth about right and wrong – for example, the truth about marriage revealed by Jesus himself – and how the individual person grasps and applies that truth to particular situations in his or her judgment of conscience.
He can't be serious.
In Amoris Laetitia, Francis does extreme violence to the classic Catholic understanding of the relationship between objective truth and mortal sin, and ultimately, the truth about marriage as revealed by Jesus Christ Himself!
If not for the fact that Amoris Laetitia serves as Exhibit A in the matter of Holy Catholic Church v. Jorge Mario Begoglio, the entire text belongs in an incinerator. It serves absolutely no good purpose whatsoever to speak of it any differently lest some poor fool give it a moment's worth of serious consideration.
Bishop Conley, who once served as an auxiliary under Chaput in Denver, was not to be outdone by his former mentor, writing of Amoris Laetitia in the letter to his own priests:
[The text contains] insightful reflections on family life in the modern world, and on the meaning of mercy and charity in pastoral ministry … the Holy Father calls us to discern the hearts of those entrusted to our care, and to facilitate meaningful encounters with Jesus Christ, who loves us, and who calls us to love, uniquely, exclusively, and irrevocably.
Riiiight…
I suppose Bishop Conley failed to notice that Amoris Laetitia urges the faithful to imagine such "meaningful encounters with Jesus Christ" as those wherein one "comes to see with a certain moral security" that adultery and fornication "is what God himself is asking amid the concrete complexity of one's limits." (cf AL 303)
That, my friends, is unadulterated, in your face, rend-your-garments blasphemy.
Bishop Conley apparently thinks otherwise:
In recent weeks, some of you have asked me about media reports of controversy and disagreement about the interpretation of Amoris Laetitia.

Disagreement and conflict in the Church can be unsettling. Yet moments of sincere disagreement provide the occasion for the Holy Spirit to bring deeper clarity to our understanding and proclamation of the faith. The questions being posed to the Holy Father are intended to help achieve clarity.
Get that?
The Church teaches that the All Holy God calls us to reflect His holiness that we may have life everlasting, and what's more, He gives us the grace to achieve it. Francis, by contrast, insists that He asks us to persist in mortal sin as we skip up to Holy Communion…
It's all just a "sincere disagreement."
I would venture to say that neither Chaput nor Conley actually believe half of the flowery praise they heaped upon Amoris Laetitia; they're just not shepherd (nor man) enough to speak the truth plainly. In this sense, they are worse than the truly ignorant among us who simply don't know any better.
In any case, it's time to cease with all of the pretense.
"The questions being posed to the Holy Father," (the dubia) are not "intended to help achieve clarity;" not with respect to Amoris Laetitia anyway. That ship has long since sailed.
In reality, the dubia poses but one question to Francis, and one question alone:
Are you Catholic?

The answer to this question has been perfectly plain to readers of this space for quite some time. May the grace of God enlighten those still refuse to see it.