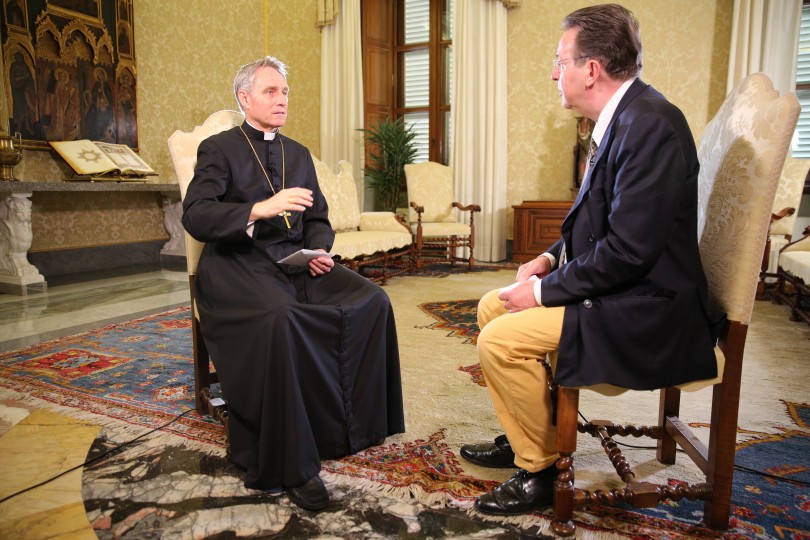 In a recent interview with German journalist Paul Badde (writing for Bergoglian News Agency), Archbishop Gänswein was asked to clarify remarks made in his presentation of 20 May 2016 concerning the intentions of Pope Benedict XVI.
The Prefect of the Papal Household and personal secretary to the would-be Pope Contemplatus stood by his previous remarks.
Badde informed the archbishop that a number of Cardinals are "upset when hearing that the Church currently has two living successors to Peter."
[NOTE: Who are these "upset" cardinals, and why are they in hiding? A rhetorical question as they are hirelings indeed.]
Badde then asked, "Recently you spoke about an 'expanded' Petrine office, that Pope Benedict is said to have introduced. Could you explain that a bit further?"
Gänswein responded:
I saw from among the reactions that I was imputed to have said a number of things that I did not say. Of course, Pope Francis is the legitimate and legitimately elected pope. Any talk of two popes, one legitimate, one illegitimate, is therefore incorrect.
This is a straw man.
No one, as far as I am aware, has ever claimed that Gänswein said that either Francis or Benedict is illegitimate.
What he was asked to "explain a bit further" are his remarks concerning the "expanded" Petrine ministry that now allegedly has both "an active member and a contemplative member."
The only potentially useful explanation Gänswein gave, however, was to say:
"You have to use common sense, faith, and a bit of theology. Then you have no trouble at all understanding what I have said correctly." [A direct translation of the original German copy with help from my friend Dom Laurentius.]
So, what conclusions would any Catholic in any age draw upon applying "common sense, faith, and a bit of theology" to the idea of a "profoundly and permanently transformed papal ministry" that has been "expanded" into a "quasi-shared ministry" that has "a collegial and synodal dimension"?
There can be no doubt whatsoever that such a person would conclude that even if a pope were to declare as much that this simply is not possible; no more than it is possible for a pope to expand the Blessed Trinity to include another member.
Are there any among those Catholic commentators now claiming that we must defer to history, or to a future pope, in order to rightly judge the present circumstances, who would deny that they would have immediately drawn the very same conclusion if confronted with this scenario even one hour before Benedict issued his Declaratio of 11 February 2013?
Of course not. What, one wonders, has changed?
In any case, the more one ponders this unprecedented fiasco, the more it appears as if Benedict and Gänswein are playing a twisted game of "He who has ears to hear, let him hear."
Could it be that Benedict fancies himself Christlike for attempting to deceive the wolves, albeit misguidedly so?
And when he was alone, those who were about him with the twelve asked him concerning the parables. And he said to them, "To you has been given the secret of the kingdom of God, but for those outside everything is in parables; so that they may indeed see but not perceive, and may indeed hear but not understand; lest they should turn again, and be forgiven." (Mark 4:10-12)
This entire affair, from day one, has been presented to the world in the form of a glorified riddle.
Consider, for instance, that Benedict issued his Declaratio in Latin.
Sure, one would have expected the official text to be in Latin, but how many of the cardinals present as he spoke understood what he had to say? I dare say precious few. So why not make a vernacular announcement that could be easily understood?
These questions aside, upon examining the Latin text, there were those relatively few "with ears to hear" who spoke up almost immediately; e.g., Professor Stefano Violi and journalist Antonio Socci.
Recall as well the letter that Benedict sent to journalist Andrea Tornielli in February 2014 wherein he stated:
"I continue to wear a white cassock and kept the name Benedict for purely practical reasons. At the moment of my resignation there were no other cloths available."
Seriously? Rome has more black cassocks per capita than any other city on the planet!
At this, the number of those with ears to hear expanded considerably, as one could not possibly help but conclude that this was Benedict's clever way of confirming that something more profound is afoot; something he does not feel at liberty to discuss openly.
Fast forward to 20 May 2016: Archbishop Gänswein confirmed it plainly:
"Since the election of his successor Francis, on March 13, 2013, there are not therefore two popes, but de facto an expanded ministry — with an active member and a contemplative member. This is why Benedict XVI has not given up either his name, or the white cassock."
Regardless of the position one takes today, all concerned should have no difficulty whatsoever acknowledging that subterfuge has been a part of Benedict's plan from the very day he made his historic announcement.
One naturally wonders why this is so.
While no one other than Benedict, presumably Gänswein, and perhaps a small number of others can say with certainty, one thing all of us know is that deception such as this is not of God.
But let your speech be yea, yea: no, no: and that which is over and above these, is of evil. (Matthew 5:7).
My friends, we are living through a pivotal moment in the life of the Church, and it is entirely appropriate on at least one level to speak of the judgment of history:
When future generations of Catholics look back on those in our day who refused to condemn as evil Benedict's deception; failed to reject as impossible the terms of his resignation such as they've been revealed (even George Weigel has done this), and refrained from denouncing the conclave that followed, they will not do so kindly; nor should they.
After all, it only takes "common sense, faith, and a bit of theology."