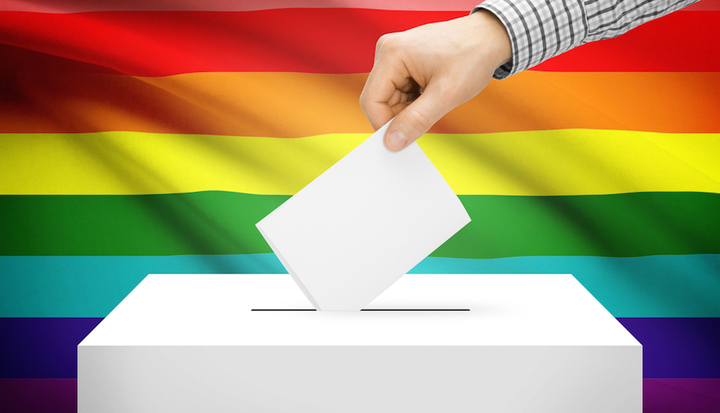 By: Randy Engel
Dear Friends in Christ –  First it was "Queering the Youth Vote" in 2008. Then, in 2012,  it was "Queering the Church." As Catholic faithful, we know how successful that campaign has been!
Now, in 2018, it's "Queer the Vote."
Have you had enough? Or will you wait until the Homosexual Collective's hobnail boot is pressed on the neck of your prone body or that of your child or grandchild before reacting?
Isn't it about time that faithful Catholics with their faithful pastors and like-minded Christian associates take on the Forces of Organized Perversion?
Here's just one reason why you should cast your vote for God, family, and nation on USA Election Day, Tuesday, November 6, 2018:
"Queer the Vote 2018" is a project of the  National Homosexual Collective, aka National LGBTQ Task Force. The political campaign is designed  "to educate and mobilize" various  elements within  the Homosexual Collective in this "critical and volatile political year."
First among the "rights" to be promoted are "Reproductive Rights," followed by  "Equity and Equality," "Transgender Rights," "Criminal Justice" and Immigration."
Faithful Catholics have no united and organized counter-attack to the "Queer the Vote" campaign. Isn't about time we did?
The content of this post is from a recent mailing of the U.S. Coalition for Life, Box 315, Export, PA 15632 announcing its initiative aimed at challenging the Homosexual Collective and its sycophants wherever and whenever they exist. The next mailing – "How to Become Voter Savvy – A Political Guide for Faithful Catholics."
I'm gathering the names of Catholics who want to be part of this new campaign of the U.S. Coalition for Life, America's oldest prolife research agency.  As of yet the project has no formal name. But its primary objective is clear: To challenge and defeat the Forces of Organized Perversion in the United States not only at the ballot box, but in our churches and  communities in which we pray, work, and live.
If you are interested in this ongoing USCL project, let me know by e-mail at rvte61@comcast.net . There is no cost to you except your time and attention.
It's the 11th hour! Time to vote and time to take action. See you at the voting poll on November 6th, and please join us after the election by signing up for future e-mails designed to challenge and turn back the Forces of Organized Perversion in our nation.
God bless you,
Randy Engel, National Director U.S. Coalition for Life