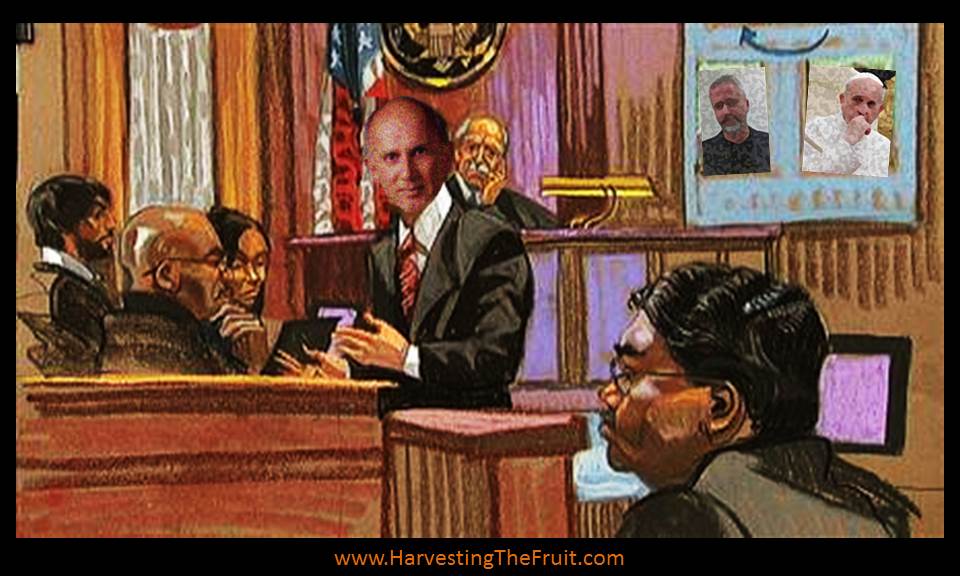 I don't make use of tags on my posts, but if I did, this one would be filed under "courtroom drama / comedy."
Realizing that many of the readers of this blog are not on Facebook, I want to bring you up to speed on the most recent, borderline amusing, snit fit launched in my direction by my "friend" (on Facebook anyway) Karl Keating.
On Saturday last, in anticipation of the "Invocation for Peace," I posted the following observation on my Facebook page:
Among those who have reportedly been invited by Pope Francis to mock Our Lord Jesus Christ on Pentecost at the Vatican are leaders of the Druze community…
In response, Karl took to his own Facebook page to level the following indictment.
"Dear Sheikh Moafaq Tarif: I invite you, as head of the Druze faith in Israel, to come to the Vatican this Sunday, Pentecost, to mock Jesus Christ. I look forward to seeing you! Best wishes, Pope Francis."

According to Louie Verrecchio, that's the gist of the invitation sent by the Pope to Sheikh Tarif, who will be one of the participants at an outdoor prayer-for-peace gathering at the Vatican.
…

But do you have to make [your case] with bile? Do you have to put the worst possible spin on things? Do you have to impugn the motives of the Pope? Do you have to claim that he actually WANTS non-Catholics to mock Christ? Yes you do, if your goal is to make an ass of yourself.
I had hoped to engage Karl on this directly, but he deleted my first response to his post and hasn't had time to reply to my last attempt to engage. So, while speaking of people in the very same room in the third person isn't my game, I'll play. But know this, Karl, you are more than welcome to grace these pages with your commentary.
With that said, according to the prosecutor, Keating, my comments make me guilty of rendering a subjective judgment as it regards the pope's motives in calling this "Invocation."
My plea: Innocent on all counts!
With a renewed understanding as to why Mr. Keating no longer practices law, I would suggest that this case isn't all that complicated. Perhaps an analogy will help.
Imagine a cab driver who decides to give free rides to the local abortion clinic to impoverished unwed young women. If I were to publicly state that the women are given transport by the cabbie to murder their unborn children, such would constitute an observation based on an objective truth. Even if the cabbie has the intention of alleviating what he sees as the suffering attached to single parenthood, it matters not. My observation has nothing to do with assigning motives.
In the case of Pope Francis and the "Invocation for Peace," I said that inviting those who deny Christ as a matter of creed to chant from their unholy writ at the Vatican is an invitation to mock the Lord. That is likewise an observation based upon objective truth. Even if the pope has the intention of alleviating strife in the Middle East, it matters not. My observation has nothing to do with assigning motives; it stands on the objective truth of the matter.
Since, unfortunately, the prosecutor isn't present to cross examine me, please allow me to address the distinct possibility that he does not recognize the "Invocation" as the terrible offense against the Lord that I believe it to be. Again, an analogy might help.
Imagine Karl going on an extended hiking trip. Prior to his departure, he appoints a caretaker to represent him in important matters and to run the affairs of his household in his absence.
One day, this caretaker decides to host an event at Karl's house wherein a very select group of Catholic writers is given the opportunity to read excerpts from their works. From there, the event is to be disseminated worldwide by an eager media.
Now, imagine that among those few invited to participate is Robert Sungenis, who stands in the front yard of the Keating estate to read excerpts from an essay; the same wherein elsewhere he ridicules and discredits Karl Keating by name.
The caretaker, along with many of Karl's closest relatives, look on attentively as Sungenis reads, and afterwards they share handshakes and hugs with him, thanking him for his contribution to the grand affair. (For those who don't know, Robert Sungenis is Karl's nemesis, for lack of a better word. In fact, Sungenis is the target of Keating's latest Facebook indictment.)
Something tells me that Karl wouldn't take too kindly to his caretaker's behavior, even if said caretaker was simply trying to facilitate peace between bickering Catholics.
I rest my my case.
What say you, counselor?