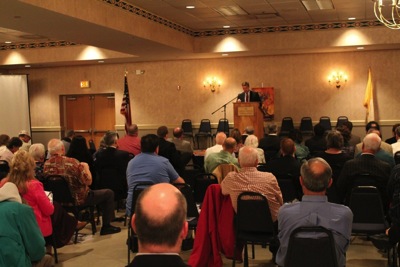 Bishop Athanasius Schneider said in a recent interview, "'Now we are, I would say, in the fourth great crisis, in a tremendous confusion over doctrine and liturgy," with the others being the Arian crisis, the 10th century string of immoral popes, and the years of papal exile in Avignon.
I think most readers of this space would agree with Bishop Schneider's assessment; we are living in the midst of a great crisis in the Church, one that is often and rightly called a Catholic identity crisis.
How does a faithful Catholic respond to such a crisis? By taking steps to recapture their stolen identity.
Enter the Catholic Identity Conference 2014: The Old Evangelization: Restoring Liturgy, Mission and Catholic Tradition
I'm delighted to say that yours truly will be among the speakers at this year's conference, and even more thrilled to say that I'll be joined by an esteemed group of others including:
• Dr. John Rao
• Michael Matt of The Remnant
• John Vennari of Catholic Family News
• Christopher Ferrara
• James Vogel from Angelus Press
• Kenneth Wolfe of Rorate Caeli
• Michael Brendan Doughtery from The American Conservative

This is third annual Catholic Identity Conference (the image above taken at last year's conference) and will be taking place at the Weirton Holiday Inn in Weirton, WV beginning Friday, September 12th at 6:30 pm with a celebration of the Traditional Mass, concluding on Sunday September 14th at noon.
Topics for this year's conference include:
• "Giving the Devil His Due, the Problems with the Old Evangelization",
• "Mass Hypocrisy: Redefining 'Traditionalist' in the Image and Likeness of the Neo-Catholic"
• "Modernism and the New Evangelization",
• "The Mission of the Church vis-à-vis the Kingship of Christ as Illuminated by Pius XI in Quas Primas"
• "Vatican II-ism: How an Ideology Has Eclipsed the Faith"
• "A Cause for Hope: the Experiment of Tradition Around the World"
• "Promoting the Old Evangelization While Using a New Computer"
• "Bad Liturgical Reform and the Good God's Response—Biblical Reasons for Hope During Tribulation".
(Any guesses as to which is the topic of my presentation?) Honestly, with the lineup of speakers at this event, I'm looking forward as much to listening and learning as I am to speaking.
Please, share this information with your contacts and if at all possible make plans to attend.
For more information or to register click here or call (304) 723-6343.