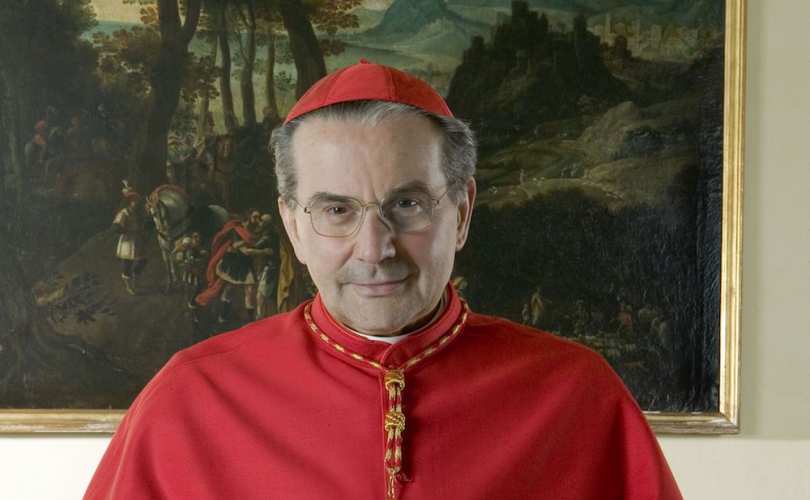 I must admit that the process of parsing and commenting upon the public statements that have been made by the authors of the dubia (most recently, Cardinal Caffara) is growing somewhat tiresome; likely as much for readers as anyone.
Even so, I do believe that the exercise has merit inasmuch as it provides an opportunity to shed additional light on the evil nature of Amoris Laetitia and its various offenses against Christ, as well as the mindset of the only men in Rome who appear willing to address it however weakly.
As an aside, if you are growing so weary of looking at this train wreck that you're thinking to yourself why bother?, take a look at this minute-and-a-half excerpt from a recent conference for some encouragement:
With this in mind, we'll look in this post at portions of Cardinal Caffara's recent interview with the Italian publication, Il Foglio (an English translation of which is available HERE).
First, let's begin with a real head scratcher.
Cardinal Caffara states:
The way out of this 'conflict of interpretations' was recourse to fundamental theological interpretative criteria, using those by which, I think, one can reasonably demonstrate that Amoris laetitia does not contradict Familiaris consortio.
Well, then, if this is true, why all the fuss?
The reality is that Amoris Laetitia objectively contradicts Familiaris consortio, and what's more, all indications are that this contradiction is not inadvertent, but rather Francis'  deliberate intent.
Cardinal Caffara went on to describe the task at hand as follows:
…to see whether the famous paragraphs nos. 300-305 of Amoris laetitia and the famous footnote n. 351 are, or are not, in contradiction with the previous magisterium of the Pontiffs who have addressed the same question" [of access to the sacraments for those who persist in objective grave sin].  
The aforementioned "previous magisterium" is rather straightforward:
The Church reaffirms her practice, which is based upon Sacred Scripture, of not admitting to Eucharistic Communion divorced persons who have remarried … Reconciliation in the sacrament of Penance which would open the way to the Eucharist, can only be granted to those who … are sincerely ready to undertake a way of life that is no longer in contradiction to the indissolubility of marriage … [taking] on themselves the duty to live in complete continence, that is, by abstinence from the acts proper to married couples. ( Familiaris Consortio 84)
The portions of Amoris Laetitia cited by Cardinal Caffara (paragraphs nos. 300-305, footnote n. 351) likewise speak for themselves in a rather straightforward manner:
It is possible that in an objective situation of sin – which may not be subjectively culpable, or fully such – a person can be living in God's grace, can love and can also grow in the life of grace and charity, while receiving the Church's help to this end … In certain cases, this can include the help of the sacraments. Hence, I want to remind priests that the confessional must not be a torture chamber, but rather an encounter with the Lord's mercy. I would also point out that the Eucharist is not a prize for the perfect, but a powerful medicine and nourishment for the weak. (AL 305, footnote 351)
This isn't complicated, folks. Francis is plainly stating (and has since affirmed that "there are no other interpretations" – see letter to the bishops of Buenos Aires) that even when the objective state of sin endures (i.e., there is no firm purpose of amendment to avoid the sin going forward), such persons can be admitted to the sacraments, specifically, Confession and Communion.
All that is needed in order to see whether a contradiction exists between Amoris Laetitia and Familiaris Consortio (representative of the "the previous magisterium of the Pontiffs" and the bi-millennial practice of the Church) is to read the two texts.
And yet, Cardinal Caffara states later in the interview:
But it is not that a priest can say 'the help [on] his path [can include] even giving him the sacraments'. And it is on this [point] that the text of footnote 351 is ambiguous.
Ambiguous?
Nonsense! Footnote 351 isn't ambiguous in the least! It plainly states "this can include the help of the sacraments."
Cardinal Caffara's conclusion that "one can reasonably demonstrate that Amoris Laetitia does not contradict Familiaris Consortio" is nothing short of irrefutable evidence that His Eminence has fallen victim to precisely the diabolical disorientation of which Our Lady of Fatima forewarned.
Elsewhere in the interview, Cardinal Caffara states:
It is not relevant to appeal to ignorance or to error regarding the indissolubility of marriage, a fact [that is] unfortunately very widespread. This appeal has an interpretative value, not a [pastoral] policy one. It should be used as a method to discern the imputability of acts already committed, but it cannot be a principle for acts to be committed [in the future]. A priest – said the Cardinal – has the duty to enlighten the ignorant and to correct the errant."
In this, Cardinal Caffara is partially correct (ignorance and error cannot be a principle for acts to be committed in the future), but far more important to recognize is the degree to which he is lending credence to the fundamental and grave error upon which all of the heresies and blasphemies found in Amoris Laetitia rest.
Specifically, Caffara is suggesting that it is in fact possible for a confessor or spiritual director to "discern the imputability" of acts that are evil by their very nature (i.e., acts that are intrinsically evil).
While it may be useful for a confessor to weigh such things as a penitent's knowledge and formation in determining how best to pastor them, the reality is that no one – not even the sinner himself – has the ability, much less the right, to discern imputability.
The internal disposition of souls and the matter of imputability belong to God alone. Period.
Cardinal Caffara, not unlike his American counterpart, Burke, is a walking contradiction; on some level he seems to "get it," saying:
Even if I use only right reason, I see that by denying the existence of intrinsically evil acts, I deny that there exists a limit outside of which the powers of this world cannot and should not go. Adultery, in fact, is always regarded among the intrinsically evil acts.
As I said at the outset, it is tiring to parse the inconsistencies and contradictions these men so often spout…
Caffara rightly zeroed in on Amoris Laetitia's treatment of conscience (presented therein as a valid arbiter for determining culpability for grave sin) as being central in this matter. He said:
These are matters of a disturbing gravity. It would elevate private judgment to the ultimate criterion of moral truth.
He even went so far as to issue what one may consider something of a warning shot, intentional of not; one that seems to suggest that he believes that Francis may be on the verge of removing himself from the papacy:
Newman – recalls Caffarra – says that 'if the Pope were to speak against Conscience in the true sense of the word, he would commit a suicidal act. He would be cutting the ground from under his feet.'
In any case, with all of this in mind, Cardinal Caffara singled out one of the five dubium in particular as being the "most important" of them all:
That is why among the five dubia, dubium number five is the most important. There is a passage of Amoris laetitia, at n. 303, which is not clear; it seems – I repeat: it seems – to admit the possibility that there is a true judgment of conscience … in contradiction to that which the Church teaches as pertaining to the deposit of divine Revelation. It seems. And so, we put the dubium to the Pope."
Now, take a look at Amoris Laetitia 303, and you tell me if it "is not clear" and only "seems" to stand "in contradiction" to that which the Church teaches:
Yet conscience can do more than recognize that a given situation does not correspond objectively to the overall demands of the Gospel.  It can also recognize with sincerity and honesty what for now is the most generous response which can be given to God, and come to see with a certain moral security that it is what God himself is asking amid the concrete complexity of one's limits. (AL 303)
Bear well in mind that Francis is here speaking of adultery and fornication as being "what God himself is asking!"
In response to this blasphemy, Cardinal Caffara found it necessary to qualify his concerns by saying "it seems" no less than three times…
Is that the best he has to offer the Father, Son and Holy Ghost? Where is the sense of outrage on the part of our leaders? Where are their calls for prayers and sacrifices made in reparation for these terrible offenses against the All Holy God?
Our Lord asked His disciples:
"But yet the Son of man, when he cometh, shall he find, think you, faith on earth?" (Luke 18:8)
With every passing day it is becoming ever more clear that He will not find faith on earth, at least not in Rome.
And yet, we dare not be discouraged!
Just prior to asking the rhetorical question above, Our Lord said:
And will not God vindicate his elect who cry to him day and night? And will he have patience in their regard? I say to you that he will quickly vindicate them. (Luke 18:7-8)
And so, tiresome though it may be, we must not refrain from looking at the terrible offenses that are being committed against God in our day, no matter how painful doing so may be – not simply to have something to complain about, but so that we may be moved to cry out to Him all the more for the vindication He promised.