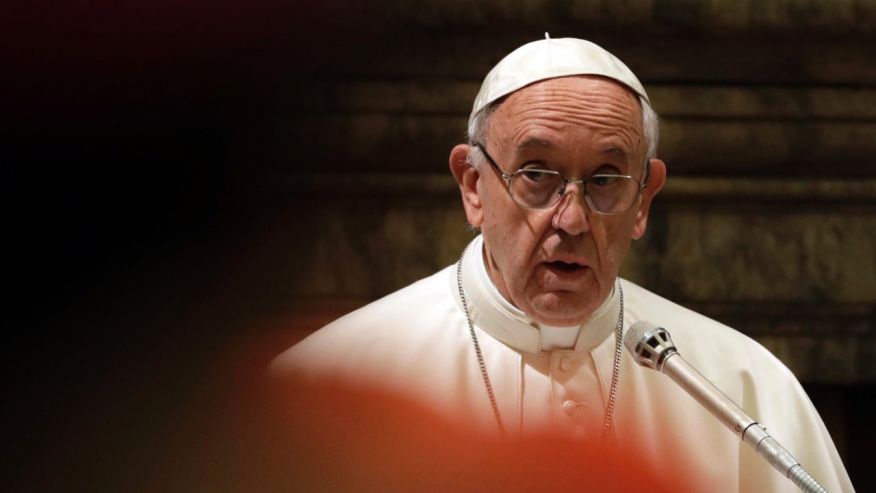 In his Christmas Address to the Roman Curia delivered earlier today, Francis offered yet another response to the dubia, its authors and their supporters.
Sure, it is, just as we should expect, along the same lines as the others; backhanded, indirect, and "full of subtlety," (cf Pascendi – 1) but make no mistake, it was a response to the dubia just the same.
Before we get to that…
As we've noted previously in this space, Francis harbors an image of Christ that is "diminished and distorted," (cf  Pope St. Pius X, Notre Charge Apotolique) inasmuch as it entails a singular focus on Jesus as the itinerant doer-of-good-deeds who was persecuted by the powerful of this world in the first century; to the utter exclusion of the Risen One who is King of kings and Lord of lords.
It comes as no surprise, therefore, that he chose to open his address by citing the very same nonsense:
At Christmas, we are called to say "yes" with our faith, not to the Master of the universe, and not even to the most noble of ideas, but precisely to this God who is the humble lover.
Yes, God forbid we should say "yes" to Christ the Pantocrator who reigns over all things!
Truly, it is amazing that this man's faith is so utterly impoverished that he thinks nothing of plainly speaking as if Christ the King and the Suffering Servant who laid down His life for us are two entirely different persons.
An honest reading of Francis cannot but lead one to recognize that he considers the former to be the "real" Christ, and the latter a mere invention of "triumphalists" and "rigorists."
It was this same group of allegedly hidebound traditionalists that came to rest squarely in Francis' cross-hairs as he went on to take aim at those who would resist "reform" (code for Amoris Laetitia and all that it entails, as we shall see), saying:
There are also cases of malicious resistance, which spring up in misguided minds and come to the fore when the devil inspires ill intentions (often cloaked in sheep's clothing).  This last kind of resistance hides behind words of self-justification and often accusation; it takes refuge in traditions, appearances, formalities, in the familiar, or else in a desire to make everything personal, failing to distinguish between the act, the actor, and the action.
Are there any so naïve as to deny that Francis is here speaking of those who would dare to oppose the agenda set forth in Amoris Laetitia in favor of "taking refuge" in the very words of Christ, the dogmatic definitions issued by the Council of Trent, and the immemorial practices of the Church as based on Sacred Scripture and Tradition; chief among them, the authors of the dubia?
Now, pay very close attention to what Francis had to say as he went on to address the dubia about as plainly and directly as he likely ever will:
All this is to say that the reform of the Curia is a delicate process that has to take place in fidelity to essentials, with constant discernment, evangelical courage and ecclesial wisdom, careful listening, persevering action, positive silence and firm decisions.
Even though Francis is referencing the "reform of the Curia," there can be no doubt whatsoever that this is nothing more than Francis-speak for the program set forth in Amoris Laetitia.
Think about it:
Whatever efforts Francis has made concerning the reform of the Curia properly speaking (as opposed to making personnel changes that stack the Curial deck with like minded progressives) have hardly been met with any widespread "resistance."
The most noteworthy exception, however, concerns an action that Francis cited later in his address:
With the two Motu Proprios of 15 August 2015, provisions were made for the reform of the canonical process in cases of declaration of marital nullity: Mitis et Misericors Iesus for the Code of Canons of the Oriental Churches, and Mitis Iudex Dominus Iesus for the Code of Canon Law.
Francis cited these "Motu Prorios" in his address as examples of "some steps already taken" according to "recommendations made by the Cardinals … by the Heads of the Dicasteries and other experts and individuals."
Really?
As I recall, Francis unilaterally sprung these changes to the annulment process on the Church largely by surprise, and with little or no consultation on the part of his cardinals.
In any case, the important thing to note here is that this effort stands out among the so-called Curial reforms Francis mentioned in his address as the only one that has been met with any widespread resistance, and it just so happens to be directly related to his nefarious aspirations vis-à-vis Amoris Laetitia!
The bottom line here is simple:
When it comes to resisting Amoris Laetitia – the dubia in particular -Francis is telling us that we can expect nothing more from him than "persevering action, positive silence and firm decisions."
Let that sink in for a moment…
In other words, he is indicating in no uncertain terms that his heels are dug in; or to rephrase his disposition in more canonically appropriate terms:
Francis is making his pertinacity (obstinate adherence to grave error) plain.  
I am certain that there are many who will continue, even now, to insist that Francis has yet to respond to the dubia, and likely even more who will maintain that the fact of his pertinacity has yet to be established.
To such persons I must ask, yet again:
What more must Francis say or do in order to make it plain that he is firmly committed to opposing that which has been taught by the Church with Divine authority?
Did this post bring the present situation in the Church into sharper focus for you? If so, will you help us continue the effort in 2017?