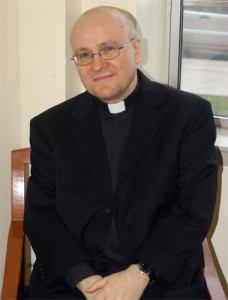 Yesterday, it was announced that Pope Francis has appointed two new Auxiliary Bishops for the Diocese of Brooklyn, NY, one of whom is Fr. James Massa (left – in more ways than one).
This announcement has largely been greeted by tradition-minded Catholics as welcome news given the fact that Fr. Massa is known to celebrate the Traditional Latin Mass, and was even appointed by Bishop Nicholas DiMarzio as "Coordinator of the Celebration of the Traditional Latin Mass" for the diocese back in August of 2005.
OK, I get it.
Those of us who live in this liturgically barren desert otherwise known as the post-conciliar "New Springtime" are so desperate for signs of hope that the pending episcopal consecration of any priest who demonstrates an attachment to the Mass of Ages is cause for excitement.
Even so, I feel compelled to remind my traditionalist (aka Catholic) friends that the twentieth century's most notorious modernists – men like Karl Rahner, John Courtney Murray and Tielhard de Chardin – all celebrated the Traditional Mass even as they plotted to undermine the Faith.
True, celebrating the Traditional Mass in this day and age when the pope considers the venerable ancient rite little more than a "certain fashion" is certainly noteworthy, but the point is simply this; it does not guarantee that the priest in question has any real love for tradition.
Fr. James Massa is a perfect example. He is a man of the Council through and through; a dyed in the wool ecumenist who finds the conciliar "novelties" (as he plainly identifies them) causes for celebration.
So hostile is Fr. Massa toward the true faith that he even goes so far as to dismiss the immutable truths conveyed by Pope Pius XI in the Encyclical, Mortalium Animos, wherein the Holy Father reaffirms the Church's understanding that "the union of Christians can only be promoted by promoting the return to the one true Church of Christ of those who are separated from it," that he dismisses the teaching as "not a successful strategy."
In June of last year, I highlighted Fr. Massa's over-the-top ecumenical fervor in the video below. It's a bit lengthy, but for those who want to get to know him, it's very telling.
The bottom line is this: Any time a priest is willing to celebrate the Traditional Mass, it is right for us to be thankful. On the other hand, we must recognize that it can also serve, as in the case of Fr. Massa, to distract us from the ugly enemy of tradition that lurks beneath the beautiful traditional vestments.