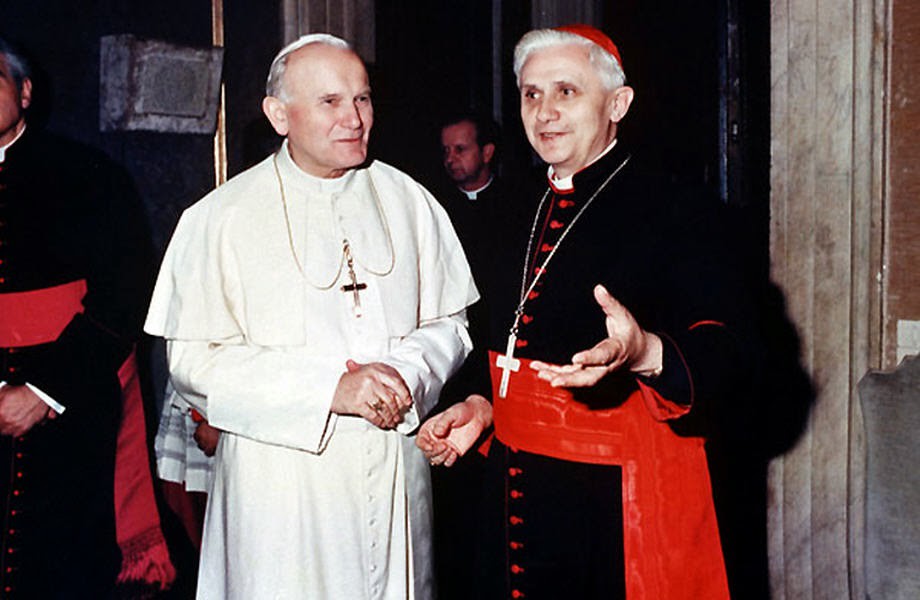 Today, the conciliar church-of-man celebrates the Nativity of Karol Wojtyla. In light of this, Benedict the Abdicator has penned a letter commemorating the 100th anniversary of Wojtyla's birth. Though the writer evidently endeavored to highlight a number of Wojtyla's more praiseworthy traits, he ended up providing what Catholics readily perceive as a list of indictments.
Reflecting on Wojtyla's formative years, Benedict writes:
Karol not only studied theology in books but also through his experience of the difficult situation that he and his Country found itself in. This is somewhat a characteristic of his whole life and work. He studied books but the questions that they posed became the reality that he profoundly experienced and lived.
In other words, Wojtyla was a humanist who was fully committed to personalism, placing man (and his soaring dignity) at the center of all things, with his experiences being the lens through which he perceives objective reality – a philosophy that stands in contrast to the Thomistic understanding that it is by way of the five senses and the intellect that man comes to grasp what is knowable.
As Benedict suggests, this focus on experience includes knowledge even in the area of theology. Sure, Karol Wojtyla read the works produced by the Church's venerable popes, Saints, Doctors and theologians, but his experiences (and those of other human persons) obviously held greater sway.
At this, I am reminded of a story shared by Cardinal Daniel DiNardo: Shortly after being named Bishop of Sioux City, he found himself in Rome for an ad limina visit. At the end of the audience with John Paul II, DiNardo recalls, "He looked me straight in the eyes and said, 'Remember bishop, it's all about the human person.'"
And here you thought it was all about Christ!
In an article published by America Magazine in 2004, Avery Dulles shed light on Wojtyla's philosophy, citing a paper he had written on "Thomistic Personalism" in 1961 wherein the future John Paul II declared:
When it comes to analyzing consciousness and self-consciousness—there seems to be no place for it in St. Thomas' objectivistic view of reality. In any case, that in which the person's subjectivity is most apparent is presented by St. Thomas in an exclusively—or almost exclusively—objective way. He shows us the particular faculties, both spiritual and sensory, thanks to which the whole of human consciousness and self-consciousness—the human personality in the psychological and moral sense—takes shape, but that is also where he stops. Thus St. Thomas gives us an excellent view of the objective existence and activity of the person, but it would be difficult to speak in his view of the lived experiences of the person.
Poor Aquinas, he evidently failed to realize, as Wojtyla concluded, that the objective must yield to the subjective!
Dulles, a Jesuit, provided an excellent example of how Wojtyla's personalism manifested itself in contraposition to authentic Catholic tradition:
In his talks and writings, Pope John Paul II speaks frequently of Christ's threefold office as prophet, priest and king. While he elaborates on the first two members of this triad, he has relatively less to say about Christ's kingly office. The Feast of Christ the King was instituted by Pius XI in 1925 to make it clear that Christ "holds all nations under his sway" (Quas Primas, No. 20). "Nations," wrote Pius XI, "will be reminded by the annual celebration of this feast that not only individuals but also rulers and princes are bound to give public honor and obedience to Christ" (QP, No. 32, italics supplied).
John Paul II, by contrast, speaks of Christ's lordship as a triumph of humble submission and of his kingdom as a "kingdom of love and service." He says relatively little about Christ as lawmaker and judge, perhaps because these themes fit less well into his personalist scheme.
I think it's fair to say that there's no perhaps about it; Wojtyla's personalism left little room for Our Lord's Kingship. Dulles even made note of the degree to which this is true of the Almighty Council – the New Pentecost by which the church-of-man over which JPII presided was born:
The Second Vatican Council's "Declaration on Religious Freedom," with its accent on the mutual independence of church and state, has made it more difficult to speak with the boldness of Pius XI.
To his credit, Dulles concluded, "But we should not allow ourselves to forget that Christ, who lived humbly as a servant in our midst, has been crowned with glory and that he reigns as sovereign Lord at the right hand of the Father."
In his letter, Benedict makes no bones about the central role played by the Council in making Wojtyla the humanist that he was:
As a young Bishop – as an Auxiliary Bishop since 1958 and then Archbishop of Kraków from 1964 – the Second Vatican Council became the school of his entire life and work.
Benedict then reveals his own cozy relationship with the Council, writing:
The deliberations of the Council had been presented to the public as a dispute over the Faith itself, which seemed to deprive the Council of its infallible and unwavering sureness.
Yes, you read that correctly… Benedict XVI – the man toward whom some delusional persons are turning as if he can save us from the present ecclesial crisis – actually imagines that the Council is in possession of "infallible and unwavering sureness."
Benedict went on to note that, upon his election, John Paul II inherited an institution that sociologists compared to "the Soviet Union under the rule of Gorbachev, during which the powerful structure of the Soviet State collapsed under the process of its reform."
In the face of the ecclesial collapse, John Paul II, according to Benedict, "aroused new enthusiasm for Christ and his Church" from day one when he declared "Do not be afraid! Open, open wide the doors for Christ!"
"This call and tone would characterize his entire pontificate and made him a liberating restorer of the Church," Benedict suggested.
Oh, yes, so much restoration on Wojtyla's watch – a tenure that featured dwindling numbers of religious, a scarcity of priests, an explosion of clerical homosexual abusers, empty pews, countless closed parishes, the bankrupting of dioceses, etc.
Modernists like Benedict simply cannot bring themselves to admit that the defining experience of their entire lives – participation in that dreadful event known as Vatican Council II – was an unmitigated disaster. They choose instead to live in a fantasy world that simply does not exist.
He goes on to write:
This was conditioned by the fact that the new Pope came from a country where the Council's reception had been positive: one of a joyful renewal of everything rather than an attitude of doubt and uncertainty in all.
So, what does the positive reception of the Council in Poland actually look like?
According to the Institute for Catholic Church Statistics (Jan. 2020), only 38 percent of self-identified Catholics in Poland attended Mass in the past year, with just 17 percent receiving Communion. So much for joyful renewal.
Setting his sights on the present day, Benedict states:
It is finally, beyond this objective historical significance, indispensable for everyone to know that in the end God's mercy is stronger than our weakness.
These are lovely sounding words, but left unsaid is that free will is such that men can, and most certainly do, occasionally reject God and His mercy, even to their last breath, at which point they stand before His justice.
Benedict then draws the most cogent conclusion to be found in the entire letter:
Moreover, at this point [regarding God's mercy considered apart from His justice], the inner unity of the message of John Paul II and the basic intentions of Pope Francis can also be found.
Amen to that! As has been said in this space many times, both Jorge and Karol are cut from the same cloth; the common thread that joins them, as well as Ratzinger and those who preceded all of them, from John XXIII forward, is the Council from which emerged the counterfeit church-of-man.