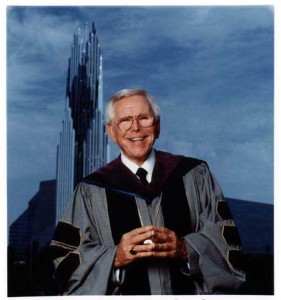 The (so-called) Reverend Robert H. Schuller, who built the mega-heretic theme park "Crystal Cathedral" in Garden Grove, CA died this morning.
The 35 acre campus and its Wizard-of-Oz style main structure has since been purchased by the Diocese of Orange and renamed "Christ Cathedral."
Currently, in addition to English, the facility offers Mass in Spanish, Vietnamese, Cantonese and Mandarin, but apparently those who favor the language of the Church will have to look elsewhere.
The facility is undergoing a multimillion dollar renovation that Capital Campaign Co-Chair Tim Busch called "one of the most important things going on in the Catholic world and America." (Just in case you were wondering how truly irrelevant the Church in America has become.)
As for Mr. Schuller and his legacy, this is a man whose life's work consisted of leading people away from the one true faith established by Christ, His Holy Catholic Church, the Holy Mass and the sacraments. He was quite good at it too.
In fact, there's no telling how many souls died without the Most Holy Eucharist, in mortal sin, and detached from the Mystical Body of Christ thanks to this leader of heretics and destroyer of Christian unity.
Even so, in November 2014, the Apostolic Nuncio to the United States, Archbishop Carlo Maria Viganò, addressed the USCCB General Assembly in Washington, telling the bishops that Schuller is a "great evangelical preacher" who "moved countless numbers of people to a real conversion of heart -so many types of people who were willing to sacrifice everything for the sake of Jesus and his Gospel."
Mark my words, before the cock crows, Archbishop Viganò, Bishop of Orange Kevin Vann, and any number of other Catholic prelates (maybe even the pope) will deny Christ on this Holy Thursday by way of statements that amount to the quasi-canonization of the heretic Schuller.
If they had even a mustard seed's worth of Catholic faith and any real love for the deceased they would be imploring the faithful to pray for this man who sinned so egregiously against Our Blessed Lord.
Check out the video below and the Diocese of Orange's vision for "Christ Cathedral" moving forward.
The Diocesan Director of Communications, Ryan Lilyengren, put it this way:
We see ourselves as a center point for many faiths to come together to engage…
Mr. Schuller's legacy endures…