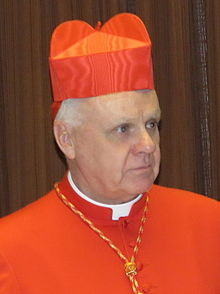 As I watched footage of the Holy Father's announcement to the consistory yesterday, I briefly wondered how many of the cardinals present felt like they were transported back to Babel.
In other words, I imagined that any number of them were sitting there dumbfounded, not because they were taken aback by the announcement, but by the fact that they, like so many of the laity, have also been robbed of their Catholic identity and heritage and therefore couldn't understand a blessed thing the Holy Father was saying as he spoke in the language of the Church; Latin.
Well, sure enough, that was the case indeed. I just listened to an interview with Cardinal O'Brein, my former archbishop, in which he was asked to share his initial reaction when the Holy Father announced that he wished "to communicate a decision of great importance for the life of the Church." (At 2:55 in the audio clip below)
To which poor Cardinal O'Brien had to awkwardly admit, "Well, my Latin is not that good, but I did see the rest of the Cardinals kinda sit up straight and lean forward…"
What a sad commentary this is. It makes me feel badly for Cardinal O'Brien (and for every Catholic, clergy or otherwise, who has had to suffer the injustices of the last four decades), and it makes me wonder how much more complicated the conclaves are now than they used to be, or ever should be, due to the lack of a universal tongue.