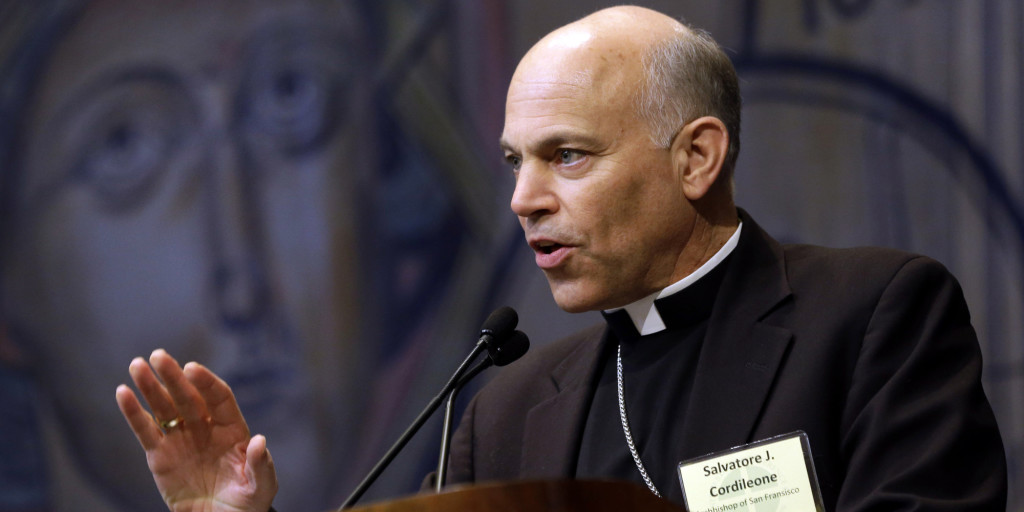 Another high-profile "conservative" prelate has publicly called attention to the all-but-forgotten message of Fatima.
In this case, the prelate is Archbishop Salvatore Cordileone, a man who is perhaps best known for having served as ordinary since 2012 over an archdiocese that in many places more closely resembles a homo-erotic vacation destination than the spiritual home of faithful Catholics.
In a sermon delivered on Oct. 7 (and published by National Catholic Register) as he consecrated the Archdiocese of San Francisco to the Immaculate Heart of Mary, Archbishop Cordileone said:
We Can No Longer Afford to Ignore Our Lady of Fatima's Requests. Let us heed Our Lady's message, let us grant her requests, in order to hasten the triumph of her Immaculate Heart … For 100 years we ignored the message of Fatima; or, perhaps, it is not so much the message we ignored, for we are well aware of the warnings and the history that resulted. Rather, it is the requests we ignored. [Emphasis in original]
Tantalizing, is it not? Don't get too excited, however, as the other shoe is about to drop…
The Archbishop goes on:
It is easy for us to get distracted by the sensational elements of this apparition … perhaps so much so that we miss the whole point of it, which, of course, is the message itself.
Here we go again…
This is, of course, the company line: The real message of Fatima is being obscured by those who are intent on spreading things sensational that ultimately serve as a "distraction."
I suppose a good example of this sensationalist attitude would be that of Cardinal Eugenio Pacelli, the future Pope Pius XII, who expressed his grave concern over Our Lady's warnings about a "suicide of altering the faith" in the Church's "theology, her liturgy, and her soul."
According to Archbishop Cordileone, however:
It is time to leave the sensational aside, and respond to the requests of our Lady at Fatima.
And what, according to Archbishop Cordileone, are the requests of Our Lady that merit our attention?
They concern the call to prayer (especially the Rosary), penance, adoration and observation of the Five First Saturdays devotion.
Indeed, this is part  of the message of Fatima; all truly good and necessary things that Archbishop Cordileone does well to preach, but needless to say, there's much more to it.
In a text of some 3,000 words focused on "the requests of Our Lady of Fatima," the archbishop curiously chose to overlook entirely the Consecration of Russia.
With this in mind, one might be compelled to conclude: Cordileone is no Cardinal Burke!
But alas, they are cut from precisely the same cloth; conciliar cloth, and this brings me to the subtle danger that lurks in Archbishop Cordileone's sermon:
Our Lady, Star of the New Evangelization, does not cease to plead for us to our King, just as she did for the poor newly married couple at Cana.
Seriously? Our Lady of Fatima is the Star of the New Evangelization?
This cannot but call to mind Cardinal Burke's Roman Life Forum address wherein he offered morsels of truth laced with conciliar poison; boldly attempting to spin the Fatima message as if it is entirely consonant with the very things about which Our Lady came to forewarn us.
As noted in my previous post, even certain well-known Fatima experts have seen fit to ignore the obvious danger to innocent souls posed by Cardinal Burke's co-opting of the message of Fatima.
It will be interesting to see how they react, if at all, to Archbishop Cordileone's more subtle attempt to do the same.